Columbus Symphony Names Stuart Chafetz As Principal Pops Conductor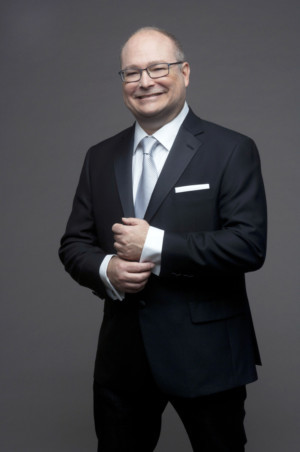 Following an exciting and competitive search, the Columbus Symphony has appointed Stuart Chafetz as its principal pops conductor. A leading figure among pops conductors across the country, Chafetz brings experience and innovation to his new role leading the Columbus Symphony in its year-round pops concert series. Through the 2018-19 season, he will design programs with enjoyable repertoire for widely diverse audiences and invite both well-known and rising guest artists for the CSO's Pops Series, as well as its two outdoor summer concert series at the Columbus Commons, Picnic with the Pops and the family-friendly Popcorn Pops.
"I'm thrilled to embark on this exciting journey with the Columbus Symphony," stated Chafetz. "I look forward to working with Rossen, the musicians, board, and staff to create a truly cutting-edge, wonderful, and fun experience for our Columbus community!"
"I am delighted to have Stuart as a creative partner. His artistry, enthusiasm, and charming stage presence are contagious! Under his leadership, I expect our Pops programs will continue growing," stated CSO Music Director Rossen Milanov.
Having guest conducted the Columbus Symphony on many occasions over the years, including during the 2017 Picnic with the Pops season, Chafetz will make his first official appearance as principal pops conductor at the opening concert of the 2018 Picnic with the Pops season.
"Stuart is one of the leading pops conductors in America today," said Columbus Symphony Board Chair Lisa Barton. "We are thrilled he will be bringing his energy, humor, and art to our community."
Chafetz, a conductor with a dynamic podium demeanor and a refined sense of audience engagement, is increasingly in demand with orchestras across the continent. In the 2017-18 season, he can be seen conducting the orchestras of Seattle, Detroit, Naples, Phoenix, Cincinnati, Milwaukee, Vancouver, and many more.
He's had the privilege to work with renowned artists such as Chris Botti, 2 Cellos, Michael Bolton, America, Roberta Flack, George Benson, Richard Chamberlain, The Chieftains, Jennifer Holliday, John Denver, Marvin Hamlisch, Thomas Hampson, Wynonna Judd, Jim Nabors, Randy Newman, Jon Kimura Parker, and Bernadette Peters.
He previously held posts as resident conductor of the Milwaukee Symphony Orchestra and associate conductor of the Louisville Orchestra, annually leads the Spring Ballet at the world-renowned Jacobs School of Music at Indiana University. Chafetz has also conducted the annual Nutcracker performances with Ballet Hawaii and principals from the American Ballet Theatre, and has led numerous concerts with the Maui Symphony and Pops.
In addition to his conducting career, Chafetz is also a well-known timpanist. In the summers, Chafetz spends his time at the Chautauqua Institution where he conducts the annual Fourth of July and Opera Pops concerts with the Chautauqua Symphony Orchestra in addition to his role as that orchestra's timpanist.
When not on the podium, Chafetz makes his home near San Francisco with wife Ann Krinitsky.
Chafetz holds a bachelor's degree in music performance from the College-Conservatory of Music at the University of Cincinnati and a master's degree from the Eastman School of Music.
Photo Credit: Pat Johnson