Photos: First Look at Beck Center for the Arts' XANADU
Beck Center for the Arts rolls out its 2012/2013 Professional Theater season with the first locally produced premiere of Xanadu, the award-winning Broadway hit musical based on the
Universal Pictures
' cult classic movie of the same title, which starred
Olivia Newton-John
and
Gene Kelly
. Xanadu runs on the Mackey Main Stage now through October 14, 2012. Get a first look at the production in the photos below!
Winner of the 2008 Outer Critics Circle Award for Outstanding New Musical, Xanadu tells the story of Kira, a beautiful Greek muse, who descends from the heavens of Mt. Olympus to Venice Beach to inspire struggling artist Sonny with his greatest artistic creation of all time – the first ROLLER DISCO. (Hey, it's 1980!)
Broadway's master storyteller, Douglas Carter Beane weaves an electrifying tale for all ages of endless fun that will make you laugh out loud to chart-topping tunes of the early '80s. The original hit score composed by pop-rock legends Jeff Lynne and John Farrar includes memorable songs like "Magic," "All Over The World," "Evil Woman," "Have You Never Been Mellow," and, of course the title song, "Xanadu."
With musical direction by Larry Goodpaster and choreography by Martín Céspedes, Xanadu stars Kathleen Rooney as Kira and Sam Wolf as Sonny Malone. Greg Violand portrays the hard-hearted Danny Maguire who sells out Sonny when Kira's evil sisters tempt him to strike it rich by building condos in place of the roller disco. Rooney and Violand appear courtesy of the Actors' Equity Association (AEA), the union of actors and stage managers.
Beck Center for the Arts is a not-for-profit 501(c)3 organization that offers professional Theater Productions, arts education programming in dance, music, theater, visual arts, early childhood, and creative arts therapies for special needs students, and gallery exhibits featuring regional artists.
For tickets, scheduling and more information about XANADU, go online at 
beckcenter.org
. Beck Center is located at 17801 Detroit Avenue in Lakewood, just ten minutes west of downtown Cleveland. Photo credit: Kathy Sandham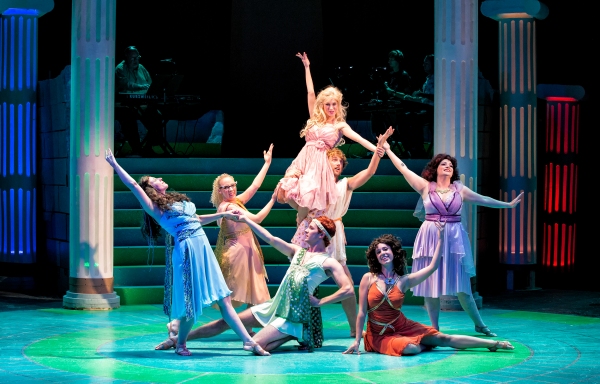 Greek Muses Ben Donahoo (foreground, left) and Kathleen Ferrini (foreground, right); from left to right Maggie Stahl, Leslie Andrews, Kathleen Rooney* lifted by Matthew Ryan Thompson, and Aimee Collier

Center, Sam Wolf as Sonny Malone and Kathleen Rooney* as Kira; from left Greek Muses Leslie Andrews, Kathleen Ferrini, Ben Donahoo, Aimee Collier, and Matthew Ryan Thompson

Leslie Andrews as Calliope (center, left) and Aimee Collier as Melpomene (center, right) with Sirens: Maggie Stahl, Ben Donahoo, Matthew Ryan Thompson and Kathleen Ferrini

Sam Wolf as Sonny Malone and Kathleen Rooney* as Kira; looking on are Leslie Andrews and Aimee Collier