Jamie Farr, M*A*S*H Star And Toledo Native, Will Make Special Guest Appearance In Cleveland Orchestra Christmas Concert Program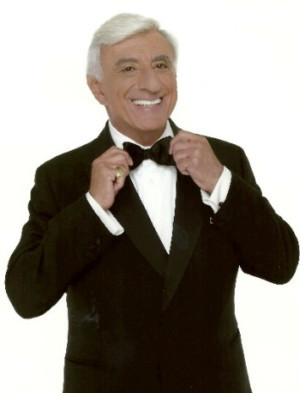 The Cleveland Orchestra's annual Christmas Concerts are a holiday tradition, and Severance Hall is the destination in Northeast Ohio for families and friends to gather and celebrate the season. On Friday, December 14, this year's series of eleven concerts conducted by Richard Kaufman begins - all amidst the Yuletide splendor of Severance Hall, which will be decked out with dazzling decorations. The Cleveland Orchestra Chorus, Cleveland Orchestra Youth Chorus Chamber Ensemble, Cleveland Orchestra Children's Chorus - and guest choirs from The College of Wooster and the The University of Akron - join the Orchestra to fill your festivities with uplifting and joyful music.
As a special addition this December, a celebrity guest - actor Jamie Farr, best known for his role of Corporal (later Sergeant) Maxwell Q. Klinger on the hit television sitcom M*A*S*H - will join the Orchestra and Choruses on stage. The Toledo, Ohio native will navigate the audience on a musical journey through the classic tale "The Night Before Christmas."
Wintery joy and the Christmas spirit fill the air through beloved classics like "O Holy Night," "White Christmas," and "Silent Night"; music from holiday film favorites including Polar Express and John Williams's score to Home Alone; and awe-inspiring classical works such as the "Hallelujah Chorus" from Handel's Messiah. See the calendar listing below for full program details.
The Cleveland Orchestra's Christmas Concerts are sponsored by Dollar Bank.
Tickets are available now online at clevelandorchestra.com or by calling the Cleveland Orchestra Ticket Office at 216-231-1111 or 800-686-1141. Concerts are expected to sell out, so purchasing your tickets soon is recommended.
The Severance Hall Ticket Office is located on street level in the Smith Lobby. The entrance and 15-minute ticket service parking are along the west side of the building, on East Boulevard. Severance Hall Ticket Office hours are Monday through Friday from 9:00 a.m. to 6:00 p.m. and Saturdays from 10:00 a.m. to 6:00 p.m. (closed Sundays and holidays except for those days with performances, when the Ticket Office opens three hours prior to each performance).
As part of the Severance Hall Second Century Fund, a $2.00 charge on individual tickets will support the conservation and enhancement of Severance Hall.
Dining at Severance Hall - Lunch with Santa
Concertgoers attending matinee performances of The Cleveland Orchestra's Christmas Concerts on December 15, 16, 22, or 23 can enjoy a special holiday lunch with Santa Claus at Severance Restaurant prior to the performance. For reservations, call Severance Restaurant at 216-231-7373 or visit clevelandorchestra.com/plan-your-visit/restaurant/.
The Cleveland Orchestra's Choral Ensembles and Guest Choirs
The Cleveland Orchestra Chorus (Lisa Wong, director), one of the few professionally trained, all-volunteer choruses sponsored by a major American orchestra, performs with The Cleveland Orchestra in a variety of programs throughout the year. Its members hail from nearly fifty Cleveland-area communities and together contribute more than 40,000 volunteer hours to the Orchestra's music-making each year.
The Cleveland Orchestra Youth Chorus (Daniel Singer, director), comprised of students in grades 9-12, was founded to raise awareness of choral music-making in the schools of Northeast Ohio and regularly collaborates with outstanding music ensembles like The Cleveland Orchestra and Chorus. The Cleveland Orchestra Children's Chorus (Ann Usher, director) provides musical training in vocal production and choral performance skills to students in grades 6-9. Members perform alongside The Cleveland Orchestra in major works calling for children's voices, as well as presenting their own independent performances throughout Greater Cleveland. By developing musical skills and performing in public, children and young people involved in the Cleveland Orchestra's choruses acquire poise, gain increased self-esteem, and establish a solid foundation in vocal technique. For more information about The Cleveland Orchestra's choruses and ensembles, visit clevelandorchestra.com/about/choruses-and-ensembles/.
In this year's Christmas Concerts, The Cleveland Orchestra will also be joined by two guest choruses. Wooster Chorus from The College of Wooster (Lisa Wong, director) is comprised of students representing all academic areas within the school's liberal arts program. The Wooster Chorus is a three-time finalist and 2017 Honorable Mention for The American Prize in Collegiate Choral Performance. The University of Akron Chamber Choir (Marie Bucoy-Calavan, director), the premier auditioned choir at the university, focuses on technically difficult music from all eras and styles and tours in major cities throughout the region.

About Jamie Farr
Television and film actor Jamie Farr was hired for one day's work during an early episode ("Chief Surgeon Who?") of the hit comedy M*A*S*H, and was so outrageous as Maxwell Q. Klinger, that this day job became an eleven year career. Farr's first acting success occurred at age eleven when he won $2 in a local acting contest, he then attended The Pasadena Playhouse where he won his first film role as Santini in the MGM production of The Blackboard Jungle. In the late 1950s, Farr began to carve his niche in television when he became a regular on The Red Skelton Show before graduating to second banana with Harvey Korman on The Danny Kaye Show. He also appeared on The Dick Van Dyke Show and was a regular on The Chicago Teddy Bears before being asked to play the role as Klinger on M*A*S*H. The Lebanese son of a Toledo, Ohio grocer, Farr has received a "Star" on the Hollywood Walk of Fame, the Ohio Governor's Award, and a park named after him in Toledo.