BWW Review: Cleveland Play House opens 2017-2018 with entertaining "Shakespeare in Love"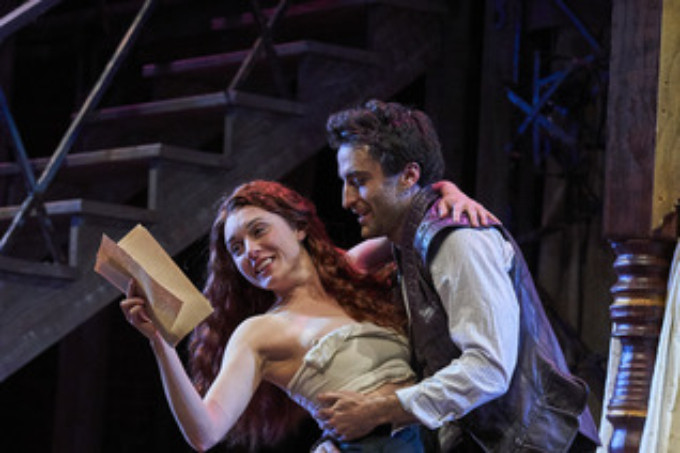 Lee Hall, the Tony Award winning musical book writer for "Billy Elliott the Musical," once wrote, "The point of theatre is transformation: to make an extraordinary event out of ordinary material right in front of an audience's eyes. What matters is the power of theatre to move and to change people. That is what "Shakespeare in Love" is about. It is about a place which can allow a common player to be a Queen, boys to be girls, where we make the miraculous out of the mundane" and include a part for a dog.
The adaptor of the film "Shakespeare in Love" into play form, which is now on stage at Cleveland Play House, Hall might have added, "and where we can watch as a very talented man, creates poetic words and idea-inciting plots that will live forever."
The play's program states, "We invite you to join us in the lusty, bawdy, adventurous world in which Shakespeare lived loved, and wrote. A world where sex and history combine for a punchline, where desires of the body go hand-in-hand with those of the soul, and where a good disguise can go a long way." And, it could have added, to a question posed in the script, "Yes a play can be about true love." And, yes, as Elizabeth I demanded in all the plays of her era, there is a dog!
Those who watched the recent television series, "Will" will be glad to add to their pseudo-history knowledge of The Bard by participating in yet another of the hot-blooded Shakespeare's infidelities in this production.
A combination of farce, comedy, drama, tragedy and historification, "Shakespeare in Love" allows us to view a penniless youthful Shakespeare go from a 1593 playwright with writer's block to a "phenome" churning out hit plays after he meets the fair Viola, who inspires him to write the likes of "Romeo and Juliet" and lay the foundation for many of his other masterpieces (which often include a dog.)
Because of the blending of acting styles needed to perform the various genres of the script, the complexity of the plot and the need for a perfectly trained dog (yes there is a dog), the material is difficult to perform.
Worry not. Director Laura Kepley has the entire mélange in hand. The farce and slapstick are well developed, comedy lines nicely cued, the tragedy focused and the entire production zips right along.
Lex Liang's sets and costumes, Russell H. Champa's lighting design, Jane Shaw's sound design and compositions add the right moods to the staging. The fights, the choreography and the music, thanks to Drew Fracher, David Shimotakahara and Nathan Motta are well conceived.
The cast understands the necessary changes needed to accent the writers' intent and play their multi-roles with aplomb.
Charlie Thurston looks like the sketches we have seen of Shakespeare, and nicely makes Will into a love sick charming rogue as well as a talented poet and playwright. Marina Shay inhabits the role of the both cunning and lovely Viola.
Donald Carrier delights as Henslowe, a debt-ridden theater owner, Andhy Mendez well interprets Marlow, Shakespeare's playwriting rival, Brian Owen blusters effectively as Burbage, the owner of a rival theatre, and Evan Zes delights as the uptight Fennyman, the money lender. And of course, there is Nigel the dog, who brings many laughs as Spot.
CAPSULE JUDGMENT: A combination of farce, comedy, drama, tragedy and historification, "Shakespeare in Love" delights. It makes for a joyful start to CPH's 2017-2018 season. And, yes, there is a dog!
"Shakespeare in Love" runs through October 1, 2017, at the Allen Theatre in PlayhouseSquare. For tickets call 216-241-6000 or go to http://www.clevelandplayhouse.com.
Related Articles View More Cleveland

Stories

Shows