Statue Stories Chicago Extends Through December 2018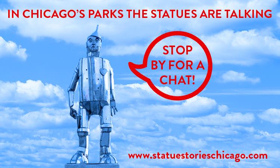 The Richard H. Driehaus Foundation and Sing London are pleased to announce the extension of Statue Stories Chicago through December 2018. The free, city-wide initiative, which was funded by the foundation and produced by UK-based Sing London, premiered in August 2015.
Chicago's most celebrated writers, actors, and comedians were commissioned to create monologues for statues across the city. The statues "speak" when a smartphone scans a QR code (or it is typed into a browser) on a plaque next to the statue. When the phone rings, visitors receive a call back from John C. Reilly as Abraham Lincoln or Steve Carell as a man clutching a giant fish by the Shedd Aquarium. Each statue has a story to tell. Together they tell Chicago's story.
"This has been an overwhelmingly popular initiative," said Kim Coventry, executive director of The Richard H. Driehaus Foundation. "Over 100,000 listeners have accessed the monologues since the statues began to talk two years ago. We are indebted to the cultural partners that have agreed to the extension because not only are the statues talking ... people are engaging with this city's remarkable collection of public art as never before."
The biggest talkers to date are: Cloud Gate, Bob Newhart and the lions guarding the Art Institute of Chicago. Statues in parks across the city are also chatty including Renée Fleming as the Spirit of Music in Grant Park, Elizabeth McGovern as the Goddess Hebe in Grant Park, Lamome Morris as the World's Fair bison in Humboldt Park, Malcolm London as Paul Laurence Dunbar, and David Kersnar as The Tin Man in Oz Park among others.
"There's something a little bit magical about having a statue call you by phone," said Colette Hiller, Sing London artistic director. "Chicago's statues have been voiced by an extraordinary, stellar line-up of writers and actors. The result brings new meaning to 'Street Theatre.'"
In addition to the popularity of the project, the decision to keep the statues taking was to coordinate with the 2017 the Year of Public Art in Chicago and the Terra Foundation's Art Design Chicago initiative, taking place throughout 2018.
Statue Stories Chicago is made possible through partnerships with Chicago's leading theatres, cultural institutions, and the Chicago Park District.
For more information, including a map of statue locations, and self-guided tour information, visit www.statuestorieschicago.com.