Pride Films and Plays Announces Cast of IT'S ONLY A PLAY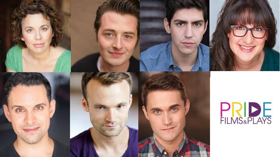 The second production of Pride Films and Plays's 2018-19 season will be IT'S ONLY A PLAY, by Terrence McNally. McNally is arguably Broadway's most prolific gay male playwright, with 20 Broadway credits to his name, plus many other plays produced off-Broadway. IT'S ONLY A PLAY is a comedy set behind the scenes of a Broadway play that satirizes theater folk as it celebrates the sort of "chosen family" they form during their production. It premiered off-Broadway in 1986 and was revised and updated by McNally for a 2014 Broadway revival. The Pride Films and Plays production will be Chicago's first look at the revised script. Jon Martinez, director-choreographer of the Jeff Award-winning TONYA AND NANCY: THE OPERA and Jeff-nominated choreographer for PFP's PRISCILLA: QUEEN OF THE DESERT, will direct.

In IT'S ONLY A PLAY, it's the opening night of a play called THE GOLDEN EGG on Broadway, and the wealthy producer Julia Budder is throwing a lavish party in her lavish Manhattan townhouse. Downstairs, the celebrities are pouring in, but the real action is upstairs in the bedroom, where a group of insiders have staked themselves out to await the reviews. The assembled group of theatre professionals and hangers-on will be the perfect ingredients for a prime recipe for the narcissism, ambition, childishness, and just plain irrationality that infuse the theatre-and for comedy.
Marika Mashburn, who appeared earlier this year in HATFIELD & MCCOY with House Theater and last year in THE ASSEMBLED PARTIES for Raven Theatre, will play producer Julia Budder. Kevin Webb, currently appearing in NIGHTMARES AND NIGHTCAPS with Black Button Eyes Productions and seen earlier this past summer as the time-travelling designer Wes in Circle Theatre's THE VIEW UPSTAIRS, will play the excitable playwright, Peter Austin. Cody Jolly - Edward in Theo Ubique's production of BLOOD BROTHERS and Father in Black Button Eyes' SHOCKHEADED PETER - will be Frank Finger, the young and ego-maniacal wunderkind director.

Sarah Hayes, who played Emma Parker in Kokandy Productions' BONNIE AND CLYDE and "Old Lady" in Griffin's VIOLET, will be Virginia Noyes, the pill-popping leading lady who is returning to the stage after becoming infamous in Hollywood. The playwright's best friend, James Wicker, for whom the play was written but who passed up this production for a television series, will be played by William Marquez, who appeared most recently in THE MAGIC TREEHOUSE: SHOWTIME WITH SHAKESPEARE for Emerald City. Jeremy Trager, a two-time Jeff Award winner for the title role of HAUPTMANN with BoHo Theatre and as the Emcee in Theo Ubique's CABARET will be the drama critic Ira Drew, who's panned the playwright in the past. Gus, a young man currently working as a coat check boy but with ambitions for Broadway, will be played by Pride Films and Plays company member Christopher Young. Young has recently appeared in THE CHURCH OF MODERN LOVE (Reddyk & Krupp) and PERFECT ARRANGEMENT (PFP).

Understudies are Nicky Mendelsohn (Peter Austin, James Wicker), Ryan Hamman (Frank Finger, Gus), and Elizabeth Rentfro (Virginia Noyes, Julia Budder). The design team will be Rachel Rauscher (scenic design), Sanja Manakoski (costume design), Benjamin Carne (lighting design), Amanda Rabito (costume assistant), Blake Cordell (sound design), and Jimmy Jagos (properties design). Manny Ortiz will be technical director.

The 2014 Broadway revival of IT'S ONLY A PLAY, revised from a version that played off-Broadway in 1986, earned raves for its sharp humor. "This show is without a doubt hilariously, sidesplittingly funny...These are among the funniest lines to roll off a stage in years...IT'S ONLY A PLAY deserves only a rave." -THE NEW YORK TIMES. "At the heart of the humor is the sublime narcissism of the professional players and their honest conviction that nothing matters except the theater...You really must laugh at McNally's unquenchable wit-but those sloppy-kiss tributes to the theater...are deeply felt and honestly moving." -VARIETY. "This is the sort of comedy that puts the broad in Broadway, with a genuinely funny script boasting pointed barbs at theater mainstays such as Liza Minnelli, Harvey Fierstein, Audra McDonald, and New York Times critic Ben Brantley...IT'S ONLY A PLAY is a poison-pen mash note to New York Theater, at once gleefully bitchy and affectionate." -ENTERTAINMENT WEEKLY.

Tickets for IT'S ONLY A PLAY are now on sale. Prices range from $15 for previews October 11-14 and $30- $40 for the regular run which will open on Wednesday, October 17 at 7:30 pm and play through November 11, 2018. Season subscriptions are $96.00 for the five-show season, offering one reserved seat for each of the five productions (beginning with HOMOS, OR EVERYONE IN AMERICA, playing through September 29). Flex passes, providing six admissions to any season production that can be divided among productions however the patron wishes, are available for $168.00. Season subscription packages and single show tickets are available now at www.pridefilmsandplays.com or by phone at 866-811-4111 or 773-857-0222.