Photo Flash: First Look at TOM JONES at Northlight, Opening Tomorrow
Northlight Theatre, under the direction of Artistic Director BJ Jones and Executive Director Timothy J. Evans, continues its 2013-2014 Season with Tom Jones, adapted by Jon Jory from the novel by Henry Fielding and directed by William Brown. The production runs at Northlight Theatre, 9501 Skokie Blvd in Skokie, now through February 23, 2014. The Press Opening is Friday, January 24, at 7:30 pm.
Tom Jones is an amiable young rascal with a fondness for the fairer sex...and for getting into trouble. Caught succumbing to the charms of local girl Molly and the refined Sophia, poor Tom is banished by his benefactor and sets off on a whirlwind of misadventures in this new adaptation of Henry Fielding's classic novel, a charming tale full of timeless wit and good old-fashioned, bawdy fun.
Northlight favorite William Brown returns to direct Jon Jory's new adaptation of the beloved novel. Northlight audiences will remember Jon Jory's previous adaptation of Sense & Sensibility. The Northlight production will be the second-ever for this adaptation, which celebrated its World Premiere in fall 2013.
"The collaboration of Jeff-nominated playwright Jon Jory and Jeff Award-winning director Bill Brown is an irresistible combination of style, swashbuckling thrills and sexy humor. These two Northlight veterans bring their considerable skills back to our stage in a new adaptation of Henry Fielding's lusty comic classic," says BJ Jones.
The cast includes: Chris Amos (ensemble), Sam Ashdown (Tom Jones), Nora Fiffer (ensemble), Molly Glynn(ensemble), Melanie Keller (ensemble), John Lister (ensemble), Cristina Panfilio (ensemble), Eric Parks (ensemble) and Marcus Truschinski (ensemble).
Photo credit: Michael Brosilow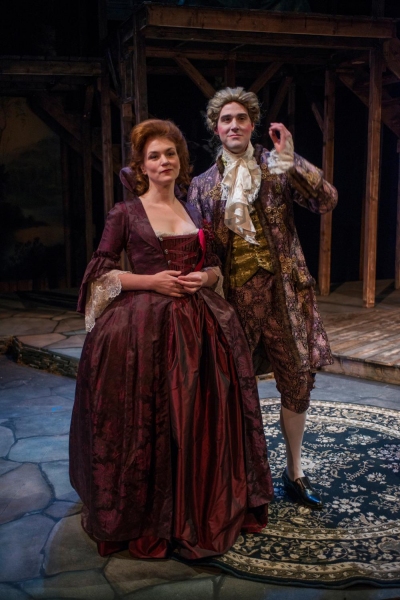 Molly Glynn, Chris Amos

Sam Ashdown, Melanie Keller

Sam Ashdown, Molly Glynn