Photo Flash: First Look at Paramount Theatre's LEGALLY BLONDE
Omigod! Omigod, you guys! Aurora's Paramount Theatre - Chicago's most decorated theater at the 2017 Jeff Awards, the most heavily subscribed theater in Chicago, and the second largest in the nation - is excited to kick off Chicago's 2018-19 theater season in high fashion with a new production of Legally Blonde.
Trent Stork, a veteran of 15 productions and casting director at Paramount, will make his Aurora directorial debut with this ever popular story about rising to a challenge and defying stereotypes, all while looking fabulous.
Speaking of fabulous, Chicago newcomers Casey Shuler and Gerald Caesar will make their respective Paramount debuts as the idealistic and precocious protagonist, Elle Woods, and her earnest love interest, Emmett Forrest.
With an A-list cast and design team, and music director and conductor Kory Danielson leading the 13-person Paramount orchestra, audiences can look forward to a super fresh take on the 2001 film starring Reese Witherspoon, bursting with big heart, bigger dance numbers and a lot of laughs.
"2018 needs Elle Woods," said Stork, who will direct and co-choreograph Legally Blonde. "In a time when the struggles of women can no longer be ignored, we need heroes like Elle onstage - a fierce, courageous woman who tackles every obstacle thrown at her, speaks out against her oppressor and takes him down."
"On top of it all, she does it in a way that is uniquely her own," Stork added. "My generation relates to this. We graduated from school (or didn't) and entered a world where the odds are stacked against us to get a job, gain financial security and find a place in the world. Hard work always pays off, being true to yourself never goes out of style and unlocking your full potential are the keys to success. Who better exemplifies that than Elle Woods?"
Legally Blonde starts previews Wednesday, September 5. Press opening is Saturday, September 8 at 8 p.m. The production runs through October 21: Wednesday at 1:30 p.m. and 7 p.m.; Thursday at 7 p.m.; Friday at 8 p.m.; Saturday at 3 p.m. and 8 p.m.; and Sunday at 1 p.m. and 5:30 p.m. Single tickets are $36 to $69.
But...omigod! Like, there's still time to include Legally Blonde in Paramount's "Buy Two Shows, Get Two Shows Free" 2018-19 Broadway subscription offer.
For less than the price and hassle of seeing just one show downtown, Paramount subscribers can see Legally Blonde and three more Broadway-quality musicals: The Wizard of Oz (November 14, 2018-January 6, 2019), The Producers (February 6-March 17, 2019) and August Rush, Paramount's first world premiere musical (April 24-June 2, 2019).
Four-play packages start as low as $72. The rewards are ample - four amazing, Broadway-quality musicals at one of the most accommodating and majestic Art Deco theaters in the Midwest.
For subscriptions or single tickets, visit ParamountAurora.com, call (630) 896-6666, or stop by the Paramount box office Monday through Saturday, 10 a.m. to 6 p.m., and before evening performances.
Paramount Theatre, located at 23 E. Galena Blvd. in downtown Aurora, is surrounded by affordable parking and a variety of restaurants. Legally Blonde is rated PG-13 for for some profanity and sexual references.
Paramount Theatre's Broadway Series, now in its eighth season, is sponsored by BMO Harris Bank, Dunham Fund, ComEd and City of Aurora. Legally Blonde is sponsored by Rush-Copley Medical Center.
Photo Credit: Liz Lauren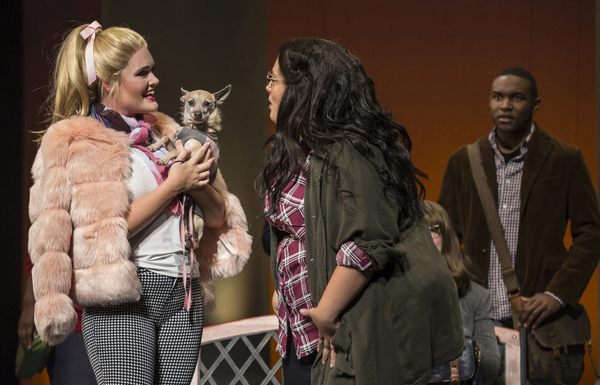 (from left) Casey Shuler plays Elle Woods, Teressa LaGamba is Enid Hoopes and Gerald Caesar plays Emmett Forrest in Legally Blonde, running September 5-October 21, 2018 at Paramount Theatre, 23 E. Galena Blvd. in Aurora. Trent Stork directs. Also pictured: Frankie, a rescue dog, as Elle's trusty sidekick Bruiser. Tickets: ParamountAurora.com or (630) 896-6666. Credit: Liz Lauren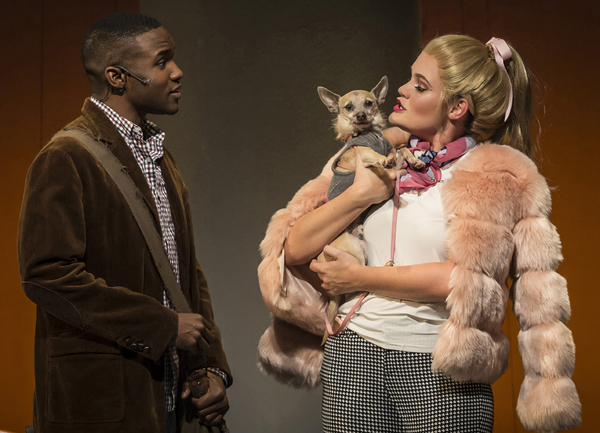 Gerald Caesar is Emmett Forrest and Casey Shuler plays Elle Woods in Legally Blonde, September 5- October 21, 2018 at Paramount Theatre, 23 E. Galena Blvd. in Aurora. Frankie, a rescue dog, plays Elle's trusty sidekick Bruiser. Trent Stork directs. Tickets: ParamountAurora.com or (630) 896-6666. Credit: Liz Lauren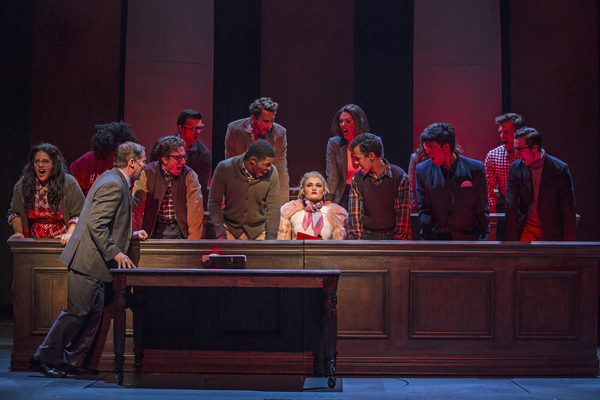 Casey Shuler (center) plays Harvard Law student Elle Woods in Legally Blonde, September 5-October 21, 2018 at Paramount Theatre, 23 E. Galena Blvd. in Aurora. Frankie, a rescue dog, plays Elle's trusty sidekick Bruiser. Trent Stork directs. Tickets: ParamountAurora.com or (630) 896-6666. Credit: Liz Lauren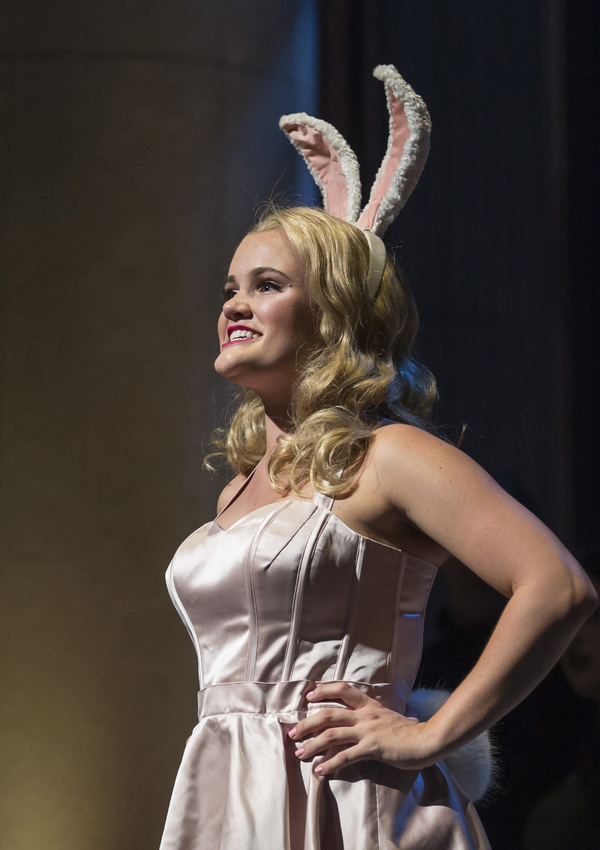 Casey Shuler plays Elle Woods in Legally Blonde. Trent Stork directs. Performances are September 5-October 21, 2018 at Paramount Theatre, 23 E. Galena Blvd. in Aurora. Tickets: ParamountAurora.com or (630) 896-6666. Credit: Liz Lauren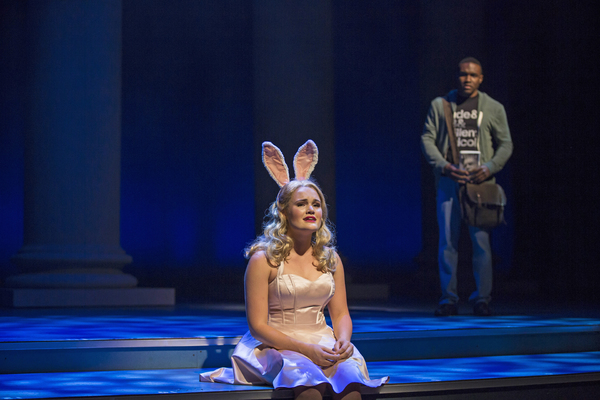 Casey Shuler plays Elle Woods and Gerald Caesar is Emmett Forrest in Legally Blonde, playing September 5-October 21, 2018 at Paramount Theatre, 23 E. Galena Blvd. in Aurora. Trent Stork directs. Tickets: ParamountAurora.com or (630) 896-6666. Credit: Liz Lauren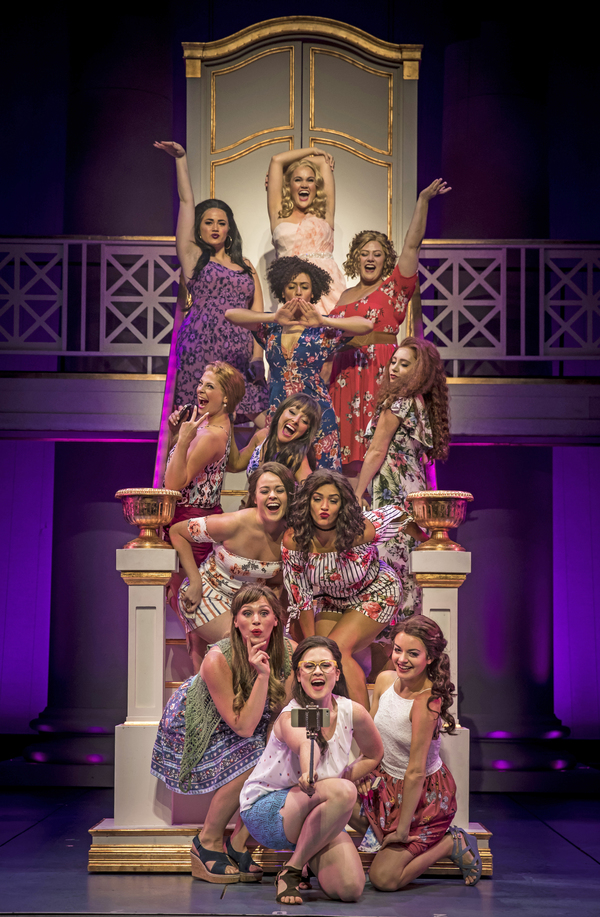 Casey Shuler (top) as Elle Woods, with, (row 2, below, from left) Lucy Godinez as Serena, Kyrie Courter as Pilar and Sara Reinecke as Margot, and their Delta Nu sisters played by (row 3, from left) Lara Hayhurst, Jenna Coker-Jones, Mallory Maedke, (row 4) Sierra Schnack, Maria Montero, (front trio) Jacquelyne Jones, Leryn Turlington and Brittany Coriaci. Performances are September 5-October 21, 2018 at Paramount Theatre, 23 E. Galena Blvd. in Aurora. Tickets: ParamountAurora.com or (630) 896-6666. Credit: Liz Lauren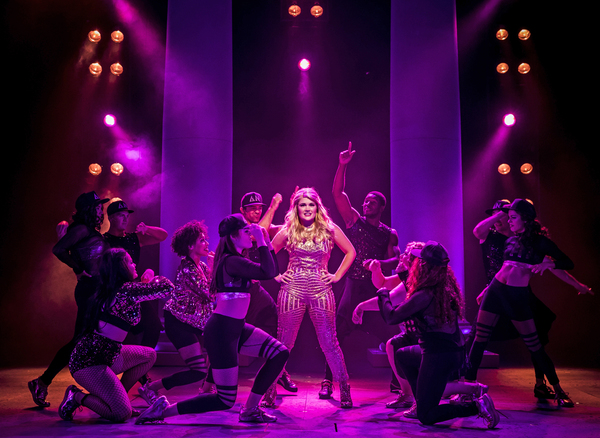 Casey Shuler (center) plays Elle Woods in Legally Blonde. Trent Stork directs. Performances are September 5-October 21, 2018 at Paramount Theatre, 23 E. Galena Blvd. in Aurora. Tickets: ParamountAurora.com or (630) 896-6666. Credit: Liz Lauren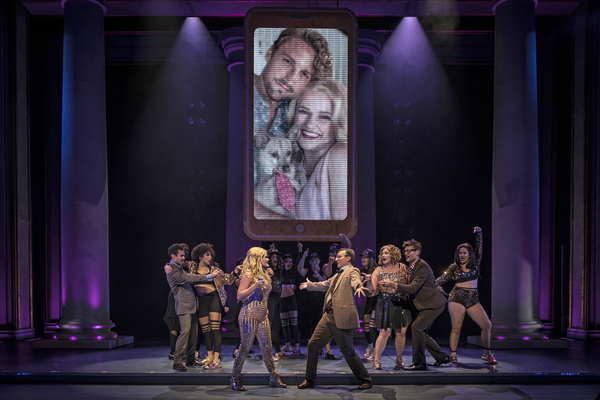 The #MeToo movement and the advent of iPhones play big parts in Paramount Theatre's updated take on Legally Blonde starring Casey Shuler as Elle Woods (center, with Michael Ehlers, and above in the oversized iPhone selfie with Tyler Lain as Warner Huntington III.) Performances are September 5-October 21, 2018 at Paramount Theatre, 23 E. Galena Blvd. in Aurora. Tickets: ParamountAurora.com or (630) 896-6666. Credit: Liz Lauren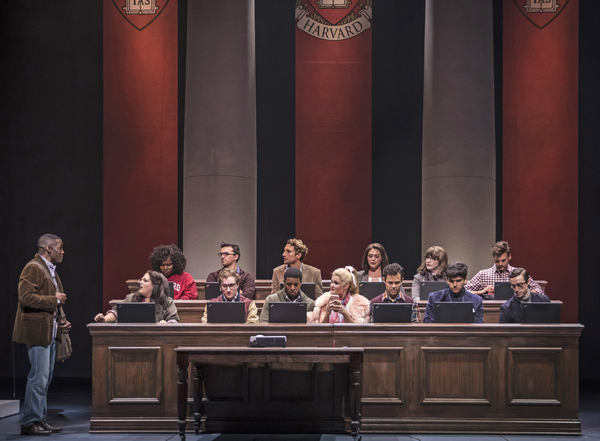 Gerald Caesar (far left) plays Emmett Forrest and Casey Shuler (front row, center, as if) is Elle Woods in Legally Blonde, playing September 5-October 21, 2018 at Paramount Theatre, 23 E. Galena Blvd. in Aurora. Trent Stork directs. Frankie, a rescue dog, plays Elle's trusty sidekick Bruiser. Tickets: ParamountAurora.com or (630) 896-6666. Credit: Liz Lauren

Casey Shuler (center) plays Elle Woods in Legally Blonde. Trent Stork directs. Performances are September 5-October 21, 2018 at Paramount Theatre, 23 E. Galena Blvd. in Aurora. Tickets: ParamountAurora.com or (630) 896-6666. Credit: Liz Lauren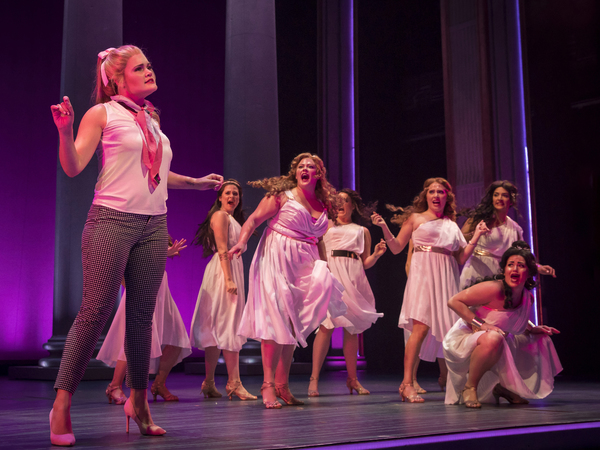 Casey Shuler (left) plays Elle Woods in Legally Blonde. Trent Stork directs. Performances are September 5-October 21, 2018 at Paramount Theatre, 23 E. Galena Blvd. in Aurora. Tickets: ParamountAurora.com or (630) 896-6666. Credit: Liz Lauren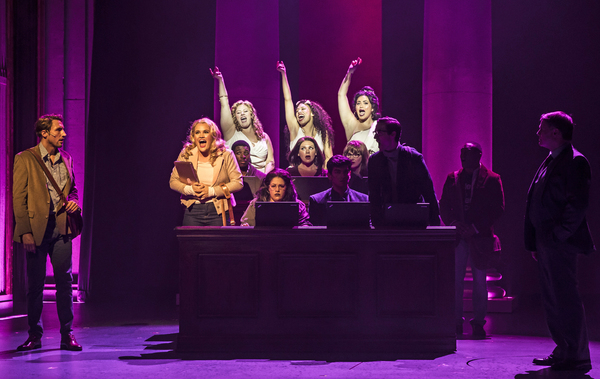 (in spotlight, from left) Tyler Lain is Warner Huntington III, Casey Shuler plays Elle Woods, Teressa LaGamba (seated w/laptop) is Enid Hoopes, Jacquelyne Jones (second row, seated, center) is Vivienne Kensington and (back row, Greek Chorus, from left) Sara Reinecke is Margot, Kyrie Courter plays Pilar and Lucy Godinez is Serena in Legally Blonde. Trent Stork directs. Performances are September 5-October 21, 2018 at Paramount Theatre, 23 E. Galena Blvd. in Aurora. Tickets: ParamountAurora.com or (630) 896-6666. Credit: Liz Lauren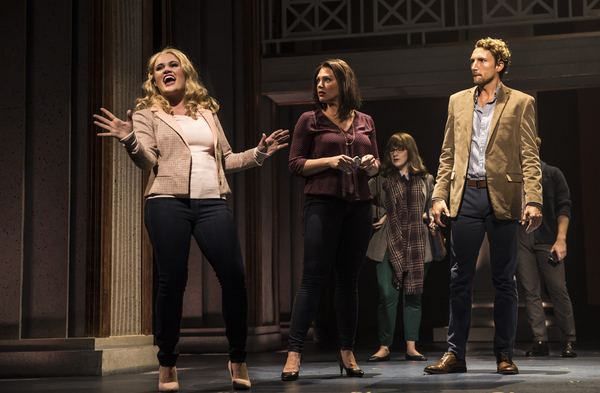 (from left) Casey Shuler plays Elle Woods, Jacquelyne Jones is Vivienne Kensington and Tyler Lain plays Warner Huntington III in Legally Blonde, running September 5-October 21, 2018 at Paramount Theatre, 23 E. Galena Blvd. in Aurora. Trent Stork directs. Tickets: ParamountAurora.com or (630) 896-6666. Credit: Liz Lauren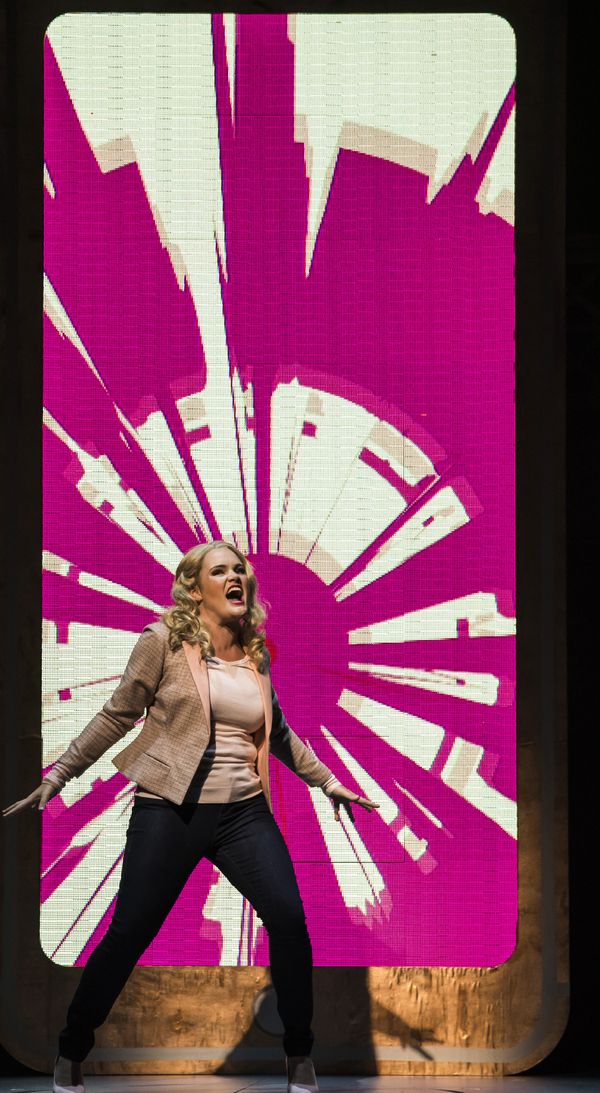 Casey Shuler plays Elle Woods in Legally Blonde, running September 5-October 21, 2018 at Paramount Theatre, 23 E. Galena Blvd. in Aurora. Trent Stork directs. Tickets: ParamountAurora.com or (630) 896-6666. Credit: Liz Lauren

Casey Shuler plays Elle Woods in Legally Blonde, running September 5-October 21, 2018 at Paramount Theatre, 23 E. Galena Blvd. in Aurora. Trent Stork directs. Tickets: ParamountAurora.com or (630) 896-6666. Credit: Liz Lauren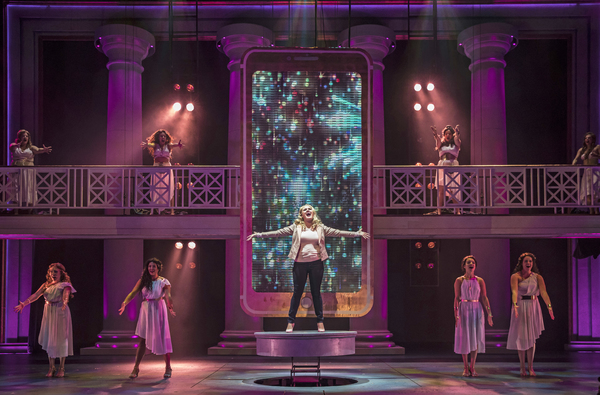 Casey Shuler plays Elle Woods in Legally Blonde, running September 5-October 21, 2018 at Paramount Theatre, 23 E. Galena Blvd. in Aurora. Trent Stork directs. Tickets: ParamountAurora.com or (630) 896-6666. Credit: Liz Lauren

Casey Shuler (center) plays Harvard Law valedictorian Elle Woods in Legally Blonde, running September 5-October 21, 2018 at Paramount Theatre, 23 E. Galena Blvd. in Aurora. Trent Stork directs. Tickets: ParamountAurora.com or (630) 896-6666. Credit: Liz Lauren