Photo Flash: Drury Lane Theatre Unveils Renovated Ballroom, Restaurant and Lobby
Kyle DeSantis
, President of Drury Lane, 100 Drury Lane, announced today that the facility has completed Phase 1 of its extensive renovation. Phase 2 will be completed by mid-2014. Phase 1 included the renovation of the 27,000 square foot Grand Ballroom, the Main Lobby and Cocktail Lounge, and the French and English Rooms. The inviting new spaces feature a sophisticated European design aesthetic with top-of-the-line furnishings, original artwork and elegant décor. Phase 2 will include the renovation of the Courtyard Restaurant and the Theatre Bar. On April 30, Drury Lane in Oakbrook Terrace hosted a gala event to celebrate the unveiling of their extensive renovation. Scroll down for photos!
"For almost 30 years, we've had the honor of hosting thousands of celebrations and special events and our guests have become part of the Drury Lane family. We are thrilled to continue this tradition with a new generation of guests," said DeSantis. "We can't wait to introduce our beautiful new space."
The renovated Grand Ballroom, Main Lobby and Cocktail Lounge feature a seamless blend of classic sophistication with chic modern elements. Designer Shannon Leoni created a soothing neutral color palette for each space. The soft blue and cream walls in the Grand Ballroom flawlessly complement the stylish custom Stark paisley carpeting, which is based on a design found in a palace in St. Petersburg. New furnishings include tasteful brushed bronze upholstered chairs. The majestic crystal chandeliers in the Grand Ballroom provide a touch of Old World grandeur. The state-of-the-art Grand Ballroom accommodates up to 1,800 guests, and has the capability to divide into severAl Smaller, more intimate rooms. The space has been designed to suit a wide range of events, from black tie galas to corporate meetings and trade shows.
Silver-leafed Chinoiserie wallpaper, Louis XVI-inspired dining chairs, a cream-colored coffered ceiling, new wall sconces and four new crystal chandeliers are highlights of The French Room renovation. The English Room has a posh club atmosphere, with stately lacquerEd Brown walls and plush coral banquettes.
The new Main Lobby has tones of chocolate brown, cream, coral and pale blue that enhance the four 12 foot Swarovski crystal chandeliers, crown molding and marble accents. The space includes new custom weaved Stark Carpeting. The Cocktail Lounge is the perfect location for guests to relax and enjoy light fare before or after an event or a production at Drury Lane Theatre. The stunning furnishings include a blend of fabrics which evoke the intimate feel of a fine home rather than a commercial space. The Cocktail Lounge also now features a new menu, including an enhanced seasonal cocktail list and light fare such as Double Tomato Bruschetta, Asian Beef Rolls, Snow Crab and Shrimp Cocktail, and the Grilled Chicken Panini.
The Courtyard Restaurant and Theatre Bar are undergoing renovations as part of the plans for Phase 2. The Courtyard Restaurant will feature similar design aesthetic as the Main Lobby space. The tasteful décor in the new Theatre Bar includes rich brown hues and fine marble and crystal accents, providing a lovely spot for Drury Lane guests to enjoy a cocktail or glass of wine.
Drury Lane is a spectacular location for meetings, private parties, or wedding receptions. The venue's expert catering and event staff provide stellar customer service to create flawless, memorable occasions. Newly expanded menus provide an array of choices for ethnic weddings and events and options for guests with dietary restrictions.
Drury Lane Theatre, located within the same facility, is an elegant 971-seat venue. This hugely successful enterprise continues to dominate the Chicagoland theater scene with a commitment to re-imagining classic musicals and plays, developing new works, showcasing exclusive concerts by legendary entertainers, and presenting compelling children's theater. Drury Lane Theatre collaborates with some of the nation's most talented directors, actors, musicians and designers to bring audiences an extraordinary theatrical experience. For more information regarding booking an event at Drury Lane, call 630.530.8300 or visit www.drurylaneoakbrook.com.
Photo Credit: Nick Murway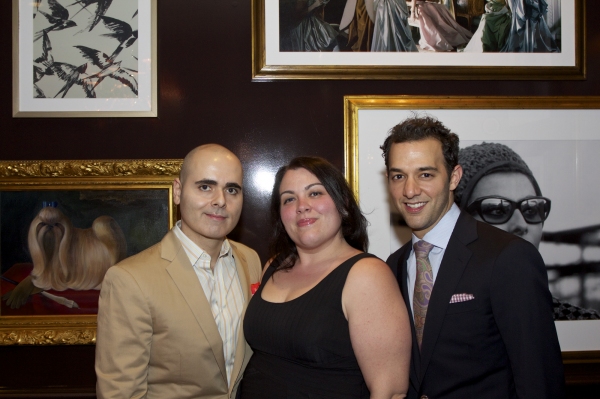 Mitchell Hatcher, Shannon Leoni, Kyle DeSantis

Monsignor Kenneth Velo and Kyle DeSantis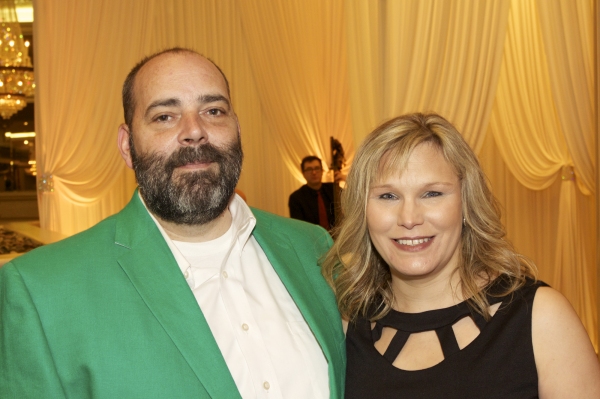 William Osetek and Donna Brinkman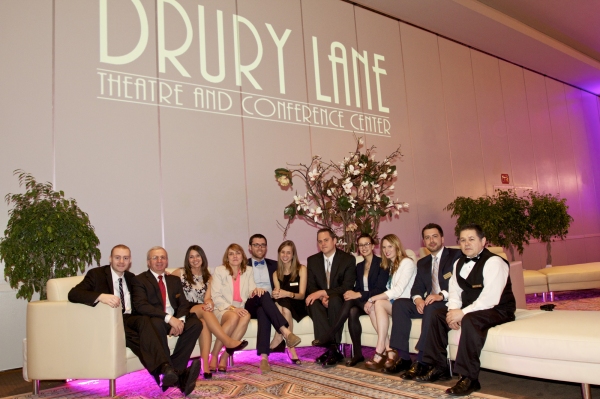 Drury Lane Team: Dan Bryks, Ted Ktona, Cindy Vermette, Tammy Blachuciak, Robert Pockette, Kara Juknelis, Paul Rusiniak, Jordyn Diorio, Jennifer Glick, Adrian Papaproko, Jose Luis Perez

Mitchell Hatcher and Kyle DeSantis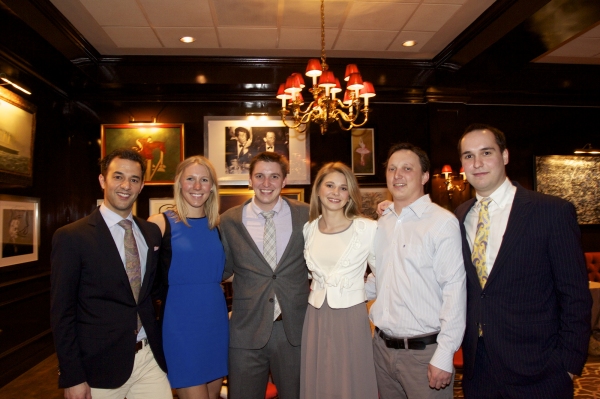 Kyle DeSantis, Shannon VanLente, Tom VanLente, Jamie VanLente, Jason VanLente, Drew DeSantis