New Philharmonic Opens 2018-2019 Season With SHOW BOAT AND SHOW TUNES on Sept 29 & 30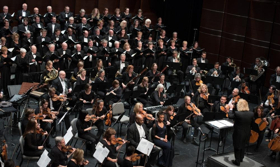 Four guest vocalists and the 100-voice Northwest Indiana Symphony Chorus join New Philharmonic for "Show Boat and Show Tunes," a showcase of popular songs coming from the partnerships of Hammerstein and Kern and Rodgers and Hart, at the McAninch Arts Center, 425 Fawell Blvd.; Saturday, Sept. 29 at 3 p.m. and 7:30 p.m.; and Sunday, Sept. 30, 3 p.m.
New Philharmonic, under the baton of Maestro Kirk Muspratt, will be joined by four guest vocalists - soprano Brooklyn Snow, mezzo-soprano Kate Tombaugh, tenor Matthew Greenblatt and baritone Bill McMurray - and the 100-voice Northwest Indiana Symphony Chorus, under the direction of Dr. Nancy Menk. The first half will feature classic songs by Richard Rodgers and Lorenz Hart including "Bewitched, Bothered, and Bewildered" ("Pal Joey"), "My Funny Valentine" and "Where or When" ("Babes in Arms"), "Mimi" (the movie "Love Me Tonight"), "With a Song in my Heart" ("Spring Is Here"), "This Can't Be Love" ("The Boys from Syracuse"), "Little Girl Blue" and "My Romance" ("Jumbo") and the title song from "I Married an Angel." The second half of the concert will feature selections from "Show Boat" including "Show Boat Overture," "Cotton Blossom," "Where's the Mate for Me?," "Make Believe," "Ol' Man River," "Can't Help Lovin' Dat Man," "Life Upon the Wicked Stage," "You Are Love," "The Sports of Gay Chicago," "Why Do I Love You?," "Bill" and "Old Man River Finale."
Brooklyn Snow (soprano) has performed internationally in Hong Kong and the Netherlands, as well as numerous shows in the U.S. Snow's operatic performances include Barbara in "Le nozze di Figaro," Isabel in "The Pirates of Penzance" and the Page in "Rigoletto." She is currently in residence with the Palm Beach Opera. Snow has worked with Salzburg's historic Mozarteum Akademie, the Castleton Festival and SongFest. Her appearance in "Show Boat and Show Tunes" marks her MAC debut.
Kate Tombaugh (mezzo-soprano) has performed with opera companies and symphonies throughout the U.S. Her title roles include Handel's "Ariodante," Massenet's "Cinderella" and Rossini's "La Cenerentola." Additionally, she has performed as Annie Oakley in "Annie, Get Your Gun" and Mad Margaret in "Ruddigore" among numerous other roles. She has performed as a soloist with Orchestra Seattle, the Apollo Chorus and the Northwest Indiana Symphony Orchestra, and will be performing the role of Isabella in "L'Italiana in Algeri" for Winter Opera St. Louis's 2018-2019 season. She was seen by MAC audiences in New Philharmonic's "The Best of Broadway" concerts in 2017.
Matthew Greenblatt (tenor) makes his MAC debut in "Show Boat and Show Tunes." Performance credits include the role of Prince Tamino in "The Magic Flute" quintet for the Palm Beach Opera's Opera @ Waterfront Concert and he served as apprentice artist for Opera, covering the roles of Candide in "Candide" and Spoletta in "Tosca." Greenblatt has previously participated in the Bel Canto in Tuscany program headed by the internationally acclaimed conductor, Giovanni Reggioli.
Bill McMurray (baritone) has more than 30 operatic roles to his credit. He has performed several times with the Lyric Opera of Chicago's "Opera in the Neighborhoods," and, in 2013, sang the lead role in the Chicago premiere of "Der Kaisser von Atlantis" at the Jay Pritzker Pavilion with the New Millennium Orchestra. Awards and honors include a first place in the National Association Teachers of Singing competition and, in 2008, he was one of eight singers selected to the Winners Circle of The Classical Music Vocal Competition held in Chicago. McMurray sings regularly with the Chicago Symphony Orchestra and Chorus where has been a featured soloist. He was last seen at the MAC in New Philharmonic's 2016 concert, "An Evening of Gershwin."
Established in 1987, the Northwest Indiana Symphony Chorus, composed of singers drawn from throughout Northwest Indiana and South Chicago area, has performed with the Northwest Indiana Symphony Orchestra in everything from requiems to reggae. The group is the choral component of the Symphony Society, providing added texture and versatility to the Symphony's performance repertoire. The Chorus performs regularly for the Halloween and Holiday Pops Concerts, and joins the Orchestra for major works on the Maestro Series. Recent repertoire includes Beethoven's "Ninth Symphony," Bernstein's "Chichester Psalms," "Requiems by Fauré,"Duruflé and Verdi," Holst's "The Planets," Orff's "Carmina Burana," Strauss' " Die Fledermaus" and Bizet's "Carmen" with the Lyric Opera Center for American Artists. Currently under the direction of Dr. Nancy Menk, the chorus also occasionally presents its concerts of choral masterworks.
Tickets
New Philharmonic's "Show Boat and Show Tunes" will be performed Saturday, Sept. 29 at 3 and 7:30 p.m.; and Sunday, Sept. 30 at 3 p.m. Tickets are $55. To order tickets or for more information, call 630.942.4000 or visit AtTheMAC.org.
As New Philharmonic audiences have come to expect, there will be a free pre-concert MAC chat; plus the opportunity to mix and mingle with Maestro Muspratt, members of New Philharmonic and guest artists during the "Cookies with Kirk" post-performance lobby receptions, sponsored in part by Brookdale Glen Ellyn, Senior Living Solutions.