Melanie Fiona, Candlebox, Flobots, Tommy Igoe and More Coming Up at City Winery Chicago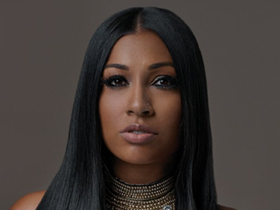 City Winery Chicago, 1200 W. Randolph Street, announces award-winning R&B artist Melanie Fiona, two evenings with top-selling rock group Candlebox ("Far Behind," "You"), groundbreaking hip-hop band Flobots and more.
The following shows go on sale to the public on Thursday, November 16 at noon at citywinery.com/chicago.
---
Sunday, December 3; 11:00 a.m.
GA Seated - $12
Story Sessions features a collection of performers sharing true personal stories that will tug at your heart strings, tickle your funny bone and take your mind on a wild adventure. Story Sessions begins at 11:00 a.m. with an hour of live music followed by storytelling starting at noon. As each story is told, Story Sessions' resident artist will draw an illustration of the story as it unfolds. Brunch menu available.
City Winery & Joel Chasnoff Present: Christmas for the Jews with John Fisch, Rabbi Barry Schechter and Ed Shulman
Monday, December 25
GA seated $25 in advance / $30 day of show
Following a sold-out show in 2016, Joel Chasnoff's Christmas for the Jews returns to City Winery Chicago with special guests stand-up comic Jon Fisch ("The Late Show with Stephen Colbert," "Late Night with David Letterman"), the "funniest rabbi in Chicago" Rabbi Barry Schechter and guitarist Ed Shulman. A Chicago native, Chasnoff is the author of the comedic memoir The 188th Crybaby Brigade about his service in the Israeli Army. He has performed on stage and screen in nine countries, including two off-Broadway shows, a USO comedy tour of Japan and Korea, more than 1,000 Jewish events in North America and Europe, and Israeli late-night TV. A graduate of I.O. (formerly Improv Olympic) in Chicago and UCB and The PIT in New York, Chasnoff regularly performs improv and teaches his Improv Comedy 101 Workshop to adults and teens. A portion of proceeds from Joel's comedy and book sales is donated to his foundation, Project Elijah.
Wednesday, January 3
$22/$25/$28/$30
Beginning with the release of his first studio album, Alive on Arrival, Mississippi-born Steve Forbert became a smash-success through the 80's, coming to release seventeen total studio albums to date and receiving a wide range of critical acclaim and awards recognition. His song "Romeo's Tune" reached No. 11 on the U.S. Billboard Hot 100 chart in 1980 and is ranked as the 60th biggest American hit of 1980. Fobert's tribute song to Jimmie Rodgers, "Any Old Time," earned him a 2004 Grammy Award nomination in the Best Traditional Folk category and was inducted into the Mississippi Hall of Fame in 2006. His latest album, Compromised, was released in 2015 and led to a reunion with producer John Simon whom oversaw sessions for Forbert's 1979 record Jackrabbit Slim.
Thursday, January 11
$25/$25/$28/$32, plus Standing Room Only for $15
Denver, Colorado's progressive hip-hop and rock act Flobots bring their signature anthems dedicated to creating a better world to City Winery Chicago. Since forming in 2005, Flobots have released four full-length albums, toured throughout the U.S. and Europe and appeared on late night programs, including The Tonight Show and Late Night. Flobots are internationally known for their 2008 platinum single "Handlebars" and widely recognized for using their music as an inspiration for social change. Their most recent album, NoEnemies, a collection of protest songs focused on issues such as climate change and immigration reform was released in May 2017. Flobots have also explored ventures outside of music, including a 2008 partnership with comic artist D.J. Coffman to create a web-comic, entitled Flobots, based on the group's rise to success and real accounts from their fans.
Tracy Nelson & The Bel Airs
Tuesday, January 16
$22/$25/$28/$32
Wisconsin native Tracy Nelson has spent her long career in music producing records that resonate with the foundations of R&B and folk. With her first album in 1964, Deep Are the Roots, Nelson embarked on a journey to success, relocating to San Francisco and coming to share stages with artists such as The Grateful Dead, Jimi Hendrix, and Janis Joplin. After producing six records with her band Mother Earth, Nelson began a solo career, earning a 1974 Grammy nomination for her duet with Willie Nelson ("After the Fire is Gone"). After a hiatus from recording through the 80's, Nelson began touring and producing music for several independent labels, including a touring collaboration in 2005 through 2006 entitled "Chicago Blues Reunion," which paired Nelson with names such as Harvey Mandel and Corky Siegel. Nelson first performed with The Bel Airs in 2016 and will make a stop at City Winery as part of the group's Winter 2018 tour.
Fronted by brothers Dick and Dave Pruitt on bass and electric guitars, with Michael Cherry on drums, The Bel Airs play a danceable mix with an authentic but eclectic bluesy-country-soul-and-rock-n-roll sound influenced by the likes of Wilson Picket, Slim Harpo, Howlin' Wolf and Johnny Cash. Performing together for more than 20 years, the Pruitt brothers' harmony vocal style sets them apart in the contemporary music scene. David Pruitt's "big guitar" and Dick Pruitt's howling vocals over soulful, right-on rhythm playing make this trio a powerhouse.
Sandra Antongiorgi with ¡ESSO! Afrojam Funkbeat, Pecados de Maria, DJ Cqqchifruit
Thursday, January 18; 6:30 p.m.
GA Seated $22 adv / $25 day of show
Singing and playing guitar from the early age of 5, Sandra Atongiorgi has dedicated her career to artistic integrity and enrichment. Born into a musical Puerto Rican family, Atongiorgi's bilingualism and heritage transcend into her music. She has performed with musicians from around the world and along the way, gathered influences from traditional Caribbean sounds, Soul, R&B, Rumba and Gitano to create her own expression of a World, Latin, Neo-Soul sound. In 2001, Antongiorgi was featured as an opening act for Wynonna Judd at the House of Blues in Chicago. In 2004, she also had one of her songs featured on the "Latin Dragon" movie soundtrack. More recently, Sandra opened for the world-renowned Alfonso Ponticelli at Chicago's Mayne Stage. Atongiorgi will be performing a show at City Winery in collaboration with local Chicago artists ¡ESSO! Afrojam Funkbeat, Pecados de Maria, and DJ Cqqchifruit.
Wednesday, February 7; 7:00 p.m.
$35/$38/$42/$45
Even before the release of her debut album The Bridge in 2009, Toronto native Melanie Fiona was on the road to success. Beginning in 2008, Fiona joined Kanye West on his "Glow in the Dark" tour and received early attention from Jay-Z, securing her management by Roc-Nation. Several songs from The Bridge earned Fiona critical acclaim, including "It Kills Me" which topped the Billboard Hot R&B/Hip-Hop Songs chart for 10 weeks and earned her a Grammy Award nomination for Best Female R&B Vocal Performance. Her second album, MF Life, was released in 2012 and earned two Grammy Awards for Best Traditional R&B Performance and Best R&B Song for the song "Fool for You" with CeeLo Green. Fiona is currently working on her third album, Awake.
The Birdland All-Stars featuring Tommy Igoe: The Art of Jazz
Wednesday, February 21
$25/$28/$32/$35
Featuring the finest musicians in New York, The Birdland All-Stars have been thrilling audiences at "The Jazz Corner of the World" for the last 10 years. This dynamic ensemble, straight from the jazz mecca of Manhattan, provides an unforgettable musical event, The Art of Jazz, that goes far beyond the traditional, setting the standard for the 21st-century jazz orchestra. Returning to the road for the first time in five years, The Birdland All-Stars have created new arrangements featuring the music of David Bowie, The Police and Steely Dan, as well as fresh treatments of iconic compositions by Charlie Parker, Chick Corea and Herbie Hancock.
Friday, March 9; 7:00 p.m. & 10:00 p.m.
$28/$32/$36/$40
Tom Papa is one of the top comedic voices in the country, finding success in film, television, and radio, as well as on the live stage. Papa is host of the hit SiriusXM show Come to Papa. His stand-up special, Tom Papa: Freaked Out, directed by Rob Zombie, was named one of the 10 Best Comedy Albums of 2013 by Laughspin.com. Tom hosted the NBC series "The Marriage Ref" which ran for two seasons, had a recurring role opposite Julia Louis-Dreyfus on "The New Adventures of Old Christine," and starred in his own NBC series "Come to Papa." In 2013, Papa was seen alongside Michael Douglas and Matt Damon in the HBO film, Behind the Candelabra which was directed by Steven Soderbergh and earned the team 11 Emmys. In 2015, Papa guest starred on "The Jim Gaffigan Show" on TV Land and on Colin Quinn's web series, "Cop Show."
Candlebox Acoustic Duo with Lullwater
Sunday-Monday, April 15-16
$25/$28/$32/$35
Formed in Seattle in 1991, Candlebox went quadruple platinum with their 1993 self-titled debut and released two more acclaimed and top-selling albums (1995's Lucy and 1998's Happy Pills) before going on a hiatus in 2000. Regrouping with a 2006 tour, Candlebox then release Into the Sun in 2008, followed by 2012's Love Stories & Other Musings. The band's most recent release, For Disappearing in Airports, features former Pearl Jam drummer Dave Krusen. Candlebox remains one of the most highly requested and played groups on radio, including the band's mega hits "Far Behind" and "You." Their City Winery Chicago set features intimate acoustic duo performances.
---
All City Winery events are open to all ages and start at 8 p.m., unless noted.
Tickets go on sale to the general public on Thursday, November 16 at noon. Only members of City Winery Chicago's signature VinoFile program have access to ticket sales today in addition to receiving: a waiver of ticket service fees; free valet parking; Restaurant Loyalty Rewards, such as a free pair of VIP concert tickets for every $500 spent on food & beverage in the restaurant; exclusive membership-only events; and access to the proprietary City Winery Virtual Sommelier, which helps make suggestions for wines one might enjoy based on past consumption at the venue.
Tracy Nelson & The Bel Airs, Sandra Antongiorgi, Steve Forbert, Flobots, Melanie Fiona, The Birdland All-Stars, Tom Papa and Candlebox join a diverse mix of the most respected names in pop, rock, jazz, blues, world music, theater, dance, spoken word and comedy presented at City Winery Chicago, including previously announced headliners and supporting acts Take Me to the River (Nov. 14); Loudon Wainwright III with Lucy Wainwright Roche (Nov. 15); Kandace Springs (Nov. 16); Loose Ends with Robert Gee (Nov. 17, 7pm); Mike Doughty (Nov. 18); WDCB Jazz Brunch with George Freeman & Mike Allemana Organ Quartet (Nov. 18); Chicago Philharmonic Brunch - True Crime Radio Stories (Nov. 19, 12pm); Jackopierce with Marie Miller (Nov. 19, 7pm); Badfinger featuring Joey Molland (Nov. 20); Miki Howard (Nov. 21); Joshua Davis (Nov. 22); The Verve Pipe (Nov. 24); Kurt Elling: The Beautiful Day (Nov. 25-26, 5 & 8pm); Marcus Johnson (Nov. 27); Nico Segal Presents: The JuJu Exchange (Nov. 28, 7pm); Earl Klugh (Nov. 29, 6:30 & 9pm); Rhett Miller with Matthew Ryan (Nov. 30); Lynne Jordan presents A Great Big Diva (Dec. 2, 1pm); Ms. Lisa Fischer & Grand Baton (Dec. 2); Jeffrey Foucault & Kris Delmhorst (Dec. 3); The Secret Sisters with Brian Dunne (Dec. 4); Marc Roberge of O.A.R. (Dec. 5, 7 & 9:30pm); Joe Pug with Juanita Stein (Dec. 6); Shemekia Copeland (Dec. 9); Mihali (Dec. 9, 11:30pm); Chicago Philharmonic Brunch - FairyTale Noël (Dec. 10, 12pm); Los Lobos with Matt Andersen (Dec. 10-11); Los Lobos with Future Stuff (Dec. 12-13); Dwele (Dec. 14, 7 & 9pm); Tab Benoit with Eric Johanson (Dec. 16); The Empty Pockets with Nate Jones (Dec. 17, 7pm); Kris Allen with Marie Miller (Dec. 18); Bebel Gilberto (Dec. 19-20); Avery*Sunshine (Dec. 21, 7 & 9:30pm); Michael McDermott with Heather Horton (Dec. 22); Michael McDermott (Dec. 23, 5 & 8pm); Poi Dog Pondering (Dec. 26-30); BoDeans (Dec. 31, 7:30 & 11pm; Jan. 1, 5 & 8pm); Bilal (Jan 4-5); Talib Kweli with K'Valentine (Jan. 6, 7 & 10PM); Amy Black presents The Music of Memphis & Muscle Shoals (Jan. 7, 7pm); Steve Earle (Jan. 8-9 & Feb. 12-13); Tom Cochrane (Jan. 10); Freddy Jones Band with The Nadas (Jan. 12-13); Davina & the Vagabonds (Jan. 17); Eric Benét (Jan. 19, 7 & 10pm); Lee Ann Womack (Jan. 20-21); Alejandro Escovedo (Jan. 25-27); The Posies (Jan. 31); Justin Townes Earle (Feb. 2-3); Judy Collins (Feb. 4, 5 & 8pm); 10,000 Maniacs (Feb. 9, 7:30 & 10pm; Feb. 10, 5 & 8pm); JD Souther (Feb. 11); Cyrille Aimee (Feb. 15); Kindred the Family Soul (Feb. 16, 7 & 10pm); Syleena Johnson (Feb. 23, 7 & 10pm); Sergio Mendes (Feb. 25, 5 & 8PM); Alan Doyle (Mar. 2); Howard Jones (Mar. 8); We Banjo 3 (Mar. 14); Stephen Kellogg (Mar. 15); Los Lonely Boys with Lisa Morales (Mar. 17-18); The Zombies (Mar. 19-20) and Joshua Radin (Mar. 27-28).
Opened in 2012, City Winery Chicago is a fully operational winery, restaurant with outdoor patio, concert hall and private event space located in the heart of the West Loop at 1200 W. Randolph, in the historic urban Fulton Market district. Once a refrigerated food distribution warehouse, the 1911 building has been transformed into a contemporary 33,000 square foot haven for those passionate about wine, music and culinary arts. The décor evokes the romance of being in wine country, from the exposed stainless steel fermenting tanks and French oak barrels, to the aroma of fermenting grapes. Chicago's only fully operation winery has produced dozens of in-house wines sourced from vineyards in California, Oregon, Washington, Argentina and Chile, including a Wine Enthusiast 92-point 2015 Verna's Vineyard Reserve Pinot Noir. With more than 400 unique producers from around the world City Winery is recognized with 2014 and 2015 Best of Awards of Excellence "for having one of the most outstanding restaurant wine lists in the world" by Wine Spectator. The globally inspired, locally sourced, wine-focused food menu is conceived for pairing and sharing. The concert hall accommodates up to 300 guests, all seated at tables with complete beverage and dining service, ensuring a comfortable "listening room" experience enhanced by a state-of-the-art Meyer Sound system. Riedel is the official and exclusive provider of glassware, showing City Winery's commitment to enjoying quality wine in a quality vessel. American Airlines is the Official Airline and Virgin Hotels Chicago is the Official Hotel of City Winery. For more information, visit www.citywinery.com.