Ivo van Hove's A VIEW FROM THE BRIDGE Extends at the Goodman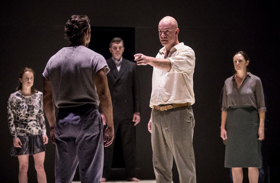 Seven more performances have been added to Tony Award winner Ivo Van Hove's re-imagining of Arthur Miller's A View From the Bridge at Goodman Theatre.
The Chicago premiere production's eight-member cast, including Daniel Abeles (Rodolpho), Ian Bedford (Eddie Carbone), Catherine Combs (Catherine), Ronald Connor (Louis), Brandon Espinoza (Marco), James D. Farruggio (Officer), Ezra Knight (Alfieri), Andrus Nichols (Beatrice), remains intact for the added performances.
Audiences have the opportunity to immerse themselves directly into the drama with on-stage seating - offered for the first time ever in the Goodman's Albert Theatre. Van Hove's production of A View From the Bridge originally premiered in 2014 at The Young Vic and later transferred to London's West End and Broadway, where it garnered the 2016 Tony Awards for Best Revival of a Play and Best Director; subsequent U.S. regional productions include The Kennedy Center (Washington, D.C.) and Center Theater Group (Los Angeles) - which also featured Combs and Nichols in their aforementioned roles.
EXTENSION SCHEDULE:
Wednesday, October 18 at 7:30pm
Thursday, October 19 at 11am and 7:30pm (limited availability at 11am due to student matinee)
Friday, October 20 at 8pm
Saturday, October 21 at 2pm and 8pm
Sunday, October 22 at 2pm (Closing performance)
The production follows Brooklyn longshoreman Eddie Carbone (Bedford), who welcomes his immigrant cousins to America. But when one of them falls for Eddie's young niece, Catherine (Combs), Eddie's jealous mistrust exposes an unspeakable secret-one that drives him to commit the ultimate betrayal.
The creative team includes Jan Versweyveld (Set and Lights), An D'Huys (Costumes), Tom Gibbons (Sound). Jeff James is the Associate Director and Briana J. Fahey is the Production Stage Manager.
Tickets ($35-$95, subject to change) are available by phone at 312.443.4800, online at GoodmanTheatre.org/View or at the box office (170 N. Dearborn). The Abbott Fund is the Major Production Sponsor and American Airlines and Northern Trust are the Major Corporate Sponsors for A View From the Bridge.
ACCESSIBILITY AT THE GOODMAN:
Touch Tour, October 7 at 12:30pm - A presentation detailing the set, costume and character elements
Audio Described Performance, October 7 at 2pm - The action/text is audibly enhanced for patrons via headset
ASL Interpreted Performance, October 11 at 7:30pm - Professional ASL interpreter signs the action/text as played
Open Captioned Performance, October 14 at 2pm - An LED sign presents dialogue in sync with the performance
Visit Goodman Theatre.org/Access" target="_blank">Goodman Theatre.org/Access for more information about Goodman Theatre's accessibility efforts.
ABOUT THE ARTISTS:
Arthur Miller (Playwright, 1915 - 2005) was born in New York City and studied at the University of Michigan. His plays include The Man Who Had All the Luck (1944), All My Sons (1947), Death of a Salesman (1949), The Crucible (1953), A View from the Bridge and A Memory of Two Mondays (1955), After the Fall (1964), Incident at Vichy (1964), The Price (1968), The Creation of the World and Other Business (1972), The Archbishop's Ceiling (1977), The American Clock and Playing for Time (1980). Later plays include The Ride Down Mt. Morgan (1991), The Last Yankee (1993), Broken Glass (1994), Mr. Peters' Connections (1998), Resurrection Blues (2002) and Finishing the Picture (2004 world premiere at Goodman Theatre). Other works include Situation Normal, reportage (1944); Focus, a novel (1945); The Misfits, a screenplay and cinema novel (1961) and the texts for In Russia (1969); In the Country (1977) and Chinese Encounters (1979), three books in collaboration with his wife, photographer Inge Morath. Memoirs include 'Salesman' in Beijing (1984) and Timebends, an autobiography (1987). Short fiction includes the collection I Don't Need You Any More (1967), the novella, Homely Girl, a Life (1995) and Presence: Stories (2007). Essay collections include The Theater Essays of Arthur Miller (1978) and Echoes Down the Corridor: Collected Essays 1944 - 2000, as well as the individually published On Politics and the Art of Acting (2001). Among other honors, he received the Pulitzer Prize for Drama in 1949 for Death of a Salesman.
Ivo Van Hove, general director of Holland's leading theater company, Toneelgroep Amsterdam, returns to the Goodman following his 2009 production of Rouw Siert Electra (Mourning Becomes Electra), part of the Robert Falls-curated A Global Exploration: Eugene O'Neill in the 21st Century. He made his Broadway debut with A View From the Bridge, and has staged internationally acclaimed productions including Alice in Bed, More Stately Mansions (Obie Award), A Streetcar Named Desire, Hedda Gabler (Obie Award), The Misanthrope, The Little Foxes and Scenes from a Marriage, all at New York Theatre Workshop; Roman Tragedies, Cries and Whispers, Opening Night, Angels in America and Antigone at Brooklyn Academy Of Music and Teorema at Lincoln Center Festival. Van Hove's opera credits include the premiere of Brokeback Mountain at Teatro Real in Madrid, as well as productions of The Clemency of Tituts, Idomeneo, Mazeppa, Macbeth, Iolanta, The Makropulos Case, Lulu and The Ring Cycle.
Goodman Theatre is a premier not-for-profit organization distinguished by the excellence and scope of its artistic programming and civic engagement. Led by Artistic Director Robert Falls and Executive Director Roche Schulfer, the theater's artistic priorities include new play development (more than 150 world or American premieres in the past three decades), large scale musical theater works and reimagined classics (celebrated revivals include Falls' productions of Death of a Salesman and The Iceman Cometh ). Goodman Theatre artists and productions have earned two Pulitzer Prizes, 22 Tony Awards, over 160 Jeff Awards and many more accolades. In addition, the Goodman is the first theater in the world to produce all 10 plays in August Wilson's "American Century Cycle" and its annual holiday tradition A Christmas Carol, which celebrates its 40th anniversary this season, has created a new generation of theatergoers. The Goodman also frequently serves as a production partner with local off-Loop theaters and national and international companies by providing financial support or physical space for a variety of artistic endeavors.
Committed to three core values of Quality, Diversity and Community, the Goodman proactively makes inclusion the fabric of the institution and develops education and community engagement programs that support arts as education. This practice uses the process of artistic creation to inspire and empower youth, lifelong learners and audiences to find and/or enhance their voices, stories and abilities. The Goodman's Alice Rapoport Center for Education and Engagement is the home of such programming, most offered free of charge, and has vastly expanded the theater's ability to touch the lives of Chicagoland citizens (with 85% of youth participants coming from underserved communities) since its 2016 opening.
Goodman Theatre was founded by William O. Goodman and his family in honor of their son Kenneth, an important figure in Chicago's cultural renaissance in the early 1900s. The Goodman family's legacy lives on through the continued work and dedication of Kenneth's family, including Albert Ivar Goodman, who with his late mother, Edith-Marie Appleton, contributed the necessary funds for the creation of the new Goodman center in 2000.
Today, Goodman Theatre leadership also includes the distinguished members of the Artistic Collective: Brian Dennehy, Rebecca Gilman, Henry Godinez, Dael Orlandersmith, Steve Scott, Chuck Smith, ReGina Taylor, Henry Wishcamper and Mary Zimmerman. David W. Fox, Jr. is Chair of Goodman Theatre's Board of Trustees, Cynthia K. Scholl is Women's Board President and Justin A. Kulovsek is President of the Scenemakers Board for young professionals.
Photo Credit: Liz Lauren