French Hit is a Valentine's Day Treat for Chicago Audiences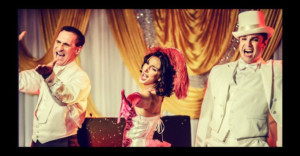 Uptown Underground celebrates Valentine's Day 2018 with a one-night only showing of the French hit I'm a Good Little Devil at the venue's Kiss Kiss Cabaret.
I'm a Good Little Devil, directed and produced by French star Jean-Christophe Born, takes audiences into the belle époque to follow the life of Gaby Deslys, an emancipated woman from Marseille who became the most famous Music Hall performer in the early 20th century. Travel with Gaby from her early days in Paris at the Moulin Rouge, La Cigalle, and Alhambra, to London and New York. In 1910, after many love affairs, one with the King of Portugal Manuel de Bragance, she appeared in a Broadway show with a young American dancer, Harry Pilcer. The two of them became and remained one of Broadway's most revered dance teams, both in New York and London, until her untimely death. One of Gaby Deslys's last revues was "Drop Them" at the Casino de Paris. It was in this show that she created her famous descent down a grand stair case and bringing the first jazz band ever heard in Paris. The spectacle (performed in English) is a three-person show filled with song, dance, and extravagance.
"I have always been fascinated by the legendary glories of the past, all the more when it is related to my city, Marseilles," says Jean-Christophe Born. "When I discovered Gaby Deslys, I immediately felt what an exceptional artist she must have been, even if she seems to be forgotten by so many. Well before her time and far away from the social conventions, she magnificently ushered in the modern woman of the 20th century. I plunged myself passionately into her life's story and worked through her biographies, searching documentation in the archives of the Bibliothèque Nationale de France in Paris, on the web through the Library of Congres - Washington D.C. and by meeting historians like Mr. Echinard (a specialist on Marseilles), It was a long-term, passionate job spanning several years.
I'm a Good Little Devil features Jean-Christophe Born (tenor), Perrine Cabassud (soprano) and Mark Nadler, the 2015 Broadway World Award for Performer of the Year (piano).
I'm a Good Little Devil plays February 14, 2018 at 8pm at the Uptown Underground, 4707 N. Broadway, Chicago, IL 60640. TICKETS: $25 at www.uptownunderground.net, by calling (773) 867-1946 or via email at reservations@uptownunderground.net.