Review Roundup: LITTLE SHOP OF HORRORS at Flat Rock Playhouse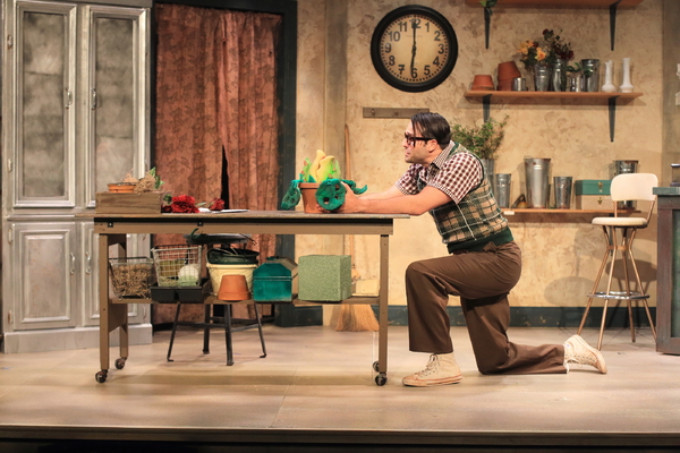 LITTLE SHOP OF HORRORS plays at Flat Rock Playhouse through October 21. The meek floral assistant Seymour Krelborn stumbles across a new breed of plant he names "Audrey II" - after his coworker crush. This foul-mouthed, R&B-singing carnivore promises unending fame and fortune to the down and out Krelborn as long as he keeps feeding it, blood. Over time, though, Seymour discovers Audrey II's out of this world origins and intent towards global domination!
LITTLE SHOP OF HORRORS has a book and lyrics by Howard Ashman and music by Alan Menken.
The cast stars Jeremiah James as Seymour Krelborn, Ryah Nixon as Audrey, Preston Dyer as Mr. Mushnik, Dorian McCorey as Chiffon, Gia Asperas as Crystal, Khadijah Rolle as Ronnette, and C.J. Barnwell as Audrey II.
Let's see what the critics had to say!
David Cameron, Hendersonville Lightning: Jeremiah James plays a convincing nebbish, fleshing out the character of Seymour Krelborn in a way that makes the audience want to both pat him on the head and twist his ear and tell him to stand up straight. Audrey, the shop girl and Seymour's secret love interest, is played by Ryah Nixon, whom Playhouse patrons may remember as Doralee in last year's 9 to 5. As Audrey she is damaged goods-a goddess to Seymour, but unable to see her own value. In a cast of talented singers, James and Nixon stand out with powerful vocal performances peaking in their delivery of "Suddenly Seymour."
Dennis Ray, Rapid River Magazine: As expected Flat Rock Playhouse did an incredible job of putting this production together with top performances from a stellar national cast... The play although 25 years old seems fresh and always entertaining. The production value is top-notch, and the effects (puppeteering) are quite stunning.
Photo: Treadshots