E-TOWN SHORTS FEST VII Puts Student Directors at Reins; Students Act In, Direct Bite-Sized Plays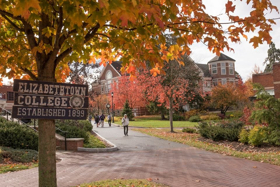 Elizabethtown College students put themselves in the spotlight for the College's 7th-annual Shorts Fest. The event starts at 8 p.m. Friday, Dec. 1, and at 2 p.m. Saturday, Dec. 2, in the Elizabethtown College Tempest Theatre.
Shorts Fest VII focuses on experimentation and education through nine short plays directed by students in the TH320, Directing class.
"Man. Kind." by Dan Nguyen, directed by Katherine Campbell '18
"Daniel and Diane" by David Callahan '18, directed by Mika Cook '20
"What's the Meta?" by Andrew Biss, directed by Kayla Hall '18
"Something to Believe In" by Elizabeth McIlhenny '19, directed by Emily Leister '19
"Variations on a Composition in Blue" by Anne V. Grob, directed by Sarah Lohrfink '20
"Barry, Betty and Bill" by Renee Taylor and Joseph Bologna, directed by Amber
Mangabat '18
"Arabian Nights" by David Ives, directed by Tyler Rossi '19
"The Interrogation" by Murphy Guyer, directed by Christina Rupp '18
"The Role of Della" by John J. Wooten, directed by Anna Sorrentino '19
Tickets are $5 at 717-361-1170 or boxoffice@etown.edu.
Elizabethtown College, located in historic Lancaster County, Pennsylvania, is a private coed institution offering more than four dozen liberal arts, fine and performing arts, science and engineering, business, communications and education degrees. Learn more: http://www.etown.edu/about/