Photo Flash: First Look at CRT's I'LL BE BACK BEFORE MIDNIGHT
Cortland Repertory Theatre wraps up their 42nd annual summer season with the regional premiere of the thriller/comedy "I'll Be Back Before Midnight", by Peter Colley. This award-winning play has been described by the Toronto Globe & Mail as "the most widely produced stage play in Canadian history". It also has the distinction of having been produced in 48 of the 50 US states, every province in Canada and 29 countries around the globe including Mexico, Italy, China, Kenya, Spain, Ireland, Jamaica and Australia. It has broken numerous box office records and has had two record-breaking United Kingdom national tours. BroadwayWorld has a first look at the production below!
Performances of "I'll Be Back Before Midnight" will run from August 28 - September 7 with evening performances at 7:30. Matinees are available on August 30, September 1 and 4 at 2:00 PM. Tickets may be purchased by calling 800-427-6160 or in person at the CRT Box Office at 24 Port Watson Street in Cortland. Tickets are also available for sale 24 hours a day through the CRT website at www.cortlandrep.org. While the show does not contain adult language, there are mature themes and some scary elements not suitable for children. It is recommended for mid-teens and up.
Making his CRT directorial debut for this show is long-time CRT actor Dustin Charles. Stage Manager Laura Krouch heads up the returning design team of Cully Long (Scenic Designer), Jimmy Johnansmeyer (Costumes), Greg Solomon (Lighting), Lisa Guild (Props) and Seth Asa Sengel (Sound). Nick Ryan serves as Technical Director, and Jahana Azodi is Company Manager and Assistant Stage Manager.
The cast is comprised mostly of actors returning to CRT. Portraying Jan Sanderson is Melissa Macleod Herion, who has been seen in CRT's productions of "The Hollow" and "Rumors". Greg Sanderson is played by Jason Bowen in his CRT debut. Laura Sanderson is played by Charlotte Kate Fox, who has been seen in CRT's "The Hollow", "Chicago" and "The Smell of the Kill". Rounding out the cast as farmer George Willowby is Syracuse actor Bill Coughlin. Coughlin has been seen in CRT productions, including "Barefoot in the Park", "The King and I", "The Music Man", and "Over the River and Through the Woods" for which he won a Syracuse Area Live Theatre (SALT) Award as Best Actor of the Summer Season.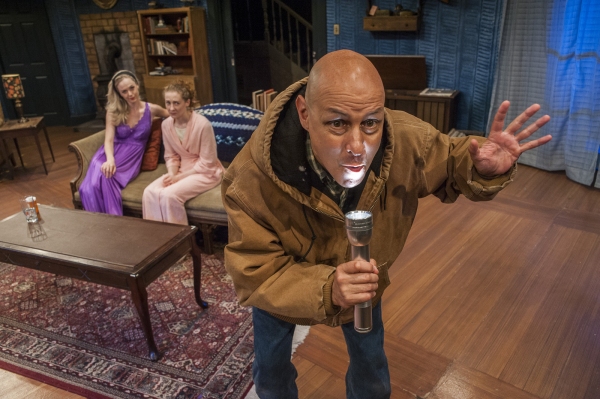 Charlotte Kate Fox as Laura Sanderson, Melissa Macleod Herion as Jan Sanderson and Bill Coughlin as George Willowby

Charlotte Kate Fox as Laura Sanderson, Melissa Macleod Herion as Jan Sanderson and Jason Bowen as Greg Sanderson

Bill Coughlin as George Willowby and Jason Bowen as Greg Sanderson

Melissa Macleod Herion as Jan Sanderson