Patchogue Theatre Presents FROGZ!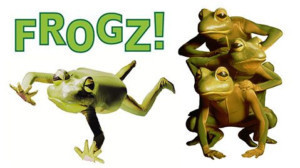 FROGZ is more than just dancers in full-frog costume, leaping about and chasing flies. It's a dizzying display of seemingly floating glow-in-the-dark sea creatures; luminous lizards, larger-than-life accordions; a giant baby, accompanied by mischievous orbs; mimes with a penchant for stacking boxes; penguins playing musical chairs; a cat trying to escape from a paper bag; and so much more.
The show uses acrobats, mime and dance to tell stories, and the animal characters take on human characteristics. FROGZ by Imago Theatre has been performed on Broadway, in China, Europe and throughout North America. This is the first time the show is being performed on Long Island. Jungle Bob's Reptile World of Oakdale and Selden will be in the lobby beginning at 1 p.m. to present various live reptiles to families.
Tickets range from $20 to $30 and can be purchased through the Patchogue Theatre box office, 71 East Main St. in Patchogue, 631-207-1313 or by visiting Patchoguetheatre.org.