Finger Lakes Musical Theatre Festival to Workshop Sir Tim Rice's FROM HERE TO ETERNITY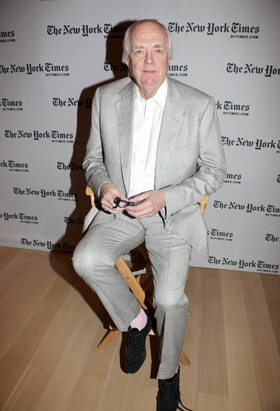 Multiple award-winning film and theatre lyricist Tim Rice, in conjunction with the Finger Lakes Musical Theatre Festival, will present an industry-only NYC development workshop of his new musical, "From Here to Eternity." Rice is known for penning the lyrics to "The Lion King," "Joseph and the Amazing Technicolor Dreamcoat," "Jesus Christ Superstar," "Aida," "Aladdin," "Chess" and "Evita," among others. His recent Emmy win (Jesus Christ Superstar Live) labels him an EGOT winner and places him among an elite group of entertainers who have been awarded the Emmy, Golden Globe, Oscar and Tony Awards. He is currently working on a show about Machiavelli and this year has been writing material with Sir Elton John for the new live-action film of "The Lion King". More can be found at www.timrice.co.uk.
"From Here To Eternity" has developed consistently and excitingly since the initial London production in 2013. Stuart Brayson's music was the reason I first came on board and Brett Smock's wonderful development of the piece has been crucial to its very positive reception in its first two American presentations. I'm honored to be part of a new telling of this great American story, particularly as James Jones' daughter Kaylie, herself a distinguished writer, has been extremely supportive of this new musical since day one." - Tim Rice
"From Here to Eternity" opened on London's West End on Sept. 30, 2013, running at the Shaftesbury Theatre through March 29, 2014. With significant changes made to the show, the musical made its North American premiere at the Finger Lakes Musical Theatre Festival under the direction of Producing Artistic Director, Brett Smock. The production received an enthusiastic reception and continued its development with a North East premiere at Ogunquit Playhouse in Maine in October 2017. The workshop will rehearse and present industry-only performances in mid-January, 2019. The show looks to continue its development regionally with an eye on Broadway and further global productions.
James Jones' award-winning novel was released in 1951 and won the Book of the Year award in 1952 and has been named one of the 100 Best Novels of the 20th Century. The novel was subsequently adapted into an eight-time Academy Award winning film in 1953. "From Here to Eternity" takes place in the months leading up to the famous attack on Pearl Harbor on Dec. 7, 1941. The musical is based solely on Jones' novel.
November 26, 1941. Six aircraft carriers depart Japan heading east for Hawaii to execute their devastating mission. That same morning, the men of G Company set about their daily duties restless and disgruntled, trapped in Hawaii, itching to join the war. Private Robert E. Lee Prewitt, a rebellious but soulful prize fighter, arrives new to G Company. His recruitment is strategic - to win the boxing competition and bring new pride and visibility to Captain Holmes and his regiment. When Prewitt refuses to fight, he becomes a target and must endure a series of monotonous and cruel punishments designed to coerce him back into the ring. As the ships make their way toward Hawaii, the musical charts a suspenseful and chilling course. Its hero embarks on a passionate love affair with an alluring escort girl, paralleling a dangerous relationship between his platoon sergeant and the Captain's wife. As the infamous date approaches, the claustrophobic world of the four lovers and the desperation of the soldiers of G Company splinter amidst an escalating war. "From Here To Eternity" is a compelling and visceral portrait of humanity, duty and redemption set against the backdrop of a beautiful but conflicted paradise.
Creative team: Book by Donald Rice (based on the original London book by Bill Oakes), Lyrics by Tim Rice, Music by Stuart Brayson. Scenic design by Stanley Meyer, Lighting design by Dan Ozminkowski, Sound design by Kevin Heard and Projection design by Christopher Ash. The show is directed and choreographed by Brett Smock. Produced by Heartaches, Ltd. and the Finger Lakes Musical Theatre Festival.
Four hours from New York City and situated between Syracuse, Rochester and Ithaca, the Finger Lakes Musical Theatre Festival is one of the largest producing musical theatre organizations in New York state, outside of New York City. The Festival is headquartered in the town of Auburn, NY - set in the picturesque Finger Lakes wine region of Central New York - and operates on multiple stages. Named in 2017 as one of the "Top 15 Must See Summer Theater Festivals" by The New York Times, the organization is currently celebrating its 60th Anniversary season and continues to provide top-notch education and entertainment to over 60,000 patrons each season and is routinely recognized by industry press for its artistry and execution.