BWW Review: ONCE at Geva Theatre Center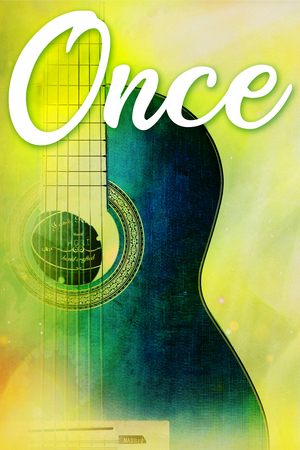 Continuing Geva Theatre's 2019-2020 season is the story of an unexpected meeting that blossoms into love, vibrant music, and a renewed vigor for life. It will warm your heart on a cold and dreary Rochester evening.
"Once", based on the motion picture written and directed by John Carney, is the story of Guy (Elliot Greer), a struggling musician who gave up on love and music, and the captivating Girl (Samantha Sayah) who inspired him to dream again. Guy spends his days working at his father's Dublin vacuum shop and his nights playing music in pubs. He is on the verge of giving up music altogether when he meets her: a Czech immigrant who refuses to let him abandon his guitar, and reignites his passion for music and life. Over the course of a week, this friendship grows into a musical collaboration and, ultimately, a powerful (but complicated) love.
I entered Geva for this performance a little skeptical. I'd seen the film version of "Once" when it was released over ten years ago and remembered it to be a pleasant---yet sorrowful---indie romance story, but didn't quite see how it could convincingly translate to the stage. From what I could recall the plot was a bit thin, the music forgettable (aside from the Oscar-winning "Falling Slowly", obviously), and the ending drab. Either my memory is failing or director Marc Cuddy is a miracle worker, because Geva's production of "Once" is anything but drab, a fact made abundantly clear from the moment you enter the theatre and are met with an energetic Celtic jam session right before your eyes.
"Once" holds many similarities to the modern Broadway sensation "Come From Away". The small cast of actors toggle between multiple characters throughout the show; the cast doubles as the orchestra, with folks on stage creating colorful and lively Celtic music using guitars, fiddles, and drums; and the set is bare and minimalist- in the case of "Once", just a bar and a backdrop. But nothing more is needed for this small band of multi-talented character actors, led by Greer and Sayah, to transport you to the streets of Dublin. The show features songs that are sometimes powerfully sad, other times wild and raucous, and the actors are equally nimble in their ability to slip from comical to sincere. In addition to the shows leads I was particularly impressed with Billy (Nicholas Mongiardo-Cooper), who mainly plays the owner of a small local music shop, and the Ex-Girlfriend (Rachel Mulcahy), an incredible singer and mean fiddler, in addition to actor.
Overall, the brilliance of "Once" is the way in which it weaves music and narrative together. Rather than typical linear storytelling with music interspersed, the way most stage musicals are written, music is ever-present in "Once". The show has big soaring musical numbers as you would expect, but it also uses music to blend scenes together, to change the set pieces, connect the characters, and breathe life into the story. It's totally unique and fantastically Irish, giving the whole performance a sense of Celtic romanticism and artistry.
Geva Theatre's production of "Once" is emotional and full of life, a testament to the power of love and music. It's playing on the theatre's mainstage until March 22nd. For tickets and more information, click here.
Related Articles View More Central New York

Stories

Shows