Calgary Opera Announces Line Up And New Programs To Celebrate Its 48th Season On A Grand Scale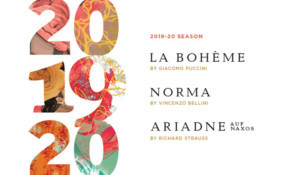 Following a season of change and transition, Calgary Opera announced a fresh and innovative line-up of productions, programs and packages that will form their 2019-20 season today. This season, the company's 48th, includes three main stage opera productions at the Southern Alberta Jubilee Auditorium and a series of smaller performances at other venues across the city.
"After a tumultuous few years, I truly believe that 2019-20 will be Calgary Opera's best season yet," says Jackie Pyke, Calgary Opera's Board Chair. "Building on the company's 48 year legacy and the strengths of its new senior leadership team of Artistic Director, Bramwell Tovey, and Managing Director and CEO, Heather Kitchen, we're delighted to announce not just a season of incredible productions starring a phenomenal line-up of Canadian and International Artists, but also exciting new programs designed to invite people to discover the enduring beauty of opera and deliver exceptional live experiences that have audiences eager to return."
The main stage season begins in November with a never-before-seen in Calgary version of Giacomo Puccini's enduringly popular tale of love and loss, La Bohème, which inspired the popular Broadway musical Rent. Acclaimed Canadian director and Calgary native, Brenna Corner will direct an ensemble cast starring Lebanese-Canadian soprano Miriam Khalil as Mimì and French-Canadian tenor Antoine Bélanger as Rodolfo. The story follows the lives of a group of young artists as they scrape by on the bohemian fringes of 19th century Paris and the opera has earned a place in the top 10 most performed operas for its heartbreakingly beautiful music and poignant storyline. Italian-born conductor Jonathan Brandani joins the production as maestro. La Bohème runs November 9, 13 and 15, 2019 at the Southern Alberta Jubilee Auditorium.
The season's second main stage production will see award-winning director Nicholas Muni unleash a display of fiery emotion on the Jubilee stage with Vincenzo Bellini's Bel Canto masterpiece, Norma. Calgary-born Canadian soprano Aviva Fortunata is set to ignite the stage in the title role, one made famous by the legendary diva Maria Callas. American tenor Chad Shelton makes his Calgary Opera debut as her lover, Pollione. Set in Roman occupied Gaul (France) around 50 BC, Norma is a passionate drama about a complex love triangle centred around the powerful title character's struggle to reconcile her calling as a high priestess, the demands of motherhood, and a secret love affair with a Roman enemy whose attentions have turned to someone new. Conducted by Alice Farnham, Norma runs February 1, 5 and 7, 2020.
Capping off the main stage series is a wildly visual and technically complex new European production of Richard Strauss' Ariadne auf Naxos playing April 25, 29 and May 1, 2020 at the Jubilee Auditorium. Directed by Laurence Dale, conducted by Gordon Gerrard and featuring set and costume designs by Gary McCann, this production is certain to dazzle even the most frequent opera-goer. Former Calgary Opera Emerging Artist and The Bachelor contestant-turned-fashion blogger Sharleen Joynt will portray the burlesque troupe leader Zerbinetta, while American sopranos Renée Rapier and Rebecca Nash take on the roles of The Composer and Ariadne/The Prima Donna, respectively. The season's lone comedy, the story explores the absurd antics that transpire when burlesque frivolity is forced to mesh with high art when a dinner party at a wealthy man's house goes off the rails.
Beyond the main stage series, the company is also reprising its Christmas at the Opera production of Gian Carlo Menotti's family-friendly Amahl and the Night Visitors from December 6-8, 2019. This year, the piece will be presented alongside a selection of seasonal carols at the Mamdani Opera Centre. Then, in the spring, in honour of the 150th anniversary of French composer Hector Berlioz's death, the company will present a staged-concert version of Béatrice et Bénédict, a playful battle of wits inspired by Shakespeare's Much Ado About Nothing. The show will also be presented March 25-28, 2020 at the Mamdani Opera Centre and feature the 8 members of the company's Emerging Artist Development Program, which is now in its 14th year.
Of the season, Artistic Director Bramwell Tovey says, "While I didn't have the pleasure of selecting the programming that will appear on our stages this season, I couldn't be happier to be here in Calgary to present the season alongside our wonderful staff and season artists, and also to share in it with Calgary's exceptional community of music lovers. It's a decidedly different approach to a season than we've typically adopted at Calgary Opera, but one that we think will thrill opera-goers whether this is their first or their fiftieth visit."
Notably, the 2019-20 season features a different format from Calgary Opera's usual programming model and is one that is well-suited for people experiencing the opera for the first time. Curated to gradually introduce people to the art of opera, it starts with a well-loved, time-tested crowd-pleaser, moves on to a recognizable Bel Canto showpiece, and introduces just a bit of challenge at the end with a lesser-known comedy with an epically entertaining new presentation.
"At a time when a variety of entertainment options are available on-demand and at our fingertips, we recognize that Calgary Opera isn't just competing with other live performing arts for people's time and entertainment dollars," says Managing Director & CEO Heather Kitchen. "To continue to connect with our local audience we know that we need to provide them with even more innovative programming and better value to create an invitation compelling enough to choose to spend their evening out with us."
To accomplish this, the company has undertaken a series of data and feedback gathering activities to help identify guests' expectations of live performing arts experiences, gauge trends in ticketing and monitor shifting needs as audience demographics change. As a result of the feedback gathered over the current season, the company is unveiling new programs to help reduce barriers to accessing live, local arts programming and make what can, at times, be an impersonal experience more consumer-centric.
"We've heard what our guests have been telling us and are focusing on three major areas of improvement," continues Kitchen.
The first is making the experience of parking at the Jubilee Auditorium easier for subscribers with an option to pre-pay for parking, eliminating the need to stand in line at outdoor self-serve payment machines in cold weather.
Secondly, starting with La Bohème Calgary Opera will now be allowing beverages to be consumed in the theatre, provided they are in plastic containers.
And perhaps the largest new initiative for the season is the creation of the Calgary Opera Discovery Pass, which allows first-time subscribers who aren't picky about their seats to experience a full season of the company's main stage series for just $165 - up to a 70% savings over regular ticket prices.
"We know that with the local economy being what it is, first-time buyers don't want to take big risks on unfamiliar experiences, even if they're very appealing to them," says Kitchen. "The new Discovery Pass was created especially with these guests in mind. It guarantees them seats in the first balcony or better and gives them time over the course of three performances to test-drive the opera-going experience and discover how to make it work best for them before committing to a full-fledged subscription."
Traditional subscriptions and the new Discovery Pass are available starting today, both online at calgaryopera.com or by calling the Calgary Opera Box Office at 403-262-7286. Current season subscribers have until May 15, 2019 to renew their subscriptions or request seat changes for the 2019-20 season before seats are released to new subscribers and subscribers requesting seat changes. Single tickets for the 2019-20 season go on sale June 1, 2019.
More Hot Stories For You