Samantha Barks, Eleanor Reissa and More Coming Up Next Week at Feinstein's/54 Below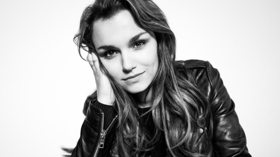 Next week, Feinstein's/54 Below, Broadway's Supper Club & Private Event Destination, presents some of the brightest stars from Broadway, cabaret, jazz, and beyond. Scroll down for details! To purchase tickets or for more information, visit www.54Below.com/Feinsteins or call (646) 476-3551.
---
Eleanor Reissa, JULY 17 AT 7PM:
The soulful "Yiddish diva" Eleanor Reissa (currently on Broadway in the cast of Indecent) and the Grammy Award-winning "mystical high priest of New Wave Avant-Klez jazz" Frank London (just back from Havana where his Yiddish/Spanish opera premiered) have been inspiring each other and their audiences in widely-acclaimed concerts for over a decade. Finally appearing at Feinstein's/54 Below to celebrate their first collaborative album, Vilde Mekhaye (Wild Ecstasy), they are backed by London's Klezmer Brass All Stars, featuring the best of a new generation of Klezmer artists Michael Winograd, Brian Drye, Ron Caswell, Aaron Alexander, Brandon Seabrook and Patrick Farrell.
$25-35 cover charge. $60 premium seating. $25 food and beverage minimum.
NEW MUSICAL: SWEETWATER BY Sean Mahoney AND Patricia Noonan, JULY 17 AT 9:30PM:
Join us at Feinstein's/54 Below for a high-flying evening featuring the songs of Sweetwater, the original, true story of the Women's Air Force Service pilots of World War II. In a one-night-only, unforgettable celebration of the new musical by Patricia Noonan (book and lyrics) and Sean Mahoney (music), experience the songs from this brand-new show for the first time in public! Featuring an all-star cast of Broadway regulars, come join us at Avenger Field for this truly epic story of sacrifice, honor, and duty in an America at war. Directed by Gina Rattan. Music Directed by Vadim Feichtner.
Featuring Ally Bonino, Allison Couture, Hannah Elless, Jessica Fontana, Jenn Gambatese, Tamika Lawrence, Alyse Alan Louis, Jillian Louis, Eric William Morris, Christopher Nolan, Patricia Noonan, Nathan Scherich, Pearl Sun, and Teal Wicks.
$30-40 cover charge. $65 premium seating. $25 food and beverage minimum.
CHRIS NICOLOSI: I'M BACK BITCHES, JULY 18 AT 7PM:
Following his outrageous and mildly offensive album release show at Feinstein's/54 Below last fall, pint-sized NYC diva Chris Nicolosi is back, baby, whether you like it or not. As usual, Mr. Nicolosi will perform a stunningly eclectic setlist of pop/funk/r&b covers from his debut LP "Down with the Flippy Floppies" but - STOP THE PRESSES - he will also premiere some ORIGINAL music. And we're not just talking about his acclaimed Dunkin Donuts "Cold Brew Jam" co-written with his comedy partner Roo McGoo. Oh no, folks! Chris is breaking out into legit songwriting, and there is no turning back. Will his storytelling rival that of Taylor Swift? Or will he go down in flames? Find out when Chris hits the stage with his funky band and special guests for a wacky and wild evening.
$25-35 cover charge. $60 premium seating. $25 food and beverage minimum.
Daniel Koek, JULY 19 AT 7PM:
Daniel Koek is an international artist who has made a name for himself in London's West End, as well as Australia and some of the greatest theaters in Europe. An evening not to be missed, Daniel's show charts his transformation from SA Opera's Young Artist 2003 to one of Australia and the UK's best leading men. Experience this sung-through timeline of Dan's career, which highlights how a country boy with a big dream made it to the top! Produced by Megan Minutillo. Music direction by Dan Mertzlufft.
Daniel will be joined by special guests Betsy Struxness (Hamilton, Matilda) and Alicia Krakauer - with additional special guests soon to be announced!
$30-40 cover charge. $65 premium seating. $25 food and beverage minimum.
Meghan Murphy: THE BIG RED SHOW, JULY 19 AT 9:30PM:
Songstress powerhouse Meghan "Big Red" Murphy has taken the world by storm! Come see what all the fuss is about in an evening of songs, stories, sexiness, and sass by the diva herself! From pop to jazz, blues to folk, soul to showtunes, she'll sing 'em all and turn you into her next biggest fan! She's an old broad with a new twist. So come on down for a brassy, bawdy, boozy good time! Big voice. Big laughs. Big Red.
Joining Big Red is her long time accompanist Jimmy Morehead (Music Director of the Chicago Gay Men's Chorus; The Wiz, Theater Wit) on piano, Louis Tucci (Dear World, York Theater; A Comedy of Errors, Hartford Stage) on bass and guitar, and Jeff Roberts (Kinky Boots 1st Nat. Tour, Barrington Stage) on drums. Special guest star Michael Buchannan (The Book of Mormon 1st Nat. Tour, Broadway: The Addams Family, Crybaby) will also join.
$25-35 cover charge. $60 premium seating. $25 food and beverage minimum.
Savannah Frazier WITH SPECIAL GUESTS JacoB Smith, Aaron Young, AND Kyle Scatliffe, JULY 20 AT 9:30PM:
Savannah Frazier (Amazing Grace, Wonderful Town) joyously makes her Feinstein's/54 Below solo concert debut. Come see this tall, gangly ingenue joined by some of her most talented special guest friends including Broadway's JacoB Smith (Frozen; Doctor Zhivago), Aaron Young (Fiddler On The Roof) and Kyle Scatliffe (Les Mis, The Color Purple, Big River). Savannah will dazzle you with tunes ranging from the classic "Will He Like Me?" and "My White Knight" to newer work from The Bridges of Madison County and Bright Star, to the comedic landscape of Sondheim's Company. Ever-Long: Tales from a Tall Ingenue and Other Short(er) Stories is a night of comedy and heart not to be missed!
$25-35 cover charge. $60 premium seating. $25 food and beverage minimum.
LES MIS FILM STAR Samantha Barks, JULY 21-22 AT 7PM:
Samantha Barks makes her New York cabaret debut at Feinstein's/54 Below with 2 exclusive shows. After rising to fame as a contestant on BBC talent show I'd Do Anything in 2008, Samantha has wowed fans and critics alike with her stunning voice and captivating performances in film, theatre, and television. It was Barks' performance as Éponine in the West End production of Les Misérables, however, that led to her first movie credit, reprising the role in Tom Hooper's Oscar winning adaptation. Expect musical theatre classics and songs from Samantha's new album including "On My Own," "As Long as He Needs Me" and even some Disney as she makes her New York cabaret debut! Musical Direction by Billy Stritch.
$65-75 cover charge. $85 VIP seating. $125-130 premium seating. $25 food and beverage minimum.
KATIE WELSH: THE EVOLUTION OF THE BROADWAY MUSICAL HEROINE, JULY 21 AT 9:30PM:
Katie Welsh returns to Feinstein's/54 Below in her brand new show, The Evolution of the Broadway Musical Heroine. In this evening of song, Katie travels through the decades, from the 1940s to the 2010s, on a quest to understand how Broadway's leading ladies have changed over time. For example, what makes a Rodgers & Hammerstein heroine different from a Sondheim heroine? How do our favorite female characters navigate the world of relationships in similar and different ways? Katie considers these questions as she sings songs from a range of beloved musicals, including Oklahoma!, South Pacific, Bells Are Ringing, Anyone Can Whistle, Sweet Charity, Jesus Christ Superstar, Sunday in the Park with George, Into the Woods, and many more.
$25-35 cover charge. $65 premium seating. $25 food and beverage minimum.
LADY AND THE VAMPS, JULY 22 AT 9:30PM:
Lady and the Vamps takes the stage with a "sex"tet of Manhattan's finest jazz musicians and a group of diversely talented performers for a sultry evening filled with guilty pleasures. Under the direction of Hope Echols Jarman (Vocals), and the musical direction of Yoonmi Choi (Piano), Ménage á Trios is a variety show that will keep you begging for "MORE!" Lady and the Vamps prides themselves on their technical abilities and musical versatility, breaking boundaries with their unique sound. Produced by the creative team that brought Salute the Troops to Feinstein's/54 Below last Memorial Day, Ménage à Trois will blur the lines of a promiscuous affair between colorful genres of music including sultry jazz standards like "Comes Love," to disco classics like "It's Raining Men" and chart topping hits like "That's What I Like" by Bruno Mars.
For one night only at Feinstein's/54 Below, Tommy J. Wright will host this class act extravaganza with guest performances by Julianna Ward and Jordan Fife Hunt. Musicians for the evening include Tyler Luppi (Bass), Samvel Sarkisyan (Drums), Sergei Avanesov (Saxophone), Kurt Marcum (Trumpet), and Sam Blakelock (Guitar). We welcome you to leave your inhibitions at home for a one-night stand with Lady and the Vamps.
$25-35 cover charge. $65 premium seating. $25 food and beverage minimum.
DEMARIUS R. COPES, JULY 22 AT 11:30PM:
DeMarius R. Copes is excited to debut his solo show at Feinstein's/54 Below! Most recently seen in The Prom at ALLIANCE THEATRE, DeMarius also may be recognized as an original ensemble member of the first National Tour of Newsies. The night will be set with an eclectic mix of songs, including musical theater (Dear Evan Hansen, if you're lucky), jazz, and pop music. Laugh as he shares the most welcoming shade you've ever experienced. Smile as he takes you on a vocal journey like no other. And, of course, drink as he sings - until the bartender cuts you off - because let's face it, it's Saturday night in Manhattan with DMC!
$15 cover charge. $35 premium seating. 2 drink or $20 food and beverage minimum.
NYMF 2017 PREVIEW: GENERATION ME, JULY 23 18 AT 7:00PM:
Generation Me features an original story by first time writers Julie Soto and Ryan Warren and original music by Will Finan. At age 15, Milo Reynolds had it all: a seat at the popular table, the perfect girlfriend, the "coolest" parents, and friends who worshiped him. So, when Milo takes his own life on Monday morning, his friends and family are left questioning everything they thought they knew about him. Generation Me explores the heartbreak, confusion, and survivor's guilt of the effects of suicide on those left behind. Generation Me identifies a generation more privileged, self-interested, oblivious, and lonely than ever.
Featuring Addyson Bell (Nickelodeon's The Thundermans), Jenna Bergman, Laila Drew, Ian Ferrell, Mateo Gonzales, Brett Hargrave, Celia Hottenstein (Phantom of the Opera), Milo Manheim (Disney's Zombies), Will Meyers (Disney's The Invisible Sister), Julia Nightingale, Anthony Norman (Newsies), Dante Palminteri (Sharknado 2), Anabella Ronson-Benenati, Oscar Revelins, and Deandre Sevon (The Runaways).
And more to be announced!
$25-35 cover charge. $60 premium seating. $25 food and beverage minimum.
Tim Realbuto & FRIENDS SING Jeanine Tesori, JULY 23 AT 9:30PM:
Join award-winning performer/composer Tim Realbuto (The Emperor's Club; Off-Broadway's YES) as he returns to Feinstein's/54 Below for the fifth time, this time celebrating one of Broadway's greatest treasures, Tony Award-winning composer and women's history maker Jeanine Tesori. Songs from Tesori's Thoroughly Modern Millie, Fun Home, Caroline, or Change, Violet, and Shrek the Musical will come alive for one night only! Show created and conceived by Tim Realbuto. Musical direction by Julianne B. Merrill. Directed by Paul Mitchell Wilder.
Featuring Rozi Baker (Shrek the Musical, Bonnie & Clyde), Yvette Bedgood (Caroline, or Change, Freedom's Song), Grace Bennett (Dooples the musical), Nicole Corris (Forbidden Broadway: SVU), Eddie Egan (West Side Story, The Radio City Christmas Spectacular), Mallory Escott (Violet), Grace Field (After We're Gone), Jennifer Fouché (Sistas the Musical, Rock of Ages), Nick Gaswirth (The Great Comet, A Christmas Story), Jenna Leigh Green (Wicked, Sabrina The Teenage Witch), Kimberly Faye Greenberg (Danny and Sylvia, Fabulous Fanny), Teresa Hui (Candide),Mara Kaye (SpongeBob SquarePants the Musical), Erin Leddy (Ghostlight), Sarah Litzsinger (Beauty and the Beast, Amour), Katie Mack (No Filter: A Love Story), Brianna Morris (Young Frankenstein), Lieselotte Nickmans (9 to 5), Marissa O'Donnell (Shrek, Annie), Chazmond J. Peacock (Porgy and Bess, Oliver!), Tim Realbuto (Ghostlight), Kevin Riddagh (Gaybraham Lincoln: The Musical), Laurissa "Lala" Romain (South Pacific, Chris Rock's Top Five), Christina Sajous (American Idiot, Spiderman), Joshua J. Schwartz (42nd Street), Mavis Simpson-Ernst (Evita; You're A Good Man, Charlie Brown), Allison St. Rock (Wunderkind; Hair), Lauren Testerman (Love Quirks, The Black Book), Sofia Trimarchi (Fun Home), Adena Walker (Carrie), Morgan Weed (American Psycho), Paul Mitchell Wilder (City of Angels), Noah Zachary (Poster Boy, I Am Anne Hutchinson/I Am Harvey Milk), Eva Zazzali (Broadway's Next Generation, Shrek), Valentina Zazzali (Reddi High, Shrek), Mindy Cassle, MariaElisa Rosta Costa, Mary Hannah Dober, Cameron Draper, Erin Elizabeth Eichorn, Stevie Elle, Deborah Heagen, Kristina Platé, Kathryn Porterfield, Jackie Reynolds, Shannon Rowland, Brianna Leigh Smail, Krystal Sobaskie, Eric Stephenson, and Steve Walsh.
$25-35 cover charge. $60 premium seating. $25 food and beverage minimum.
---
Feinstein's/54 Below, Broadway's Supper Club & Private Event Destination, is a performance venue in the grand tradition of New York City nightlife. A few blocks from the heart of Times Square and just below the legendary Studio 54, Feinstein's/54 Below is a classically designed state-of-the art nightclub in the theatre district that hosts audiences with warmth and style. Feinstein's/54 Below presents iconic and rising stars from the worlds of Broadway and popular music and has set a new standard for culinary excellence worthy of the world-class entertainment on the stage. Located at 254 West 54th Street, Feinstein's/54 Below features up to three shows nightly with cover charges ranging from $5-$105.
Related Articles View More Cabaret

Stories

Shows
More Hot Stories For You