Latest News on Paul Mitchell Wilder
Stage Credits
  [Off-Broadway]
Manhattan Rep Off-Broadway Return Production, 2017
Patrick Ness (Understudy)
Jeremiah Rosenhaft (Understudy)
Productions
[Off-Broadway, 2018]
Co-Director
[Off-Broadway, 2017]
Production Stage Manager
Lighting Designer
Stage
Performances
  [Off-Broadway]
Manhattan Rep Off-Broadway Return Production, 2017
Patrick Ness (Understudy)
Jeremiah Rosenhaft (Understudy)
Productions
[Off-Broadway, 2018]
Co-Director
[Off-Broadway, 2017]
Production Stage Manager
Lighting Designer
Paul Mitchell Wilder News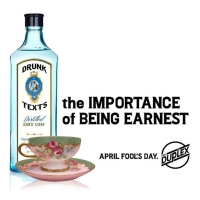 The Drunk Texts to Present THE IMPORTANCE OF BEING EARNEST at The Duplex
by Chloe Rabinowitz - Mar 23, 2022
Always a crowd favorite, The Drunk Texts will remount Oscar Wilde's The Importance of Being Earnest on April 1st at 9:30pm at The Duplex!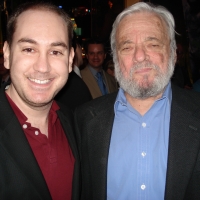 Seth Bisen-Hersh to Present Sondheim Tributes Tuesdays in January at Don't Tell Mama
by Chloe Rabinowitz - Dec 20, 2021
Award-winning off-Broadway composer/lyricist Seth Bisen-Hersh (Love Quirks) will present 4 Sondheim Tribute concerts featuring over 60 singers this January 2022 at renowned cabaret venue Don't Tell Mama.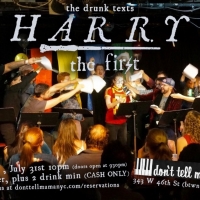 Random Access Theatre Takes A VERY Drunk Text Run At Harry Potter with, HARRY THE FIRST, THE BOY WHO HATH LIV'D at Don't Tell Mama
by Bobby Patrick - Aug 6, 2021
Adapted by brother RATs Levi Penley and Mike Gregorek, the script to HARRY I walked through the familiar scenes from SORCERER's STONE the movie which was adapted from JK Rowling's book that she, in turn, adapted from every other hero's journey magical epic that came before her, Wizard Of OZ, Lord Of The Rings and, Star Wars included.
The Drunk Texts to Present Live Streamed Shakespearean Star Wars On May The Fourth
by Chloe Rabinowitz - Apr 20, 2020
May the Fourth Be With You! Star Wars Day is fast approaching and The Drunk Texts is ready to celebrate with not one, but TWO socially distanced, live-streamed performances of Shakespearean Star Wars adaptations!
Rupert Holmes Hosts Talkback After Performance Of Blue Hill Troupe's MYSTERY OF EDWIN DROOD
by A.A. Cristi - Oct 9, 2019
The Blue Hill Troupe, New York City's only philanthropic musical theater group, will kick off its 96th season with The Mystery of Edwin Drood, a crowd-pleasing interactive whodunita?'based on Charles Dickens's final, unfinished novela?'that invites the audience to help solve a hilariously madcap murder mystery. One audience member in particular may have a distinct advantage: the show's composer, lyricist, and book writer, Rupert Holmes (honored with Tony Awards for Best Book and Best Score of a Musical when the show premiered on Broadway in 1985), who will attend the show at 2:00 p.m. on Saturday, November 9, and give a talk-back following the performance.

Kevin Stevens of THE BIG BANG THEORY Parody Musical Joins Tim Realbuto in Concert
by Stephi Wild - Apr 2, 2019
Kevin Stevens, who currently stars as Leonard in the Off-Broadway musical parody of the hit TV show THE BIG BANG THEORY, will appear as a special guest vocalist alongside Tim Realbuto in his upcoming April 18th concert at The Triad Theatre in New York City. He joins previously announced special guests Gabi Faye, Hannah Howzdy, and Erin Leddy.
Gabi Faye, Hannah Howzdy, and Erin Leddy Will Join Tim Realbuto In Concert
by Stephi Wild - Mar 25, 2019
Gabi Faye (IMMORTAL; DIRTY GIRL), Hannah Howzdy (HAIR at The Hollywood Bowl; ASSASSINS at The Secret Theatre), and Erin Leddy (GHOSTLIGHT; CROSSROADS) will appear as special guest vocalists alongside Tim Realbuto in his upcoming April 18th concert at The Triad Theatre in New York City.
Beth Fowler Replaces Rita Gardner in LOST IN YONKERS
by Stephi Wild - Dec 7, 2018
Beth Fowler, who won two SAG Awards for her performance as Sister Jane Ingalls on the hit Netflix series "ORANGE IS THE NEW BLACK", will play Grandma Kurnitz in this Sunday's benefit reading of LOST IN YONKERS.

Erin Davie Joins Tim Realbuto In YONKERS; Tickets Now On Sale
by Julie Musbach - Nov 29, 2018
Celebrated actress Erin Davie, who made her Broadway debut (and won a Theatre World Award) for her breakthrough performance as Young 'Edie' Beale in Broadway's GREY GARDENS opposite Christine Ebersole, has been cast in the lead role of Bella Kurnitz in Neil Simon's Tony and Pulitzer Prize winning masterpiece LOST IN YONKERS (Ms. Davie will take on the role which won Mercedes Ruehl a Tony Award for Best Actress In 1991, a role she also recreated in the 1993 film version). 
Original FANTASTICKS Star Rita Gardner Joins Cast of Tim Realbuto's LOST IN YONKERS Revival
by Julie Musbach - Nov 26, 2018
Rita Gardner, the legendary New York actress who originated the role of Louisa in 1960 opposite Jerry Orbach in Off-Broadway's THE FANTASTICKS (the world's longest running musical) has joined the cast of the December 9th benefit performance of Neil Simon's Pulitzer Prize winning play LOST IN YONKERS.