Review: No Headline Needed - PIPPIN: THE 50TH ANNIVERSARY ORIGINAL BROADWAY CAST REUNION CONCERT at 54 Below
Pros Will Be Pros & Stars Gonna Star.
Heigh-Ho, My Merry Rainbow readers! Bobby Patrick, your RAINBOW Reviewer here. Putting the silent T in cabareT to bring you ALL the Tea!
Underneath the Street called 54th, in a Little Village called Manhattan, veterans of another street called Broadway and a particular musical called PIPPN gathered to celebrate former GLORY and SIMPLE JOYS like they had passed NO TIME AT ALL. Pippin turned 50 back in October, having opened October 23, 1972. Originally produced by Stuart Ostrow, with a book by Bob Fosse, himself, and an initially uncredited Roger O. Hirson, a legendary score by Stephen Schwartz, all famously directed
and choreographed by Fosse, bringing him his 6th Tony Award® as choreographer as well as his first (and ONLY?!?) for direction of a musical. It matters not one bit that 4 months had passed from the actual anniversary to Monday night's concert because, by and large, it was worth the wait. This piece of our musical theatre history, which ran a whopping 1950(ish) performances originally and added another 750(ish) in its multiple award-winning 2013 revival, can withstand concerts and tributes whenever they happen because it is just that good, and the fact that the actual anniversary had passed is a meager nit to pick. This reunion DID happen and it truly had MAGIC TO DO (ok - last one, we promise). Presenting the whole of Schwartz's wonderful, whimsical score, Tony Award® Nominee Walter Willison (himself an original company member) performer and director for the evening, welcomed nine PIPPIN veterans and the award-winning cabaret artist, Aaron Lee Battle singing the role of Leading Player, to 54B's historic room for a little bit of, well... history. The cast included:
John Rubinstein - Original Pippin
Joy Franz - Catherine Replacement
Candy Brown - Player/Fosse Dancer
Cheryl Clark - Swing/Fosse Dancer
Gene Foote - Player/Fosse Dancer
Will D. McMillan - Theo (Standby)
Jennifer Nairn-Smith - Player/Fosse Dancer
Pamela Sousa - Player/Fosse Dancer
Leland Palmer - Original Fastrada
with Aaron Lee Battle
... all under the SUPERB musical direction of Michael Levine (who else?).
Monday night at 7:00 was the group's first of 4 live performances and, while there were a few opening night hiccoughs here and there, the show was a real crowd-pleaser. Only tiny snippets of the Fosse/Hirson book were used, with Willison preferring reminiscences from himself and his cast, but the score to PIPPIN is so wonderful and filled with such character growth that it carries the audience along through the show, with or without the lines. It is, in fact, a testament to Mr. Schwartz's genius at musical storytelling that the score, alone, brings out the life-or-death circumstances of those living inside that story, both as actors and the people they are portraying. Every song is about their needs and springs forth from the players when words fail them. If you do not know the score of PIPPIN, you're in luck because the show's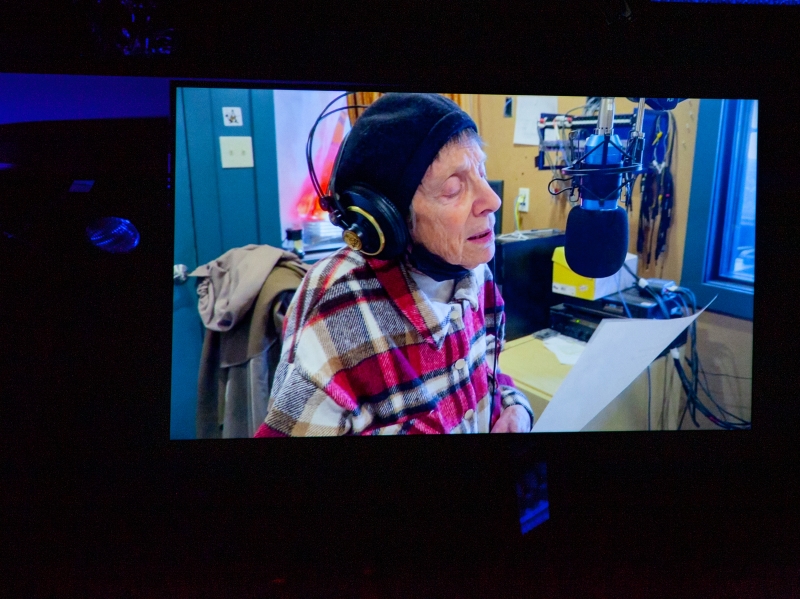 two Broadway productions have been superb with excellent cast albums available for both.
One of the highlights of the evening was the appearance of Leland Palmer, an excellent triple threat who, long ago, left show business, never to return. It was thought she would not be able to attend and would be with us in spirit, along with a self-produced (with help from her daughter) video to be played for the crowd. HOWEVER, while she was not in the performing cast, Leland Palmer did indeed make the trip to 54 Below, with Wilison introducing her, to the delight of everyone in the hall. A diminutive octogenarian with shining face and eyes, Ms. Palmer took the stage and explained the circumstances that brought her there with video in hand. Though filmed on a solo iPhone, showing setups of Palmer at a recording mic singing Fastrada's song from the show SPREAD A LITTLE SUNSHINE, the vid cut to scenes of her singing while she worked in the kitchen, in the garden, dancing in her backyard, twirling an umbrella, and a couple of costume changes to recline in dancer positions on the ground while the iPhone shot from above. We saw Palmer performing a few ballet pliés and dance floor turns, singing along to her recorded track (just like any actress singing in a movie) with her present-day voice still handling the notes and the range of the number quite well - she and her video became the hit of the evening.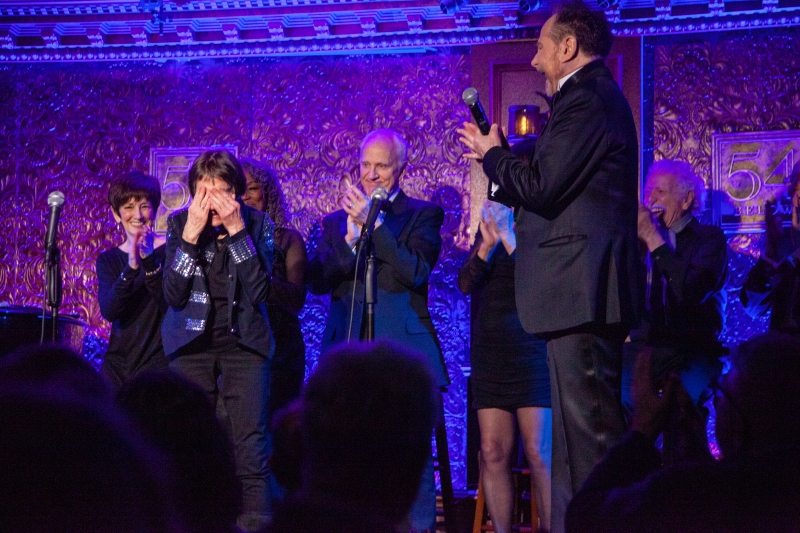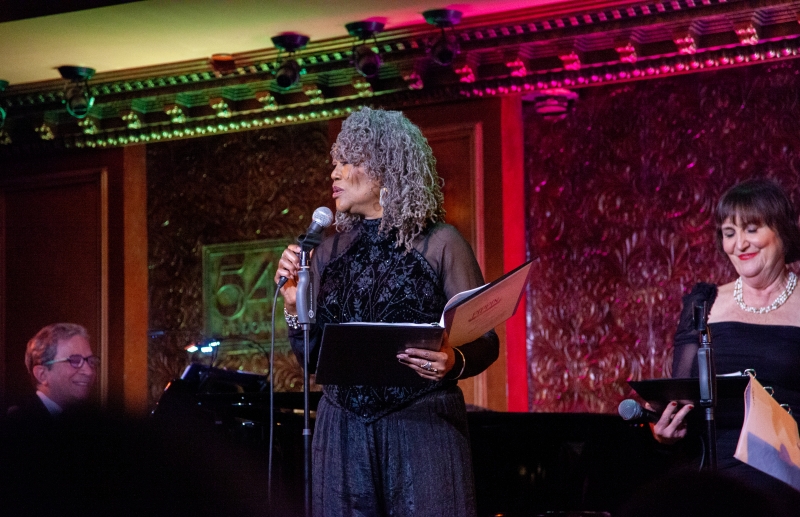 Not to be outdone, though, the other Fosse dancers in the company brought their stories, their voices, and a few move,s too. Gene Foote, the most senior member of the cast, showed that a dancer lives within him, to this day, with his expressively musical gestures and positions... and speaking of their voices, everyone brought fine musicality to their songs as well. Willison, still in fine voice, tributed his pal Irene Ryan by singing her song, NO TIME AT ALL with 6 new lines emailed directly from Mr. Schwartz to adjust for the geriatric gender
switch. Aaron Lee Battle's voice soared on all of the Leading Player's music, and Brown, Sousa, Nairn-Smith, and Clark showed they had moves and notes in abundance that the years had only sweetened. Another treat of the night was Joy Franz, a Catherine replacement, being joined by 2 Pippins, Willison and Mr. Rubinstein, to perform a mash-up of the show's wonderful LOVE SONG with JUST BETWEEN THE TWO OF US, the original Pippin/Catherine love song that was cut from the show in favor of the former. Switching back and forth between her two partners, dueting with each, in their turn, as the verses took her from one Pippin to the other, from number to number, the audience got to glimpse a bit of really fun kitsch. Will D McMillan, who stood by as a tyke for the role of Theo (Catherine's son), brought a tear to the eye with the song for Theo's pet, PRAYER FOR A DUCK, and it was clear to this writer that 50 years gone, wherever he's been, singing was still a part of this former child actor's life.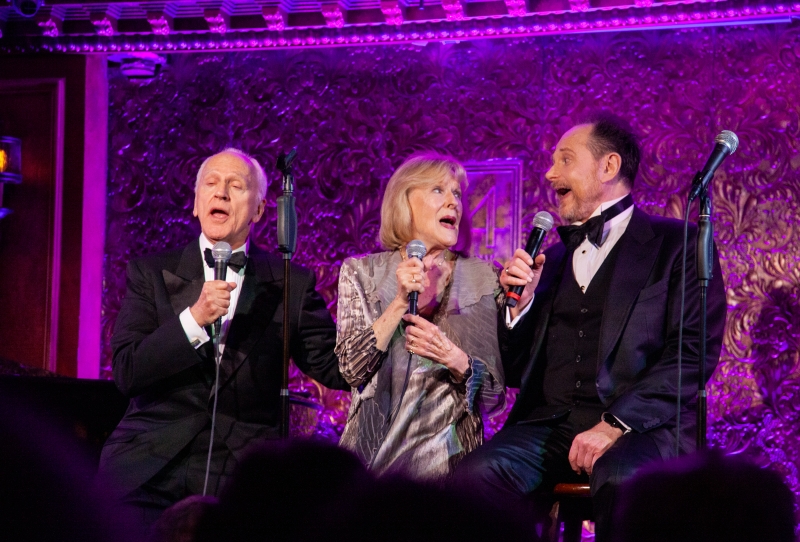 Finally, there was Pippin...
Mr. John Rubinstein has been a staple of our stage and screen lives for forever, it seems. With 227 film and TV credits dating back to the 60s, more than a dozen Broadway and national touring shows, another half dozen Off-The-Broadway plays, how could he not be one of the go-to actors of his generation? Mr. Rubinstein entering through the audience singing CORNER OF THE SKY, this writer got chills listening to Pippin sing Pippin's heart. The same occurred with MORNING GLOW and EXTRAORDINARY (chills with chair dancing) and we took only one note down in our little book... A Star's gonna Star. His voice is smoother now and his range seems intact, overall.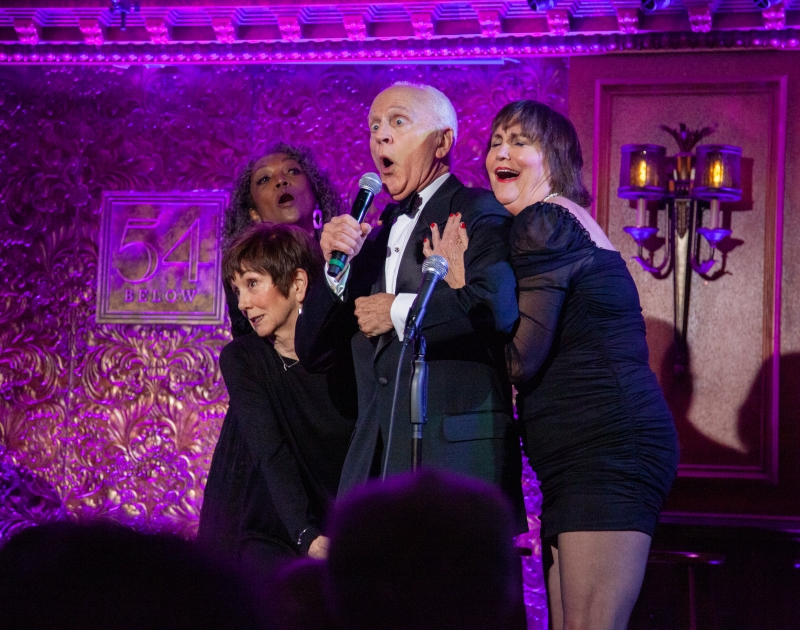 To say that this was a one-of-a-kind event is an understatement. Willison & Co. delivered a wonderful patchwork quilt of songs and stories, and for PIPPIN fans and newbies alike, it was a night of nostalgia coupled with excellent performances, and, while another full day of rehearsal could have ironed out the little kinks and perhaps prompted La Willison to shorten it a bit, we feel certain the next three shows were even more so, and with that in mind Bobby gives the PIPPIN: THE 50TH ANNIVERSARY ORIGINAL BROADWAY CAST REUNION CONCERT at 54 Below a resounding...
4 out of 5 Rainbows
Check Out The Full Calendar For 54 Below: HERE
All Photos By Yours Truly, Bobby Patrick