Rachel Klein Set To Direct GIRLFRIEND FROM HELL Concert At Green Room 42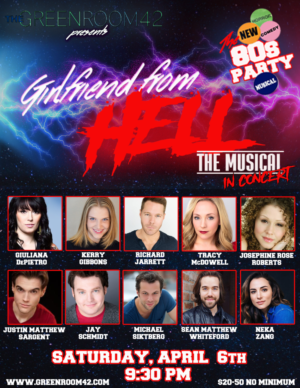 LOOK OUT! The outrageously campy horror rock musical, GIRLFRIEND FROM HELL: THE MUSICAL, is coming to The Green Room 42 on Saturday April 6th at 9:30pm!
Debuting a theatrical concert version of the exciting high-octane original score, Sean Matthew Whiteford's GIRLFRIEND FROM HELL: THE MUSICAL is a hilarious homage to the "best worst" 80's movies, and a wild night that you won't soon forget.
After being pushed over the edge by the most popular kids at school, four-eyed wallflower, Maggie Miller, cries to the heavens for help. But it is Satan who hears her cry, and transforms her into a big-haired, high-heeled, foul mouthed, sex bomb rocker who's hungry for revenge!
Directed by Rachel Klein (dir. Red Roses, Green Gold / The Anthem), the concert stars Josephine Rose Roberts (Broadway: Rock of Ages, How The Grinch Stole Christmas, Cats), Tracy McDowell (Broadway: RENT, Motown), Justin Matthew Sargent (Broadway: Spider-Man: Turn Off The Dark, Rock of Ages, Jesus Christ Superstar Live), GIULIANA DePIETRO (Babe Patrol), Michael Siktberg (Regional: Million Dollar Quartet, Buddy: The Buddy Holly Story), Sean Matthew Whiteford (NCL: Rock of Ages, Rock N' Roll Debauchery, Jessie's Girl), Neka Zang (Broadway: Wicked, Rock of Ages, Mary Poppins. American Psycho), Richard Jarrett (NCL: Rock of Ages, Nat. Tour: Legally Blonde), Jay Schmidt (Preview'd, That Bachelorette Show), and Kerry Gibbons. The GFH band includes Micah Cowher (Sir Cadian Rhythm), Dylan DeBiase (Elijah Wolf), Dean DiMarzo (LongestSoloEver) & MARK GARTHWAIT .
GIRLFRIEND FROM HELL: THE MUSICAL's Original Studio Cast Recording is available on iTunes & Spotify. You can also follow GFH on Instagram & Facebook.
GIRLFRIEND FROM HELL: THE MUSICAL IN CONCERT comes to The Green Room 42 (570 10th Ave) on Saturday, April 6th, 2019 at 9:30pm. Tickets range from $22.50-$52.50 with no food or drink minimum. Tickets and information are available at: www.thegreenroom42.com. This week only, tickets are $5 off main dining room seats using the code: HELL5 at check out.