Performers From NEWSIES, K-POP Round Out Cast Of FULL CAPACITY at 54 Below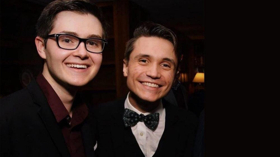 Andy Richardson (Newsies on Broadway, Kinky Boots National Tour) and Cathy Ang (K-Pop at Ars Nova) will join "Full Capacity: The Work of Hass & Swanton" at Feinstein's/54 Below. Also new to the cast are Samantha Williams and Laura Thoresen, joining the previously announced group of Johnny Rabe, Kuhoo Verma, Alex Guhde, Marina Magnelli, Gabriella Marzetta, Martavius Parrish, and Daniel Youngelman.
FEINSTEIN'S/54 BELOW, Broadway's Supper Club, presents Kyle Reid Hass and Jeremy Swanton in "Full Capacity" on March 23rd, 2018. Kyle Reid Hass and Jeremy Swanton, writers of Science Fair: A Game Changing New Musical Off-Broadway, make their Feinstein's/54 Below and New York City concert debuts! From the Heroin epidemic in Chicago to the love affairs of Sigmund Freud's daughter, this creative team pushes to delve into new and controversial material. The young duo explore some of their recent and upcoming works, including songs from Science Fair, Mind Games & Topple, and many stand-alone favorites. A cast of friends, featuring talent from Broadway, Off-Broadway and beyond, join Hass and Swanton in welcoming them to the New York concert scene.
Kyle Reid Hass and Jeremy Swanton in "Full Capacity" plays Feinstein's/54 Below (254 West 54th Street) on March 23rd, 2018. There is a $15-$35 cover charge and $20 food and beverage minimum. Tickets and information are available at www.54Below.com. Tickets on the day of performance after 4:00pm are only available by calling (646) 476-3551. The concert features music direction by Alex Crosby, is General Managed by Oliver Benjoseph and is produced by Tyler Emeney, Alex Guhde and Passion Projects Theatre Company.
MORE ABOUT FEINSTEIN'S/54 BELOW
Feinstein's/54 Below, Broadway's Supper Club & Private Event Destination, is a performance venue in the grand tradition of New York City nightlife. A few blocks from the heart of Times Square and just below the legendary Studio 54, Feinstein's/54 Below is a classically designed state-of-the art nightclub in the theatre district that hosts audiences with warmth and style. Feinstein's/54 Below presents iconic and rising stars from the worlds of Broadway and popular music and has set a new standard for culinary excellence worthy of the world-class entertainment on the stage.
In their description of the venue, The New York Times writes, "Feinstein's/54 Below has the intimacy of a large living room with unimpeded views and impeccable sound; there is not a bad seat in the house. Its sultry after-hours ambience is enhanced by brocade-patterned wall panels planted with orange-shaded lanterns. And the atmosphere is warmer and sexier than in Manhattan's other major supper clubs."
Located at 254 West 54th Street, Feinstein's/54 Below features up to three shows nightly with cover charges ranging from $5-$105. 54Below.com/Feinsteins