Julie Halston, Billy Stritch and More Coming Up This Fall at Birdland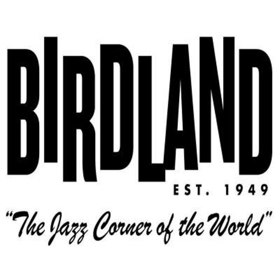 Birdland Jazz Club has announced its lineup for November 20-November 26, featuring Veronica Swift with The Green Benny Green Trio, Melanie Stace "A Night Like This," Billy Stritch "Lucky To Be Me," and more. Scroll down for details!
---
Birdland will kick-off their great week of programming with the following acts:
November 20 (Monday) at 7:00PM
Julie Halston "Life, Death & Filler"
The Broadway at Birdland concert series is proud to announce the return of Julie Halston to the historic stage. Julie Halston is one of New York's busiest actresses. Well-known to theatre audiences, she was recently nominated for a Drama Desk Award for her critically acclaimed performance in You Can't Take it With You. She has appeared in many Broadway and off-Broadway productions including Anything Goes, Hairspray, Gypsy, The Twentieth Century, (Outer Critics Circle Nomination) , The Divine Sister (Drama Desk Nomination), Love Loss and What I Wore, and numerous others.
All tickets $30-35, $10 food/drink minimum
November 20 (Monday) at 9:30PM
Jim Caruso's Cast Party
Jim Caruso's Cast Party is a wildly popular weekly soiree that brings a sprinkling of Broadway glitz and urbane wit to the legendary Birdland in New York City every Monday night. It's a cool cabaret night-out enlivened by a hilariously impromptu variety show. Showbiz superstars, backed by Steve Doyle on bass, Billy Stritch on piano and Daniel Glass on drums, hit the stage alongside up-and-comers, serving up jaw-dropping music and general razzle-dazzle.
All tickets $30, $10 food/drink minimum
November 21-25 (Tuesday-Saturday) at 8:30PM and 11:00PM
Veronica Swift with The Green Benny Green Trio
At just 22 years of age Veronica Swift is being recognized as one of the top young singers in jazz. The child of jazz vocalist Stephanie Nakasian and the late bebop pianist Hod O'Brien, Veronica has already appeared at Lincoln Center, Telluride Jazz Festival, Blues Alley, The Jazz Cruise, and Birdland, performing with Jon Hendricks, Annie Ross, Esperanza Spalding, Joe Lovano, Bob Dorough, Paquito d'Rivera, and other establish jazz artists. Veronica's recent CD, "Lonely Woman," features some of the hottest young jazz players on the scene including Emmet Cohen and Benny Benack III. Veronica will be joined by The Benny Green Trio.
All tickets $30-40, $10 food/drink minimum
November 22 (Wednesday) at 6:00PM
David Ostwald's Louis Armstrong Eternity Band
Inspired by the noble jazz pioneers Louis Armstrong, Bix Beiderbecke, Duke Ellington, Jelly Roll Morton and their colleagues, David Ostwald's Louis Armstrong Eternity Band breathes life and passion into America's own great art form. Now in its 14th year of residency at Birdland, the weekly post-workday engagement is the city's best musical bargain! Tuba player David Ostwald leads a rotating lineup that features talents such as clarinetist Anat Cohen, trombonist/vocalist Wycliffe Gordon, pianist Ehud Asherie, drummer Marion Felder and more!
All tickets $30, $10 food/drink minimum
November 24 (Friday) at 5:15PM
The Birdland Big Band
Founded by drummer and musical director Tommy Igoe, the Birdland Big Band features the finest musicians in New York! Celebrating 10 years at the club, the BBB roars into action every Friday, playing the finest Jazz, Latin and Brazilian music from the world's best arrangers. After work or before a show, drinks or a great dinner, come hear one of the world's best drummers driving the hardest swinging band in New York. Experience why the BBB is the must-see weekly jazz event in New York and kick off your weekend with what critics are calling "the best live music bargain in all of NYC!"
All tickets $30, $10 food/drink minimum
November 25 (Saturday) at 6:00PM
Billy Stritch "Lucky To Be Me"
Acclaimed pianist/singer Billy Stritch brings his new solo show "Lucky To Be Me" to the Birdland stage for three shows only (November 25, December 2 and 9 - Saturdays at 6:00 pm). This show will include Billy's arrangements of songs by Gershwin, Kern, Hoagy Carmichael, C. Coleman and other giants of American popular music and stories of his career thus far. These shows also commemorate the 20th anniversary of Billy's first appearance at Birdland in 1997 when he premiered his Brazilian CD "Waters Of March" and will include selections from that recording as well. Billy will be joined by bassist Neal Miner.
All tickets $30, $10 food/drink minimum
November 26 (Sunday) at 6:00PM
Melanie Stace has appeared on stage and screen literally all over the world. The Night Has Just Begun is to celebrate Melanie's latest CD release The Key To Me, and will feature for the first time some of her original songs, together with other songs from some of the writers who have influenced her: Leon Russell, James Taylor and Harry Connick Jr.
All tickets $30, $10 food/drink minimum
November 26 (Sunday) at 9PM & 11PM
The Afro Latin Jazz Orchestra
Grammy Award winning pianist, composer and educator Arturo O'Farrill -- leader of the "first family of Afro-Cuban Jazz" (NY Times) -- was born in Mexico and grew up in New York City. Son of the late, great composer Chico O'Farrill, Arturo was Educated at Manhattan School of Music, Brooklyn College Conservatory and the Aaron Copland School of Music at Queens College. He played piano in Carla Bley's Big Band from 1979 through 1983 and earned a reputation as a soloist in groups led by Dizzy Gillespie, Steve Turre, Freddy Cole, Lester Bowie, Wynton Marsalis and Harry Belafonte.
All tickets $40, $10 food/drink minimum
---
Purchase tickets at www.BirdlandJazz.com, and for more information and reservations, call 212-581-3080. Ticket prices will vary by performer. At the tables, there is a $10 food/drink minimum per person in addition to the music charge. At the bar, the music charge will include one complimentary drink with no additional minimum.
Named for alto saxophonist and jazz pioneer Charlie "Bird" Parker who dubbed it "The Jazz Corner of the World," Birdland opened on December 15th 1949. For 60 years it has been home to jazz legends, from Parker, John Coltrane Duke Ellington and Count Basie to Oscar Peterson, Hank Jones, Diana Krall and everyone in between. The original 52nd street location was a cultural barometer and meeting place, inspiring the songs "Birdland" and "Lullaby of Birdland," and serving as a regular haunt for celebrities and cultural figures. The modern incarnation is a state of the art nightclub featuring award winning Southern and Cajun cuisine, first rate sound and lighting and a who's who of contemporary musical artists, 7 nights a week.
Birdland is located at 315 West 44th Street (between 8th & 9th Avenues), New York, NY 10036. Students (with current ID) & Broadway Theatre-Goers (with Broadway ticket stub from same day of performance): 50% off music charge at 11PM shows only. Birdland serves American Fare with a Cajun Flair nightly from 5PM until Midnight and until 1AM on Friday and Saturdays. Parking is available across the street at 332 West 44th Street. Concert Grand Piano By: Yamaha.
Visit www.BirdlandJazz.com or follow BIRDLAND JAZZ CLUB on Twitter: @birdlandjazz, Facebook, Instagram, and on Pinterest.