Josh Tolle to Perform At 54 BELOW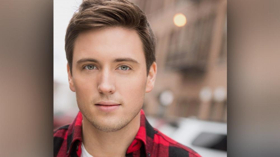 FEINSTEIN'S/54 BELOW, Broadway's Supper Club, presents Josh Tolle in "Tolle: Volume I" on Sunday, July 15th at 9:30 p.m. This emerging singer/songwriter, Kinky Boots actor, and vocalist in the Feinstein's/54 Below hit concert series, Broadway Loves, makes his solo debut with a collection of raw and emotional original material. Experience an unveiling of music that will impact audiences and leave them humming the whole subway ride home. Tolle's unique style and powerful vocals are not to be missed. Come for the brand new music and raise a glass to electrifying covers of artists ranging from Paramore to Rihanna. A name you may not know, but a musical journey you will never forget - step into the spotlight of love, loss, and love again with Josh Tolle.
Music directed by Benjamin Rauhala, this concert will feature a powerhouse band including Alex Eckhardt on bass, Jeff Roberts on drums, and Mairi Dorman-Phaneuf on cello. Additional vocalists include Ellen Marlow, Kate McMillan, Matthew Amira, Josh Daniel, and Angelo McDonough. More details to be announced.
Josh Tolle in "Tolle: Volume I" plays Feinstein's/54 Below (254 West 54th Street) on July 15th at 9:30 p.m. There is a $25-$35 cover charge and $25 food and beverage minimum. Tickets and information are available at www.54Below.com. Tickets on the day of performance after 4:00 are only available by calling (646) 476-3551.
MORE ABOUT Josh Tolle
Josh is a Pittsburgh native who grew up sitting at his Grandma Mary's cherrywood Yamaha piano. She sat patiently with him and taught those six-year-old fingers to stretch over the chords of "Kumbaya." No, that is not a joke. That's how it started. Josh wrote his first song when his dog, Shadow, died in 7th grade - although Grandpa Melvin, the family historian, archived colored-pencil lyrics that read "the poor are important." (Date Unknown). Woke. Writing dreams came to fruition in college at the University of Cincinnati, where Josh collaborated with friends Christine Smith, Max Clayton, and Jacob Yates to set original music to a short theatrical dance piece. They called it Starcrossed. Mixing influence from pop divas, soul singers, and musical theatre, Josh has defined a sound uniquely his own in this first collection of songs. They explore first love, first loss, and the questions we all face as we figure out who and what we are.
MORE ABOUT FEINSTEIN'S/54 BELOW
Feinstein's/54 Below, Broadway's Supper Club & Private Event Destination, is a performance venue in the grand tradition of New York City nightlife. A few blocks from the heart of Times Square and just below the legendary Studio 54, Feinstein's/54 Below is a classically designed state-of-the art nightclub in the theatre district that hosts audiences with warmth and style. Feinstein's/54 Below presents iconic and rising stars from the worlds of Broadway and popular music and has set a new standard for culinary excellence worthy of the world-class entertainment on the stage.
In their description of the venue, The New York Times writes, "Feinstein's/54 Below has the intimacy of a large living room with unimpeded views and impeccable sound; there is not a bad seat in the house. Its sultry after-hours ambience is enhanced by brocade-patterned wall panels planted with orange-shaded lanterns. And the atmosphere is warmer and sexier than in Manhattan's other major supper clubs."
Located at 254 West 54th Street, Feinstein's/54 Below features up to three shows nightly with cover charges ranging from $5-$105. 54Below.com/Feinsteins
---
Join Team BroadwayWorld
Are you an avid Cabaret fan in NYC? We're looking for people like you to share your thoughts and insights with our readers. Team BroadwayWorld members get access to shows to review, conduct interviews with artists, and the opportunity to meet and network with fellow theatre lovers and arts workers.
Interested? Learn more here.
---
| | |
| --- | --- |
| Vote Now for the 2022 BroadwayWorld Cabaret Awards | |
| voting ends in | |