Jordan Fisher, Jenn Colella, David Friedman, & Red Mountain Theatre Company's Conservatory Present 'Broadway's Present & Future'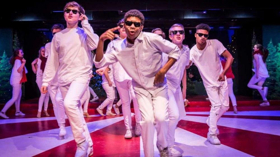 FEINSTEIN'S/54 BELOW, Broadway's Supper Club, presents Jordan Fisher, Jenn Colella, and David Friedman alongside Red Mountain Theatre Company's Conservatory on Sunday, March 25, 2018 at 9:30 p.m.
Red Mountain Theatre Company alumnus Jordan Fisher (Broadway's Hamilton, FOX's "Grease Live!", ABC's "Dancing with the Stars" Mirror Ball winner), Tony Award nominee Jenn Colella (Come From Away, If/Then, Urban Cowboy), award-winning Broadway, television, and film composer David Friedman, and RMTC's Conservatory team up for their Feinstein's/54 Below debut in Broadway's Present and Future. These artists and the RMTC Conservatory are the epitome of Broadway's present and future stars. With songs from Come From Away and some of Broadway's biggest hits, these powerhouses will not disappoint. The RMTC Conservatory brings a fresh new flavor to the stage with its dynamic range of members, while Jordan, Jenn, and David weave in stories of their careers up until today. You'll be blown away at these present and future stars that will leave you saying, "I knew them when."
Jordan Fisher, Jenn Colella, David Friedman, and the Red Mountain Theatre Company Conservatory in Broadway's Present & Future plays Feinstein's/54 Below (254 West 54th Street) on Sunday, March 25, 2018 at 9:30 p.m. There is a $25 - $35 cover charge and $25 food and beverage minimum. Tickets and information are available at www.54Below.com. Tickets on the day of performance after 4:00 are only available by calling (646) 476-3551.
MORE ABOUT THE ARTISTS
Jordan Fisher is a multi-faceted who recently took home the Mirror Ball alongside partner Lindsay Arnold on ABC's 25th season of Dancing With the Stars. In 2016, he was hailed as the breakout star by MTV and People Magazine of FOX's Emmy-winning broadcast of Grease: Live as well as joining the cast of the smash hit Tony Award-winning musical, Hamilton.
Jenn Colella is a Tony Award nominee for her role as Capt. Beverley Bass in Come From Away on Broadway. Other starring roles on Broadway include Sissy in Urban Cowboy, Laura in High Fidelity (opposite Will Chase), and Hedda Hopper in Chaplin (opposite Rob McClure).
From We Can Be Kind to Listen to My Heart, Help is on the Way, We Live on Borrowed Time, Trust The Wind, I'll Be Here With You and As Long As I Can Sing, David has written songs of inspiration, love, and hope that take on new emotional meaning in these challenging times. As either a songwriter or composer, he has contributed to multiplatinum recordings, (Your Love sung by Diana Ross), Broadway shows (Scandalous and Song And Dance), Disney Animated Films (Beauty & The Beast, Aladdin, Pocahontas, The Hunchback of Notre Dame) and Television scores.
RED MOUNTAIN THEATRE COMPANY 
Red Mountain Theatre Company is an organization that inspires audiences through powerful theatre experiences led by professionals who deliver engaging performances produced and presented with artistic integrity. In addition to our theatre productions, we offer educational programs that build positive life skills for young people and provide growth opportunities for theatre professionals.