Jim Brochu, Mara Davi, Cady Huffman And More Announced For SHAW SONGS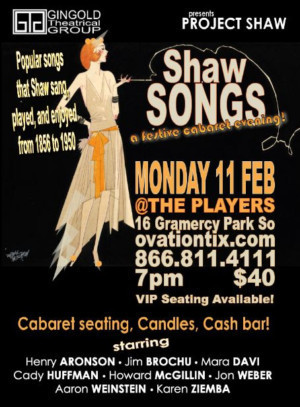 Gingold Theatrical Group is proud to continue the 14th Season of Project Shaw, Art as Activism: A Theatrical Survival Guide, a special series of evenings of plays that embrace human rights and free speech. All of GTG's programming, inspired by the works of George Bernard Shaw, are designed to provoke peaceful discussion and activism.

Next up, on February 11th, Project Shaw will present a special evening, Shaw Songs @ The Players, a festive cabaret evening of songs that George Bernard Shaw played, sang and enjoyed! For this very special event Project Shaw will be returning to its original home, the beautiful Players Club at 16 Gramercy Park South (20th Street between Park Avenue and Third Avenue). The evening of songs performed by some of New York's most exciting performers will feature Gilbert & Sullivan, Rodgers & Hart, Noel Coward, Cole Porter, along with Operetta, Opera, Music Hall, and more. Though not commonly known, Shaw was an accomplished pianist and relished the popular songs of his day. And, since he lived from 1856 to 1950, that means there's plenty to choose from!

Shaw Songs @ The Players will star Jim Brochu, Mara Davi, Cady Huffman, Howard McGillin, Jon Weber, Aaron Weinstein, and Karen Ziemba. Directed by David Staller, Shaw Songs will have Musical Direction by Henry Aronson.

"Last year's Shaw Songs event was so much fun, we're returning to The Players with another evening of popular songs. Nobody more relished the songs of the day more than Shaw (he not only enjoyed singing them but also playing them on the piano at social gatherings!), and since he lived between 1856 and 1950 we've a golden wealth of material to draw from! For the price of our regular Project Shaw performance, you're invited to a party. We're also looking forward to being back in the legendary Players Club," said Mr. Staller.

Following Shaw Songs @ The Players will be On Approval by Frederick Lonsdale (April 15th), Shaw's Man and Superman on May 20th, Shaw's The Philanderer on June 24th, The Stepmother by Githa Sowerby on July 22nd, Scintillating Shaw Symposium with an international panel on September 23, Shaw's Arms and the Man on October 28th, followed by The Play's The Thing by Ferenc Molnar on November 18th, ending with I'll Leave It To You by Noel Coward on December 16th.[*]

Tickets for Shaw Songs @ The Players on February 11th, which are $40.00 ($35.00 for Seniors and $15.00 for Students with proper ID at door), may be purchased online at OvationTix.com or by calling toll-free 866/811-4111. For VIP Seating, contact the GTG office at 212/355-7823.

All other presentations in this series (except Shaw Songs) will be at the Leonard Nimoy Thalia Theater at Symphony Space, 2537 Broadway at 95th Street. Tickets are $40 and are available by calling 212-864-5400 or online at www.symphonyspace.org. Special reserved VIP seating available for $55 by contacting the Gingold office 212-355-7823 or info@gingoldgroup.org. Symphony Space's Leonard Nimoy Thalia Theatre space is completely accessible. Infra-red hearing devices are also available.

Now celebrating its 14th year, Gingold Theatrical Group's Project Shaw made history in 2009 as the first company ever to present performances of every one of Shaw's 65 plays (including full-length works, one-acts and sketches). They are now also including plays by writers who share Shaw's activist socio-political views embracing human rights and free speech, including work by Chekhov, Ibsen, Elizabeth Robins, Rachel Crothers, Pinero, Wilde, Barrie, and Harley Granville-Barker. GTG's other programs include its new play development and educational programs. For those interested in lively off-site discourses, each Project Shaw event is followed by a talk-back with cast members. GTG's David Staller and Stephen Brown-Fried also host a monthly Shaw Club discussion group. Always lively, they meet the Monday evening after every Project Shaw event at 520 8th Avenue. For reservations, which are required, call 212-355-7823 or email info@gingoldgroup.org.

GTG recently completed a highly acclaimed Off-Broadway engagement of Shaw's Heartbreak House. Terry Teachout in the The Wall Street Journal declared, "Mr. Staller has taken on Heartbreak House, one of Shaw's most challenging plays, with altogether extraordinary results. Every gesture lands with the utmost potency, and the climactic convulsion that is the play's final scene sweeps away the bubbly comedy and leaves you, as Shaw intended, in shock. Mr. Staller has given us a uniquely satisfying production of this great but hard-to-stage play. This is one of the finest Shaw stagings of the past decade. Do not miss it." In his year end recap, Mr. Teachout named Heartbreak House Best Classical Production of the year: "David Staller's conceptual staging of George Bernard Shaw's Heartbreak House, produced off Broadway by the Gingold Theatrical Group, was the best thing Mr. Staller has given us to date-which is saying something."

For more information about Project Shaw and all the programs at Gingold Theatrical Group, call 212-355-7823, email info@gingoldgroup.org, or visit gingoldgroup.org.
Related Articles View More Cabaret

Stories

Shows
More Hot Stories For You