Eric Hoffman Makes Cabaret Debut Directed by Marilyn Maye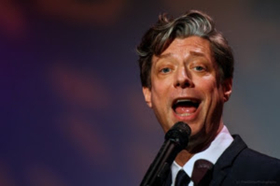 Eric Hoffman is a singer of many vocal styles, from jazz to full-voice baritone to classic Broadway and pop. To showcase his prodigious talent, he's making his eagerly-awaited solo cabaret debut in A New Nightclub Act at Don't Tell Mama, on October 25, 26 and 29. With Hoffman's ability to diversify his set with complete ease, the singer declares, "You'll be attending an exciting party!" The swinging show is directed by the legendary Marilyn Maye, with sought-after music director and arranger, Tedd Firth, at the piano.
A New Nightclub Act is chock full of the terrific songs recorded by the stellar singers who greatly influenced Hoffman on his musical journey. "I'm inspired by Jack Jones, Jimmy Webb, Mel Torme, Steve Lawrence, Robert Goulet and Brian Stokes Mitchell," he says. "These are the singers I grew up listening to and admire." Originally a musician, Hoffman was led to a singing career by Lou Brown, band conductor of the Jerry Lewis Show. Brown heard Hoffman sing and the rest, as they say, is history.
Hoffman, originally from Flint, Michigan, and an Interlochen Arts Academy grad, comes from a musical home. At an early age he began singing with his grandparents in their church choir. Hoffman took up the Lowery 88 Organ at age ten, moving on to the trombone. Later, he became a trombone player and featured singer with big bands on various cruise lines, working with prestigious performers such as Jack Jones, (who has a great admiration for Hoffman's work), The Spinners, Vic Damone, Steve Allen, Charo, and many others.
After moving to New York, Hoffman became a member and featured male vocalist with Supersound, former Dizzy Gillespie drummer, Charli Persip's big band, appearing significantly on Persip's recording Intrinsic Evolution. More recently, Hoffman has beenseen regularly in New York clubs with guitarist, Ken Hatfield. He also has recorded two CDs, Introducing Eric Hoffman with Oliver Von Essen and Get Together, both lush with standards of the American Songbook.
A New Nightclub Actfeatures a stellar group of musicians in addition to Firth: Ken Hatfield, guitarist, Tom Hubbard, bassist and Daniel Glass, drummer. The show plays at Don't Tell Mama, 345 W 46 Street, on October 25, 26 & 29, all performances at 9:30 PM. There is a$20.00 cover charge ($15 for MAC members) and a 2 drink minimum per person, cash only. For reservations, call 212-757-0788 or go online to www.donttellmamanyc.com.