Constantine Maroulis, 'The Donny Nova Band', and More to Appear at Birdland in March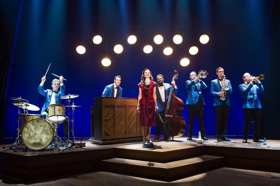 Birdland Jazz Club announces March 2018 schedule featuring Steps Ahead Meets Soulbop, Cyrus Chestnut Quartet, Jane Bunnett and Maqueque, Steve Smith "Groove: Blue" Organ Trio, The Tristano Project, Laila Biali, Cynthia Sayer, Corcoran Holt, Anita Gillette, Jim Caruso's Cast Party, and more!
Birdland will kick-off their exciting month of programming with the following acts:
February 27-March 3 (Tuesday-Sunday) at 8:30PM and 11:00PM
Steps Ahead Meets Soulbop: Mike Mainieri, Randy Brecker, Bill Evans featuring Steve Smith and Tom Kennedy
Steps Ahead meets Soulbop is a group of Kindred spirits that have toured together, laughed together and created some amazing musical moments over the past 4 decades. This group of musician's loves what they do, and it's evident when you see them play together. Each musician could be characterized as a renaissance man in their own right. Whether its jazz, rock or contemporary music, the contributions from these gentlemen are impossible to ignore and to this day, truly celebrated by countless fans around the world!
All tickets $40, $10 food/drink minimum
March 1 (Thursday) at 6:00PM
David Bixler Auction Project featuring Arturo O'Farrill
Fusing Celtic, jazz and Afro-Latin influences, super group The Auction Project-led by alto saxophonist, flutist, and composer David Bixler, and featuring Grammy Award-winning pianist and composer Arturo O'Farrill-create a surprising, richly textured and thoroughly enjoyable sound. The Auction Project explores how a traditional fiddle phrase fits atop a breezy, post-bop groove as this sextet makes history and stakes out uncommon musical territory.
All tickets $30, $10 food/drink minimum
March 4 (Sunday) at 6:00PM
Ron Aprea
Ron Aprea spent a lot of time soaking up inspiration from all of the Big Band and Jazz legends that played the club - such as Count Basie and Blakey's Jazz Messengers. Both would prove to be major influences in Ron's career. Ron Aprea's most recent project takes tribute to the next level. In 1974 Ron played on John Lennon's "Walls and Bridges" album and Ron became part of the horn section known as the "Little Big Horns. The resulting CD, "Ron Aprea Pays Tribute to John Lennon & the Beatles" was released in the spring of 2015 to rave reviews. The album also features jazz great Brian Lynch on trumpet.
All tickets $30, $10 food/drink minimum
March 5 (Monday) at 7:00PM
The Broadway at Birdland concert series is proud to announce that veteran jazz vocalist Cheryl Bentyne will perform on the iconic stage to celebrate her new CD, reARRANGEMENTS OF SHADOWS, a tribute to Stephen Sondheim. She will be accompanied by Yaron Gershovsky on piano, Matt Aronoff on bass, Clint de Ganon on drums and Aaron Weinstein on violin.
All tickets $30-35, $10 food/drink minimum
March 6-10 (Tuesday-Saturday) at 8:30PM and 11:00PM
After graduating from Berklee, Chestnut went on to work with jazz vocalists Jon Hendricks and Betty Carter as well as trumpeters Terence Blanchard and Wynton Marsalis. The Cyrus Chestnut Quartet features Cyrus Chestnut on keys, Steve Nelson on vibraphone, Buster Williams on bass and Lenny White on drums.
All tickets $40, $10 food/drink minimum
March 8 (Thursday) at 6:00PM
Award-winning Canadian singer-songwriter and pianist Laila Biali melds "traditional jazz with contemporary pop so effortlessly that neither style seems out of place on the same record" (Spinner Magazine). Sought after for tours with GRAMMY winning artists, Laila has also headlined festivals and venues spanning five continents. Her studio recording, Tracing Light, received a JUNO nomination for "Best Vocal Jazz Album of the Year."
All tickets $30, $10 food/drink minimum
March 11-12 (Sunday at 6:00PM and Monday at 7:00PM)
The Donny Nova Band
Featuring Julia Trojan" Starring Corey Cott, Laura Osnes, Brandon J. Ellis, Joe Carroll, Joey Pero, Geoff Packard & Nate Hopkins
The Broadway at Birdland concert series is thrilled to announce that after their sold-out debut performance, "The Donny Nova Band Featuring Julia Trojan" from the Broadway musical, Bandstand, will reassemble once more for two special concerts. Corey Cott (as Donny Nova), Brandon J. Ellis, Joe Carroll, Joey Pero, Geoff Packard, Nate Hopkins, and Laura Osnes (as Julia Trojan) will perform favorite tunes from the original score - plus some swingin' standards and new surprises.
All tickets $35-100, $10 food/drink minimum
March 13 (Tuesday) at 8:30PM and 11:00PM
Jane Bunnett and Maqueque (Direct from Cuba)
With her all-female sextet, Maqueque, Jane Bunnett is breaking new ground yet again. The name of the group means "the energy of a young girl's spirit," and with four of its members still in their early twenties, this is a band with energy to spare. That spirit is manifested through propulsive montuno improvisations, call and response numbers and ivory-tickling piano features. Maqueque (pronounced Mah-Keh-Keh) includes Canadian Jane Bunnet on saxophone and Cuban musicians Yissy Garcia on drums, Melvis Santa on percussion and vocals, Dánae Olano on piano, Magdelys Savigne on batá drums and congas and Celia Jiménez on bass.
All tickets $40, $10 food/drink minimum
March 14-17 (Wednesday-Saturday) at 8:30PM and 11:00PM
Starting in Chicago, Kurt Elling recorded several of his early albums, earned the first of many GRAMMY® nominations and catapulted onto the national stage before moving to Manhattan in 2008. Elling's recent CD release, "Passion World," is a tour-de-force program of love songs from around the world. Performing each song in its native tongue, Elling tells rich stories about musical history on a grand multicultural tour of exotic places and cultures.
All tickets $50, $10 food/drink minimum
March 15 (Thursday) at 6:00PM
Award-winning instrumentalist/vocalist/bandleader Cynthia Sayer is acclaimed by musicians, critics, and fans alike as one of the top 4-string jazz banjoists in the world today. Her eclectic, swing-based shows embody the rarely heard range and versatility of the 4-string banjo in the hands of a master, celebrating historic jazz banjo stars, Vaudeville, American Songbook favorites, virtuoso classics, fun anecdotes, and more. Featuring Cynthia Sayer's Joyride Quartet.
All tickets $30, $10 food/drink minimum
March 18 (Sunday) at 6:00PM
Chad Lefkowitz-Brown
Hailed as a "sax phenom" by The New York Daily News, Chad Lefkowitz-Brown is one of the first prominent jazz musicians to emerge out of the millennial generation. He has toured globally as a soloist, and with numerous jazz artists and pop icons ranging from Arturo O'Farrill to Taylor Swift. Chad is also a member of the multi-Grammy award winning Afro-Latin Jazz Orchestra, and he is on faculty at the San Francisco Conservatory as a visiting artist. Downbeat Magazine selected his latest release, "Onward" as an Editor's Pick for 2017, commending his "technical abilities that mask the difficulty of his wondrously intricate lines."
All tickets $30, $10 food/drink minimum
March 19 (Monday) at 7:00PM
The Broadway at Birdland concert series is proud to announce that singer/actor Constantine Maroulis will perform in concert for one night only. At his first Birdland solo outing, he will perform an intimate evening of originals, Broadway favorites and stripped-down rock & roll classics like you've never heard them before.
All tickets $30-35, $10 food/drink minimum
March 20-24 (Tuesday-Saturday) at 8:30PM and 11:00PM
Steve Smith "Groove: Blue" Organ Trio with Tony Monaco and Vinny Valentino
This precious jewel of a trio sprung from a 2011 chance encounter in Jakarta. Drummer Steve Smith and guitarist Vinny Valentino were playing the Java Jazz Festival one evening when they heard the wild swinging electric organ of Tony Monaco. They spent the rest of the night jamming joined by George Benson and Roy Hargrove. To get a sense of the style think of the classic Blue Note organ trios of the 1960s, injected effortlessly into contemporary original compositions and standards.
All tickets $40, $10 food/drink minimum
March 22 (Thursday) at 6:00PM
Corcoran Holt
Corcoran Holt began playing djembe and other West African percussion at the age of 4 as a member of Wose Dance Company. As a keeper of the rhythm, Corcoran began his study of upright bass at age 10 with the renowned DC Youth Orchestra (DCYOP). Corcoran has been blessed and has worked with numerous pioneers and greats of the music such as Curtis Fuller, Jimmy Heath, Benny Golson, Jimmy Cobb, Harold Mabern, Steve Turre, Billy Hart, Kenny Garrett, Javon Jackson, and Wycliffe Gordon. Currently Corcoran leads his own group and has a new release titled "The Mecca."
All tickets $30, $10 food/drink minimum
March 25-26 (Sunday at 6:00PM and Monday at 7:00PM)
The Broadway at Birdland concert series is proud to announce that Broadway/Television actress Anita Gillette will perform a loving tribute to her friend Irving Berlin on the stage. In her latest cabaret outing, "Me and Mr. B," Ms. Gillette offers some pert reminiscences and wise observations about those times with the man she called "Mr. B," punctuating her show biz reporting with a selection of songs from Mr. B's repertoire. She'll reprise some of her Mr. President moments, including one number that was written especially for her ("The Secret Service") as well as offer her own delivery of gems from the Berlin treasure trove.
All tickets $30-35, $10 food/drink minimum
March 27-31 (Tuesday-Sunday) at 8:30PM and 11:00PM
The Tristano Project
Born March 19, 1919, pianist and composer Lennie Tristano has come to be considered one of the most influential jazz artists of the 1950s, as much for his performances and recordings, as for his unique approach to teaching improvisation in a manner that became a bridge from bebop to later styles. Tristano was also a regular at the original Birdland from 1949 through the early 1960s. For this celebration, Birdland brings together a group of jazz all-stars to explore Tristano's style, compositions, and influence. The Tristano Project includes Greg Osby and Jaleel Shaw on alto sax, Melissa Aldana on tenor sax, Vinny Valentino on guitar, Ben Allison on bass, Matt Wilson pm drums (except 3/28-29) and Billy Drummond on drums (3/28-29 only).
All tickets $40, $10 food/drink minimum
March 29 (Thursday) at 6:00PM
JayCee Driesen
JayCee Driesen will celebrate the music of Barbra Streisand, Shirley Bassey, Linda Eder, Adele and more at Birdland. Her bold signature voice embraces the true effervescence of America's rich musical past, with the youthful freshness of the present as she captivates an audience whether she is performing classic standards, hit Broadway show tunes, contemporary favorites or her own jazz originals. As a songstress JayCee's experienced harmonious, dreamy rhythmic sense of timing and tone make her one of the most sought after vocalists on the scene.
All tickets $30, $10 food/drink minimum
Birdland will also feature the following recurring monthly engagements:
March 2, 9, 16, 23, 30 (Fridays) at 5:15PM
The Birdland Big Band
Founded by drummer and musical director Tommy Igoe, the Birdland Big Band features the finest musicians in New York! Celebrating 10 years at the club, the BBB roars into action every Friday, playing the finest Jazz, Latin and Brazilian music from the world's best arrangers. After work or before a show, drinks or a great dinner, come hear one of the world's best drummers driving the hardest swinging band in New York. Experience why the BBB is the must-see weekly jazz event in New York and kick off your weekend with what critics are calling "the best live music bargain in all of NYC!"
All tickets $30, $10 food/drink minimum
March 3, 10, 17, 24, 31 (Saturdays) at 6:00PM
Singer/pianist Eric Comstock has been called "a song's best friend," and the jazz and pop songbooks are in great hands when he is onstage at Birdland. Whether the song is by Rodgers and Hart or Ellington and Strayhorn, Paul Simon or Bob Dylan, you'll hear the lyric as if for the first time. Joining Eric will be eminent bassist/composer Sean Smith -- in all, a perfect winter Saturday supper!
All tickets $30, $10 food/drink minimum
March 4, 11, 18, 25 (Sundays) at 9PM & 11PM
The Afro Latin Jazz Orchestra
Grammy Award winning pianist, composer and educator Arturo O'Farrill -- leader of the "first family of Afro-Cuban Jazz" (NY Times) -- was born in Mexico and grew up in New York City. Son of the late, great composer Chico O'Farrill, Arturo was Educated at Manhattan School of Music, Brooklyn College Conservatory and the Aaron Copland School of Music at Queens College. He played piano in Carla Bley's Big Band from 1979 through 1983 and earned a reputation as a soloist in groups led by Dizzy Gillespie, Steve Turre, Freddy Cole, Lester Bowie, Wynton Marsalis and Harry Belafonte.
All tickets $40, $10 food/drink minimum
March 5, 12, 19, 26 (Mondays) at 9:30PM
Jim Caruso's Cast Party
Jim Caruso's Cast Party is a wildly popular weekly soiree that brings a sprinkling of Broadway glitz and urbane wit to the legendary Birdland in New York City every Monday night. It's a cool cabaret night-out enlivened by a hilariously impromptu variety show. Showbiz superstars, backed by Steve Doyle on bass, Billy Stritch on piano and Daniel Glass on drums, hit the stage alongside up-and-comers, serving up jaw-dropping music and general razzle-dazzle.
All tickets $30, $10 food/drink minimum
March 7, 14, 21, 28 (Wednesdays) at 5:30PM
David Ostwald's Louis Armstrong Eternity Band
Inspired by the noble jazz pioneers Louis Armstrong, Bix Beiderbecke, Duke Ellington, Jelly Roll Morton and their colleagues, David Ostwald's Louis Armstrong Eternity Band breathes life and passion into America's own great art form. Now in its 14th year of residency at Birdland, the weekly post-workday engagement is the city's best musical bargain! Tuba player David Ostwald leads a rotating lineup that features talents such as clarinetist Anat Cohen, trombonist/vocalist Wycliffe Gordon, pianist Ehud Asherie, drummer Marion Felder and more!
All tickets $30, $10 food/drink minimum
TICKET INFORMATION:
Purchase tickets at: www.BirdlandJazz.com
For more information and reservations call 212-581-3080.
Ticket prices will vary by performer.
At the tables, there is a $10 food/drink minimum per person in addition to the music charge.
At the bar, the music charge will include one complimentary drink with no additional minimum.
ABOUT BIRDLAND JAZZ CLUB:
Named for alto saxophonist and jazz pioneer Charlie "Bird" Parker who dubbed it "The Jazz Corner of the World," Birdland opened on December 15th 1949. For 60 years it has been home to jazz legends, from Parker, John Coltrane Duke Ellington and Count Basie to Oscar Peterson, Hank Jones, Diana Krall and everyone in between. The original 52nd street location was a cultural barometer and meeting place, inspiring the songs "Birdland" and "Lullaby of Birdland," and serving as a regular haunt for celebrities and cultural figures. The modern incarnation is a state of the art nightclub featuring award winning Southern and Cajun cuisine, first rate sound and lighting and a who's who of contemporary musical artists, 7 nights a week.
315 West 44th Street (between 8th & 9th Avenues)
New York, NY 10036
DISCOUNTS AND SPECIALS:
Students (with current ID) & Broadway Theatre-Goers (with Broadway ticket stub from same day of performance): 50% off music charge at 11PM shows only.
ADDITIONAL INFORMATION:
Birdland serves American Fare with a Cajun Flair nightly from 5PM until Midnight and until 1AM on Friday and Saturdays.
Parking is available across the street at 332 West 44th Street.
Photo Credit: Jeremy Daniel
Related Articles View More Cabaret

Stories

Shows
More Hot Stories For You