Click Here for More Articles on NEW YORK CITY
BWW Review: Sandra Bernhard Ushers in a New Dawn with SANDEMONIUM at Joe's Pub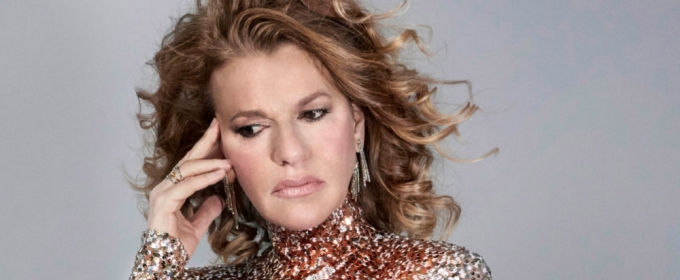 "We're gonna keep it up upbeat. Right, kids?"
Finding light in the darkness was a dominant, if not the dominant, theme in 2017, so in closing out the year with SANDEMONIUM, it tracks that Sandra Bernhard would work it into her New Year's show---in her own distinctly Sandyland way, as her patented snark is a feature, not a flaw---and the crowd during her December 29 performance at Joe's Pub seemed just fine with that.
Bernhard stalked onstage singing the Neil Diamond tune "Brother Love's Travelling Salvation Show," shaking a tambourine as she did. All business, she betrayed no emotions as her hands rained down in tune with the music.
Seemingly in a single breath, the star rattled off a rapid-fire series of rhetorical questions, asking the crowd everything from, "Have you ever come face-to-face with a white supremacist?" to "Have you ever been strung out on OxyContin?" And when it was over, she reassured them that they had left the world of pandemonium and entered Sandemonium.
That's when the real work began. While Bernhard has a wonderfully husky voice, she's unparalleled with a quip, providing an unending stream of delightfully offbeat moments mutated from the most mundane aspects of life. In one moment, she was giving the evil eye to a commuter with an admittedly odd choice in breakfasts. In another, after detailing being bumped into in public, she simply named people who'd never do such a thing: "Billy Ocean...Judy Davis...Claire Foy..."
The evening was tightly crafted, but she was equally wonderful off the cuff, quietly roasting an oblivious latecomer and, in the process, herself. "Oh, she won't notice. She's so self-involved anyway."
Her mashup of "Everything's Alright" from JESUS CHRIST SUPERSTAR (Andrew Lloyd Webber) and Jimi Hendrix's "Manic Depression"---aptly named "Manic Superstar"---provided an excellent showcase for Bernhard's Sandyland Squad Band. With Jon Badamo on drums, Ben Chuchinsky on guitar, and musical director Mitch Kaplan on piano, the band brought a punky intensity to the number, chanting in unison behind her. If, at times, the number seemed to go a bit high for her, she soon established that she was simply storing her reserves for her phenomenal cover of Lou Reed's "Perfect Day."
Bernhard also somewhat confusingly segued into her return for the ROSEANNE revival, swiftly announcing, "Nancy is back!" For a few moments, it was a guessing game with little in the way of context clues, but her detailed reunion with the eponymous TV matriarch paid off, a scene that wouldn't have felt out of place on primetime, as she threw out loving barbs about Barr's unchanged outlook and her own refusal to brainstorm about what Nancy's been up to for the past two decades (without a WGA check, at least).
Returning for the encore in cutoffs with fishnet stockings, a SANDEMONIUM shirt, and a pink JOANNE hat, it was easy to predict what came next. Well, part of it, anyway. Bernhard began with a cover of Lady Gaga's "Million Reasons" (Stefani Germanotta/Hillary Lindsey/Mark Ronson), but before long, the hat came off, and she had more than one reason to stay. The track blended into mash-up consisting of Shakira's "Hips Don't Lie" and Ed SHeeran's "Shape Of You," among others, before ultimately circling back to Gaga.
More than anything, the star is an expert at sharing experiences that most everyday people aren't exposed to in a way that is somehow both stripped of nearly all glamour and, yet, remains as unrelatable. She's asked to return to ROSEANNE by Roseanne Barr herself, but they put her up in a middling hotel. She flies all over the world but not in first-class. She's being given an award for her charitable efforts, but she can't stand the tech heirs she's seated next to. Yet it works so well, in part because she's not striving for relatability, and her brand of shabby-chic humblebragging is so perfectly calibrated it never sours into overprivileged whinging.
Bernhard's political conscience helps that, too. Her rendition of the Doobie Brothers "Takin' It to the Streets" (Michael McDonald) earlier in the night was the show's defining moment. Giving a stump speech as much as a cover, she encouraged the crowd to take it to the streets in 2018 to march for women's rights, for Black Lives Matter, and more.
Even still, she never bailed on her promise to remain upbeat. Keeping the show lively without abandoning who she is and being honest about the state of the world without wallowing it in was something of a high-wire act. Bernhard mostly kept the proceedings on point, demonstrating that, at its core, SANDEMONIUM, not unlike the most successful New Year's resolutions, was all about baby steps.
---
Troy Frisby is an entertainment writer and digital news producer based in New York. Follow him on Twitter @TroyFrisby.