BWW Review: Cabaret Celebrates Sylvia Syms on Night Three of the Mabel Mercer Foundation Cabaret Convention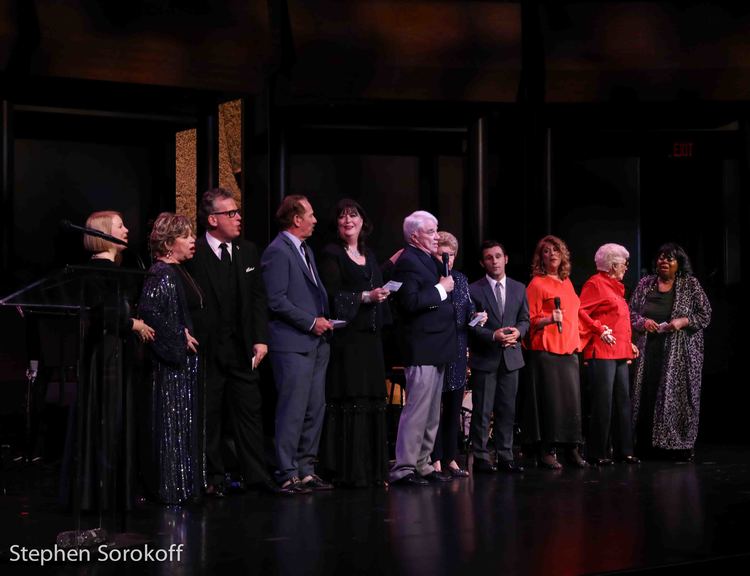 On the penultimate night of the 2016 Cabaret Convention, presented by the Mabel Mercer Foundation, 11 fantastic cabaret artists---those who are celebrated in the form as well as those who are emerging alike---assembled to salute the late and legendary Sylvia Syms.
The evening, hosted by one of Syms' closest confidants, the critic Rex Reed, was brassy, delivered wonderful anecdotes, and was ultimately very moving musically, much like Syms herself. A black and white photograph of Syms, accurately capturing her maternal warmth, hung high inside the Rose Theater at Jazz at Lincoln Center throughout the evening, which was formatted in two distinct segments. Act one was comprised of each performer taking to the stage alone to sing one of Syms' lesser known cabaret staples, or the songs which she "rescued" from obscurity such as those cut from golden age musicals. Act two saw the performers again take on a Syms staple, but those which were more well-known hits and standards, displaying the full range of Syms' nightclub chops.
The evening began, as so many great evenings do, with reference to Liza Minnelli. "We lost her," Minnelli informed Reed on the evening in 1992 when Syms passed away, mid-performance, at the Algonquin Hotel. It was exactly the exit Syms had hoped for, Reed recalled.
Kicking off the performances was someone who contributed as much to the storied significance of Syms' life, the pianist Barbara Carroll. Ever so slowly making her way to the piano, Carroll informed the audience that she had provided instrumentation on Syms' first album in 1951--- recorded at 2:30 in the morninG. Carroll's forcefulness and perfection of her playing was as divine as ever as she played Johnny Mathis' "Isn't it Romance," one of Syms' all-time favorite love songs.
Other highlights from the first half of the show included Carol Woods singing with robust vibrato a Cy Coleman tune cut from SEESAW, "Big Fat Heart," as well as newcomer Nicolas King, singing "That Face," which Syms frequently performed as a testament to the fact that "she could swing," as Reed described of her jazzier inclinations. Additionally, act one included Billy Stritch with a fabulous interpretation of the toe-tapping "Mountain Greenery," and the illustrious Ann Hampton Callaway with a thrilling contribution of Louis Armstrong's "Honeysuckle Rose."
Daryl Sherman accompanied herself on piano, performing a cheeky tune about beauty regimen before sharing a tale of the many doctor and dentist appointments to which she accompanied Syms. Joyce Breach also enticed with Roberta Flack's aching "I Am the One for You," and the accomplished bassist Jay Leonhart paid homage to Syms' tactful comedic chops, accompanying himself while crooning, "I Always Say Hello to a Flower." The act break was ushered in by a dynamo presence of her own, Marilyn Maye, singing a fiery take on one of Syms' most obscure selections, "I'd Have Said Not Me."
The second half of the performance offered many highlights as well, including a song by the emcee Reed, a take on Betty Hutton's "I Wish I Didn't Love You So," which accompanied a story in which Reed recalled Syms summoning Hutton herself for one of his birthday parties. It also delivered a wrenching performance of "After You, Who?" by the emerging Maud Hixson, a song which was performed at Syms' funeral, causing most every attendee to openly weep--- even a man in the way back, Frank Sinatra, whom Syms referred to affectionately as "the old man."
During the second act, most of the performers were welcomed back to sing another tune but, unlike the first portion of the show, when they concluded their songs, they each took to one of the assembled stools and remained on stage. This meant that, by the time Tom Wopat returned to the stage to sing Sinatra's "One for My Baby," all of the evening's performers were gathered behind him, creating a palpable performative force. More powerful was what came next: Reed, explaining that some of the younger audience members may not even know what Syms sounded like, introduced the woman of honor's 32 sung bars, "I'll See You Again" from the musical BITTERSWEET, which echoed almighty in the acoustic hall.
Reed also revealed that, at the time of her death, Syms had been planning an Irving Berlin album and so, fittingly, the evening concluded with each of the performers joining together to sing the composer's "You Keep Coming Back Like a Song." Their harmonies were evidently unrehearsed, and some even held paper with the lyrics on them. It was loose and loving, a fitting tribute to a woman who embodied as much.
The Mabel Mercer Foundation's 27th Annual Cabaret Convention continues October 21 at the Rose Theater at Jazz at Lincoln Center. Click for more photos from the third night.