Feature: MAC's Best Female Vocalists Create Camaraderie From Competition With TOGETHER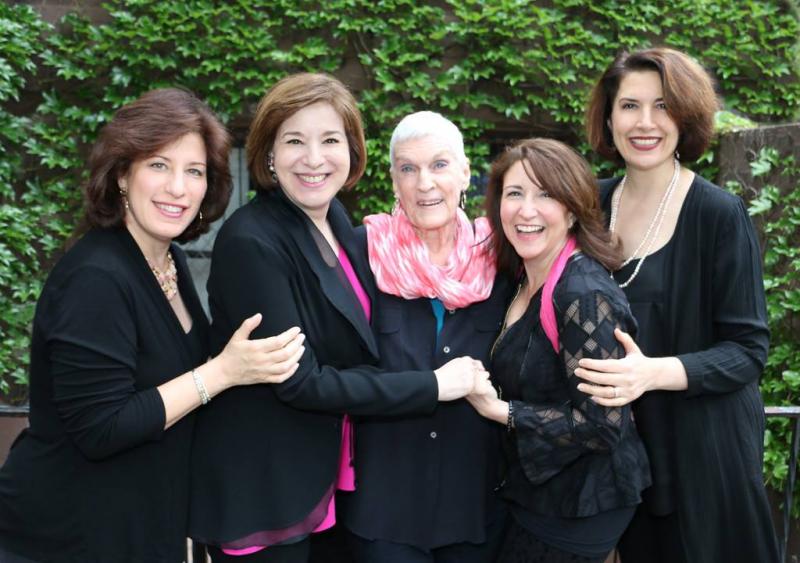 "No fits, no fights, no feuds and no egos..."
-"Together, Wherever We Go" from GYPSY
There is a certain expectation when an awards season in any genre or medium ends and the trophies have been sent off and collected. Worst-case scenario, the competition makes monsters out of men. More realistically, the season plays out as the nominees, wide smiles in tact, repeat ad finitum, "I'm just happy to be nominated."
This past March, at 2017's MAC Awards, honoring the best of cabaret in New York over the past season, as in most years, there were five nominees for Female Vocalist: Celia Berk, Sally Darling, Meg Flather, Josephine Sanges, and Lisa Viggiano. It's not particularly important, in this case, who won. (Flather did.) If their shared story met the usual expectations, it would've ended there and each nominee would've gone on her own way to do her next big thing.
You'll be happy to hear their story defies those expectations.
Instead, when this year's MAC Awards officially wrapped, in Sanges' mind, there was still a door open. Months of comments from the cabaret community about how they had never seen such talent in the Female Vocalist category played back and, as someone not particularly interested in the competition aspect of the Awards, the opportunity was too good to let slip by.
Sanges admits she initially was afraid to think out loud but was encouraged by the talent of her four co-nominees, as well a a continuing desire to collaborate. That night, everything---and everyone---came together. "I approached Meg and Lisa after her show and timidly said, 'I have this idea.'"
"It felt completely natural when I saw Jo's face when she first brought it up," Flather said. "She did not have to finish the question. I just said yes."
"Josephine said, 'I need to ask you a question,' and I said, 'Yes!'" Viggiano said. "[She] said something like, 'But I didn't even ask you yet!' But I could feel the connection and had an inkling."
TOGETHER: THE 2017 CABARET AWARD-NOMINATED VOCALISTS, a show featuring all five Female Vocalist nominees together on one stage, was born and in motion.
If it got off the ground, the show would be the first of its kind. For the performers themselves, it would be their first time working with one another, with the exception of Sanges and Berk, who had previously worked together on a duet during the 2016 Mabel Mercer Foundation Cabaret Convention, a beautifully sung and arranged medley of Stephen Sondheim's "The Road You Didn't Take"/"Growing Up"/"Move On" on the night honoring the composer.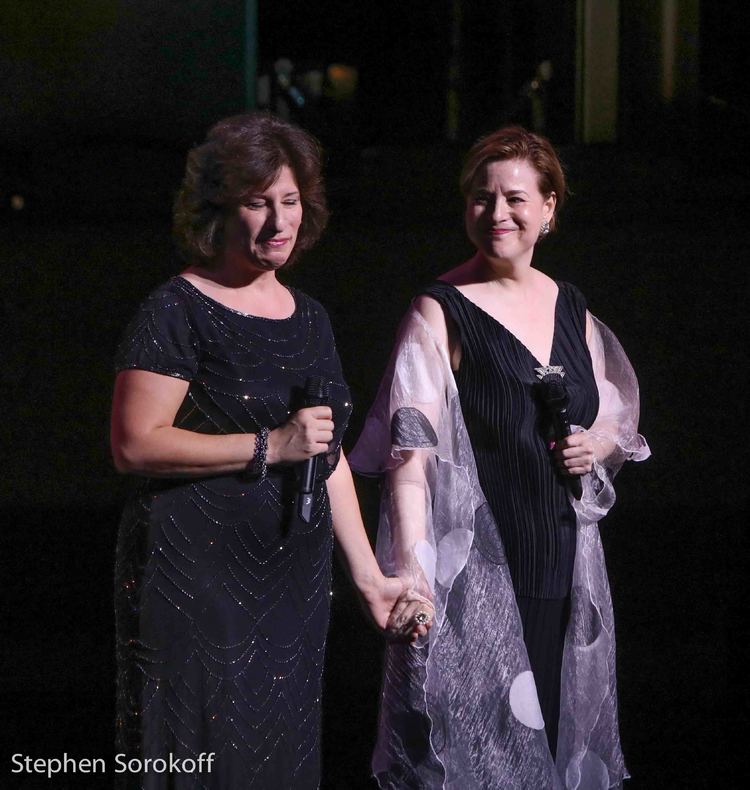 From there, the two had seen Darling perform on her own at an open mic. Other collaborations were not quite yet formed, but the bones were already in place due to long-standing mutual admiration. Everybody was performing their respective shows on the circuit, or finishing up their runs, and as the performers were able to bounce from one show to the next, the idea to unite the five for a single show became increasingly well-founded.
"We would run into the other and wish the other luck. That was really special," Flather said. "When the awards were over, there was this empty space; we filled it with TOGETHER."
---
The idea was sound, but it had to, quite literally, come together beyond the general spark of "MAC Award nominees." Each performer had five distinct styles, voices, and shows, each with massively-varied oeuvre. And, of course, what's the point of having a show called TOGETHER if each performer is singing solely on her own, without the rest of the group a part of the number?
Jeff Harnar, who had served as the director on Berk's MANHATTAN SERENADE, as well as her previous YOU CAN'T RUSH SPRING, became an obvious directorial choice for the group, an outside set of eyes who could cut through the noise of five to create a serendipitous, harmonious one.
"I was immediately enchanted by the concept: the mutual-admiration-societal celebration of each other's talents--- and all in the service of a worthy charity," Harnar explained of his reason to come onboard. "It reflects so attractively on the hearts of these women."
Harnar describes working with the nominees as "the dream:" an environment where everyone was open to suggestions, willing to try out new ideas, wanting to collaborate, and was "present with HUGE joy." On the other side, the vocalists saw Harnar, at the bare minimum, as a trusted and trusting third party. He became the first person to see the show in its infancy.
"[He] saw immediately how to do the opening, and it was exciting from then on," Darling said.
The vocalists had put a medley in place of back-to-back solos that would, with an introduction, bring each of them to the stage. Harnar brought it into focus as "an opener of opening numbers," making sure each performer had the right song in the cycle to greet the audience.
Additionally, the show's original running order was a string of individual solos with one duet (the Sanges/Berk Sondheim medley). That quickly turned into groups of songs with each performer getting a two-song "set," with backup vocals added as possible. For example, that Sondheim duet became a part of a grouping of a series of Sondheim songs. And, ultimately, it allowed for each performer to get at least one strong stand-alone moment.
"I wanted a sense of surprise along the way so it would never be obvious who might be singing next," Harnar recalls, "and, of course, aspiring for a sense of balance so that each artist would have her equal turn in the spotlight."
"Jeff came in and, within 15 minutes, had taken all these pieces and made them into a whole," Berk said. "[He] saw a potential that we couldn't see after being so immersed in things."
"We knew we had a show after Jeff saw it," Flather added. "It became real."
The obvious missing piece for a show of music is the musical director. John M. Cook, frequent collaborator of Sanges, was the quick recommendation and the one that stuck.
"John is such a creative force for me," Sanges explained. "I was so happy when [they all] agreed to work with him."
Cook, who was moved to do the project in the first place by what he describes as Sanges' "instantly contagious" enthusiasm, found the prospect of working with the five women "an irresistible prospect."
"The part of it that was attractive for me was the idea of all this talent 'rowing the boat together,' so to speak."
"For a while, John could not get a word in edgewise," Berk recalls. "But he has spoken to us musically and with his group arrangements."
It is, unsurprisingly, not necessarily an easy task for a performer to take their set list from their own solo show and whittle it down to the signature numbers that not only best suit them individually but also work on this larger, universal scale.
"That was the hardest step for me," Berk said. "Wanting to show range, wanting to help round out the overall program, wanting to pick material that made sense in this context. I feel that the performances of those numbers in the context of TOGETHER are slightly different...because of where they're positioned in the program and because of the sounds and personas they are surrounded by."
The set, which runs approximately 65 minutes, consists of 18 numbers, most individual with the showcase opener and the grand finale. Cook ran with the idea of the "opening number of opening numbers" and arranged and balanced the showcase in terms of timing. It begins with Carly Simon's "Let The River Run" and wraps with Ira and George Gershwin's "By Strauss." That, in itself, is a perfect summation of the evening, as each performer has her say with an eclectic mix of the Great American Songbook, musical theater, and original, modern numbers, such as Flather's own "Hold On Tight," winner of the 2016 MAC Award for Best Original Song. Regardless of who wrote which number and when it was written, all of it served the greater good.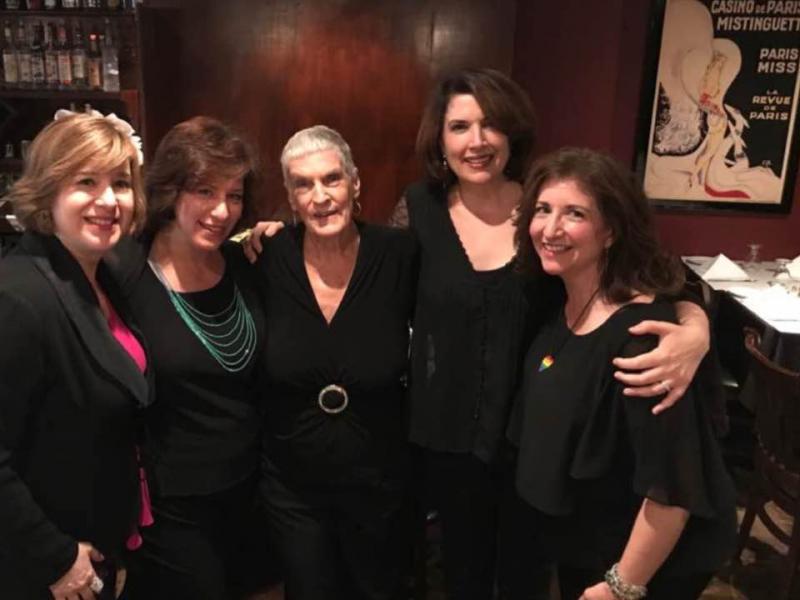 "It was more about the complete piece than our individual moments in the piece," Flather said. "Our songs took on new meaning. I loved seeing songs I had done change before my eyes and ears with TOGETHER in mind."
TOGETHER wraps with two telling pieces. The first is the titular number to Viggiano's THREE'S A CHARM, written by her collaborator and musical director Tim Di Pasqua. One of the founding members of Third Eye Theatre Company, an organization founded "out of a need to explore issues of social relevance and to celebrate diversity," Di Pasqua felt it vital to contribute to the ongoing movement to curb anti-LGBTQ+ bullying, spearheaded by organizations like The Tyler Clementi Foundation and the It Gets Better Project. According to the writer, "its purpose wrote itself."
Viggiano initially heard "Three's A Charm" when Di Pasqua began performing it as part of his original music series, THE MUSIC AND LYRICS PROJECT, and soon began singing his work in future concerts. "Three's A Charm" stood out, though, clearly and to the extent where she built a show around it--- and for good reason.
While it's since become a signature song for Viggiano, "Three's A Charm" works even better in the context of TOGETHER. Aside from being, as Gerry Geddes of the Bistro Awards referred to it as in his review, "the only palatable sing-along I have experienced in a cabaret in years," it's no accident it is one of the show's final numbers. A major part of TOGETHER's purpose is charity. When the pieces were all beginning to fall into place, the performers still needed to find a date in their calendars that wasn't already filled. The first one they found was June 25, right at the end of NYC's Pride, during Pride Weekend. The list of charities was narrowed down and the choice was made: Trinity Church's LGBTQ Youth Programs, such as Trinity Place Shelter, whose mission is to help homeless LGBTQ+ youth and young adults in NYC safely transition from the shelter system into independent, positive, and productive adults.
The show's finale further ties together these necessary wants and brings them all to fruition. "Love and Let Love," written by Michele Brourman and Ann Hampton Callaway, is a song about love in the face of adversity and, on a broader note, togetherness. The number has obvious ties to the LGBTQ+ community, both in its words and in the way it came to be written.
After many unsuccessful attempts to find time in their busy schedule to collaborate, Brourman and Callaway finally united in Los Angeles as Callaway was staying at mutual friend Jill Whelan's home.
"Driving over, I was incredibly nervous," Brourman recounts. After all, Ann can write a great song onstage, on the spot, about anything! I was bringing a lyric that I thought Ann might like but wanted something more immediate to bring to the party."
As Brourman listened to NPR during her drive, a news bulletin stating then-U.S. Ambassador to the United Nations Samantha Power was about to address the General Assembly about LGBTQ+ rights globally was the necessary catalyst.
"I got so excited! I felt proud of her, proud of our country for taking that kind of a stand. I burst into Jill's house full of the energy of that moment."
When the writers couldn't find a transcript or video of Powers' speech online, they got creative in the moment and began throwing lines back and forth. Days later, Callaway sent the first draft of "Love and Let Love." A bridge was added, lyrics and melodies were tweaked, and the song took form.
Cook and Harnar worked together to flip the concept from one to five this time, and arrange the piece so all five performers did the song justice, and vice-versa. According to Cook, Harnar guided the assigning of different lyrics to the appropriate performer throughout the number, each taking turns to deliver its important message.
The ladies of TOGETHER wrote to Brourman and Callaway on June 30 after performing the show for the first time at Don't Tell Mama. Callaway wrote back: "Michele and I believe in the power of music to bring people together and you are poetry in motion conveying that truth."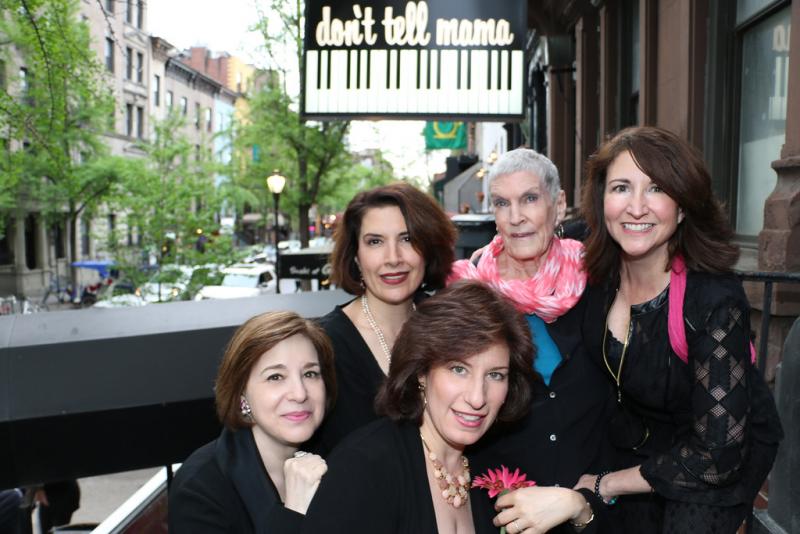 As TOGETHER came together, "Love and Let Love" became its rallying cry, particularly in challenging times. Consciously or otherwise, this is a show formed out of necessity.
"The message of the song is that nature teaches us that each being in this world is innately perfect and unique, and it is our great calling to honor each other rather than judge and try to change each other," Callaway said. "When five unique artists are drawn to share their gifts and turn five voices into one, hope shines brightly. And that is what we need a lot more of."
"I think there's terrific power in hearing a group of strong women deliver that message," Brourman added. "My hope is that our song will nourish and encourage deeper levels of not just acceptance but appreciation... of all the beautiful ways in which love can manifest."
Each performer was coming from their own unique show, and Cook and Harnar were both coming from many, many shows of their own, as well as others'. TOGETHER was a beast of a different kind for everyone involved, however. But while there was some expectation as far as "self-protectiveness" going in and at the start of rehearsals---all of the vocalists, aside from Sanges, have worked with their own musical director, after all---according to Cook, patience, calmness, and listening to everybody's wants and needs drove the show in the right direction.
"Putting aside my preconceived notions was wonderful in the sense that it allowed me to 'feel' as each of these ladies felt about their songs and interpretations. In the end, it's all about letting the message come through."
Performers became promoters. Seasoned soloists became backup singers. Every aspect of the show's creation was all-hands-on-deck as press releases, stories, bios, and set lists were composed. Individual styles were learned, group numbers were arranged, and number after number was pieced together.
---
If this all seems too tidy and you're waiting for one or the other shoe to drop, keep watching the clock. An outsider might look at this situation and expect a certain level of competitiveness or even drama. But the women of TOGETHER are complementary in ways that don't necessarily play out on paper. It's obvious when you get them all to talk with one another and you witness the air of palpable joy and respect. And love. Cook describes the group as having its own "super-personality" that developed and has only strengthened as the shows continue.
"You take Josephine's enthusiasm along with Celia's supreme gift for clarity and organization, add Sally's incomparable performing experience, plus Meg and Lisa, who covered every rehearsal with wall-to-wall positivity, and... it just wins."
"It's just one of those ideas that is so right, so opposite any sort of rivalry," Darling said.
It's even more evident when they're all on stage together, individually basking in each other's performances and taking in what they have created as a whole. Whatever the journey each individual vocalist had to take to get to this point, they each expressed the same feeling of working together: any self doubts they had in their own performances were quelled by being around one another.
"The real story is how we worked as a group," Flather explained. "Wanted our peers to shine, sitting in a circle singing our song choices to the others--- very vulnerable stuff, and, yet, we felt so safe. When we struggled individually [and] had our doubts, others stepped in to support. Everything was so exposed."
"I admire the journeys they have each taken to arrive at this moment." Berk added. "The integrity of how they express themselves musically. There is not a false note amongst them."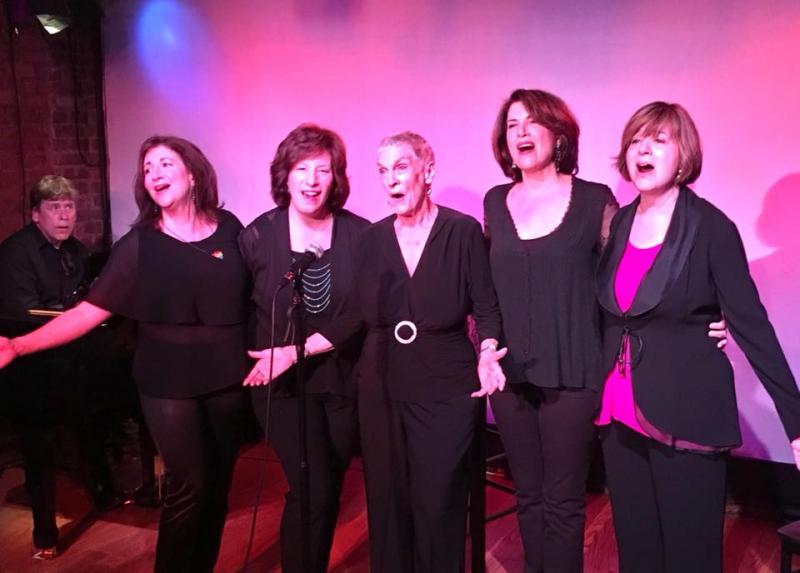 Adjustments have been made from show to show as the group collectively has learned and evolved. One of the more recent ones sings loudest above all else: each artist introduces the one to follow by crediting her award-winning work. Recall how this all was formed in the first place--- as part of an awards show, where there was only one victor. Now, all that remains is the camaraderie. Everyone has their hands on the oar to row the boat.
Where TOGETHER was initially planned as a one-off, it was an easy decision to keep going past that initial June show. And, as the shows have continued, the important charity factor has remained. In its shows since, proceeds for the concerts have gone to The Seeing Place Theatre's #TheEmpathyInitiative and NYC's The Meatloaf Kitchen.
The next show on December 15 at Urban Stages' WINTER RHYTHMS will benefit art, theater, and education through Urban Stages' Outreach.
"Making it about something other than ourselves brought out the best in all of us," Cook said.
Where TOGETHER has brought out the best in everybody involved on this charitable level, it has clearly brought out the best in everybody as performers, vocalists, and people. Harnar summarizes it blatantly as "quite special," and, like the rest of the group, counts it as a major first in his cabaret experience.
And if nothing else at the moment, especially during the holidays and especially in the current political climate, it's respite from the chaos.
"With everything going on around us...all the noise of late, being connected to these strong talents and the friendships is medicine for me," Flather said.
"This is what we need more of at this time in our country and throughout the world," Callaway said. "Coming together. Finding common ground in uncommon ways. It's not enough to talk, we've got to walk the walk. And that's what these five fine singers are doing. Ripples of love are extending from TOGETHER and the possibilities are endless."
---
TOGETHER: THE 2017 CABARET AWARD-NOMINATED VOCALISTS will perform Friday, December 15 at 7:00 PM as part of Urban Stages' WINTER RHYTHMS. For tickets and information, visit urbanstages.org.
Ashley Steves is BroadwayWorld's Cabaret Editor and an arts and entertainment writer based in New York. Follow her on Twitter @NoThisIsAshley.