Click Here for More Articles on NEW YORK CITY
BWW Feature: LIVING RECORD COLLECTION Creator Salty Brine Would Like to Solve the Puzzle
Salty Brine's shows may be the closest thing you'll get to an M. Night Shyamalan-level twist in cabaret, though you could never accuse him of prizing shock value over story.
Because, above all, Brine's shows in THE LIVING RECORD COLLECTION are conceptually taut, including his latest, WELCOME TO THE JUNGLE. Even when, to the audience, it may seem like he's about to drive over a cliff, he has an escape hatch at the ready.
For each entry in the COLLECTION over the past two-and-a-half years, he has taken one album and performed it from top to bottom. Yet it's far more complicated than it sounds, as the shows are a veritable melting pot of influences, journeying through his own personal misadventures, literary touchpoints and other musical influences, too. (As long as he performs every lyric from the selected album, anything else is gravy.)
Seemingly disparate storylines always manage to converge in a way that is never not surprising, even if you think you know what's coming, which is a style of storytelling Brine finds incredibly compelling.
"Typically when you say something in our culture, you say the most important thing first, and then fill in with the details after," he says, paraphrasing a "superhero" of his, queer luminary Quentin Crisp. "But if you want to be witty, then you say the most important thing last."
According to Brine, though, it's less about wit in his case and more about keeping the audience hanging on until the last moment, while making sure they're taken care of from start to finish. He sees writing and artistic creation as a whole as puzzle-solving.
"You get all these puzzle pieces, lay them all out on the floor---literally on index cards in front of me---and I start to shuffle them around," he explains. "And then you start to see connections between the source material and the lyrics and the stories."
For Brine, it isn't static, either. With such a quick turnaround from each show's conception to its presentation, he says he'll find connective tissue he can use to tie it all together throughout the run.
That technique is something he has developed more and more as time has gone on, and he finds it is a natural fit for cabaret, drawing a comparison between its traditional song-story-song-story format, and albums, which he finds have a similar logic.
And when that final piece clicks into place, he says, "You step back, you look at the thing as a whole, and this picture emerges. This image, this idea, this feeling emerges, and you see something larger."
PROCESS MAKES PERFECT
Despite the intricate nature of Brine's shows, the process for putting them together is surprisingly quick. That's out of both necessity---he's seen many projects never get past the workshop phase---and design.
"I just want a place to be putting up work," he says. "I believe in my heart the more I make, the better I'll get at making. So I want to just keep making."
Once an idea is in place, the "making" begins with a period of intense research before Brine dives headfirst into writing, putting each first draft together, remarkably, in about three days.
Each show has a unique team, involving a director, a dramaturg, and a music director, as well as a costume director, who may also be responsible for any production design elements needed for the show.
"I always work with a different music director and director for each album to try to shake things up. And, also, because the best directors and music directors are busy," Brine reveals.
After his three days are up, he presents the draft to the team, and based on their feedback, he takes another three days for rewrites. If that sounds brief, that's nothing compared to the 30 hours of rehearsal time, where the music directors bring in the band they've chosen based on the sound they're trying to create.
Getting off-book in as little time as possible---and, with just one show a week, staying off-book---is both the most tedious task for Brine and an utter necessity. Even then, he says opening night is predictably unpredictable when it comes to holding it all together.
"Some audience members love to come on opening night because it's really a wild ride where you can tell we're hanging on by a thread."
GIRL, PUT YOUR RECORDS ON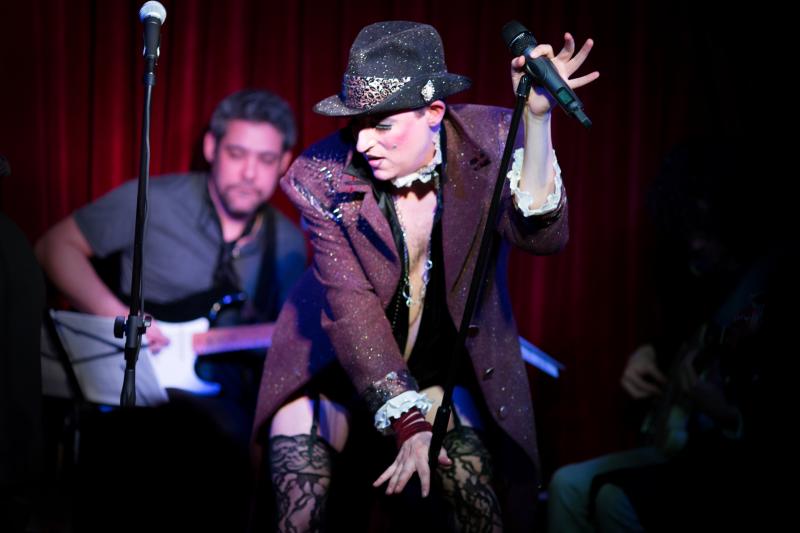 Before THE LIVING RECORD COLLECTION was even a twinkle in Brine's eye, Jonathan Demme's iconic concert film STOP MAKING SENSE about Talking Heads inspired him to turn an album into a piece of live theatre, which he did in a bit of a trial run that recreated not just that album but the film itself for the stage.
"It was sort of half-baked at that point. But I said, 'Let me put that whole album on its feet and see what that looks like.'"
Then he was off and running, collecting albums over the course of a year for what would become THE LIVING RECORD COLLECTION to "get the whole half-baked idea fully baked."
But more than STOP MAKING SENSE or any one artist or group, the COLLECTION was born out of Brine's love of albums, and, in particular, those for which the whole LP is greater than the sum of its singles.
"Albums are something that are slipping away a little bit as technology moves forward," he explains. "So it's a bit of nostalgia, in a way, for that time, when you'd make mixtapes for people."
That said, there's not necessarily a whole lot of mixing going on because Brine has a serious respect for the albums he presents. Though he can add in additional music, his rule is that the albums must be presented front to back, and every lyric must be sung. He's only broken from that format once, and he wishes he could go back and undo it. "I did it for a strong reason that was supported by the text, and I don't really like that I did it."
Since making his first official entry into THE LIVING RECORD COLLECTION by melding The Beatles with Weimar-era German cabaret in ABBEY STRAßE, Brine has developed a fierce and diverse portfolio of shows, featuring LPs by artists ranging from Joni Mitchell to Neutral Milk Hotel. According to Brine, "the good ones" have a sort of emotional or energetic arc.
When it comes to reimagining the biggest hit songs on each album, Brine does feel a pressure to meet expectations, as he's keenly aware many audience members are coming specifically to hear them. Though he cedes all song arrangement duties to the musical director due to time constraints, he says it all comes back to one thing.
"Honestly, what always drives the show forward and every decision we make around the show is, like, we're going back to the text, and what's the story? What's the thing we're trying to say? What's the big thing about humanity we're trying to ask?"
A JUNGLE LOOK
His latest, WELCOME TO THE JUNGLE, throws Harry Nilsson's NILSSON SCHMILSSON, his childhood stories from an all-boys summer camp, and tales from THE JUNGLE BOOK onto one playlist and hits shuffle--- though the track list stayed intact, of course.
Though Brine says he generally has an album in mind first, his latest show is an exception. His camp stories were the seed for the idea, with his music director Nate Weida later suggesting he take a look at Nilsson's album, and he quickly fell in love with it.
He even incorporated the letters he wrote home to his mother from camp, which he calls "hilarious." They are, but the notes, written by a boy who didn't quite fit in and just wanted to go home, are also a little heartbreaking. Brine often touches on gender, sexuality, and a general sense of otherness in his work, but it's just one element.
"I think in my 20s it was the point of my shows, and when I hit my late 20s, early 30s, I was able to work through a lot of that stuff," he explains. "Really, it was about me being okay with my gender, which is that it's fluid and it moves around."
Getting comfortable sharing more of his personal stories took time, but at the urging of several directors over time, he came to see how it strengthened the ties between material.
And because, in a Salty Brine show, nothing occurs by happenstance, the camp he attended as a boy was Camp Mowglis, founded in 1903 in New Hampshire with permission from THE JUNGLE BOOK author Rudyard Kipling himself.
While researching, he learned the writer was, in Brine's words, "a total garbage person... a racist, imperialist nightmare." At first, he questioned whether he should even use Kipling's writing for material. "But then I thought, 'Well, what if I make that the point?'"
Because of the setting, fittingly, WELCOME TO THE JUNGLE is almost entirely acoustic, campfire-style. When the idea was first floated, Brine admits, "I was half excited and half terrified."
Yet it's also an opportunity for the performer to return to something a bit sunnier after DEAN. MAYBE FRANK. MAYBE SAMMY. Combining Radiohead, his roiled emotions surrounding the election, and starring Brine as a sloshed Dean Martin, it's no wonder he leaned into a concept that was a bit more "buoyant" for his next effort.
"When I got done with that show, I said, 'I want to make something with glitter and color and a lot of laughter.'"
DON'T CALL IT A COMEBACK
Though Brine has been adding to his LIVING RECORD COLLECTION for more than two years, he's in no hurry to press pause.
Looking back, there are also handful of shows Brine hopes to revisit. He got a taste of that last November, when he revived HE'S SO UNUSUAL, his take on the 1930s pansy through the lens of Cyndi Lauper's debut album.
For the artist, remounting a show around a year after it first debuted was an incredible opportunity, as time is a luxury he generally hasn't had.
"Kind of all I do are preview performances," Brine jokes, adding, "I've got 16 of these things; I'm collecting them. Now that we've done the previews, we can go back and open the shows."
---
Salty Brine's new show in THE LIVING RECORD COLLECTION, WELCOME TO THE JUNGLE, will continue on at Pangea Wednesdays at 7:30 through June 21. For tickets and information, visit www.pangeanyc.com. For more information on THE LIVING RECORD COLLECTION, visit www.thesaltiestbrine.com.
Troy Frisby is an entertainment writer and digital news producer based in New York. Follow him on Twitter @TroyFrisby.
Related Articles
Troy Frisby is a writer and producer for Zazoom Media Group, producing entertainment and news video content for clients including AOL and MSN. Previously, he (read more...)