Verizon & NBC Expand Partnership for MACY'S THANKSGIVING DAY PARADE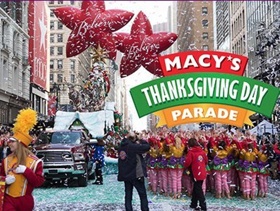 NBCUniversal, Verizon and Macy's announced that the 360 livestream of the MACY'S THANKSGIVING DAY PARADE on Verizon's Youtube page will return for a second year with enhanced camera positions including a traveling camera onboard the lead Parade float. New to the television broadcast through this year's partnership is the first Picture in Picture activation in parade history, giving audiences non-stop content in commercial time, and a special segment produced by Verizon. Also a first, campaign elements will run on NBCUniversal strategic partners Apple News, BuzzFeed and Concert.
Olivia Culpo will return, and be joined by BuzzFeed's Keith Habersberger, as hosts of the livestream from a co-branded stage in Midtown Manhattan that will house an audience section for Verizon Up ticket holders. The Verizon Up loyalty program rewards customers by offering special access to brands and experiences they know and love - like once in a lifetime VIP access to the parade. Livestream viewers on Verizon's
Youtube
page will have an elevated experience this year through augmented reality within
THE FEED
showing Parade fun facts and social posts, some of which will be connected to redeemable Verizon offers. The livestream will be synced with the start of the parade on November 23 at 9am EST on NBC. As part of the
NBC
broadcast, Verizon will produce a 60 second segment dedicated to thanking the first responders who give up their holidays and time with their families to help keep us safe year round. "The
MACY'S THANKSGIVING DAY PARADE
is the
SUPER BOWL
of family viewing in the way it captures a multigenerational audience at scale," said Mark Marshall, Executive Vice President, Entertainment Advertising Sales, NBCUniversal. "Verizon is a valued partner as we work to show the power that NBCUniversal has in reaching consumers of all ages at any of the touch points where they consume media." "The variety of this year's integrations allow us to deliver an unprecedented parade viewing experience and access to consumers," said John Nitti, Chief Media Officer, Verizon. "The partnership with NBCUniversal and Macy's demonstrates how Verizon uses technology to bring unprecedented access and experiences, allowing for a full 360 immersive experience for one of the biggest cultural moments of the year, so everyone can be on the parade route." The linear parade broadcast will feature mentions of the livestream and Verizon will be one of the sponsors of the first Picture in Picture experience in Parade history. Additional marketing for the livestream effort will appear across all NBCUniversal properties leading up to the Parade. BuzzFeed will have a homepage takeover and additional promos driving engagement to the Verizon
Youtube
page and poststream shoppable units promoting Verizon products. Ad units will run across Concert's premium network through the Vox Media and NBCUniversal joint offering, and through a special "Tap to Calendar" unit on Apple News, users will be able to set a reminder to watch the 360 livestream, receiving a Calendar notification just moments prior to the event. About the 360 livestream hosts Olivia Culpo
Actress, philanthropist and style expert, Olivia Culpo has created a substantial platform in the modeling, beauty and fashion space. Culpo uses her loyal social media following to promote a healthy and positive lifestyle and is often tapped by various outlets to discuss the latest trends. As a Global Ambassador of Pencils of Promise, Culpo has traveled to Guatemala, where she visited a community and broke ground on a new Pencils of Promise school, devoted to improving children's education. Keith Habersberger
Keith Habersberger is a Development Partner at BuzzFeed Motion Pictures. He joined the company in January 2014 and has become a prominent host and personality. Habersberger is a co-creator and member of the popular group, "The Try Guys," and one of the hosts and producers behind "Squad Wars" on
Youtube
Red. Prior to BuzzFeed, he toured the nation with Mission Improvable, the most booked improv comedy group in the nation, while producing National improv tournaments and festivals with Chicago Improv Productions.
Related Articles View More TV

Stories