MACY'S THANKSGIVING DAY PARADE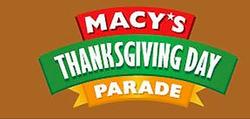 NBC officially kicks off the holiday season with the live broadcast of the annual MACY'S THANKSGIVING DAY PARADE from New York City. Broadcast on NBC since 1948, America's most beloved procession marches in the holidays with dazzling doses of spectacle, enchantment and tradition.
Where else can you find 50-foot balloons, floats, cheerleaders, dancers, performance groups, clowns, marching bands and, of course, celebrity performers? Thousands of participants take to the streets for the celebration - and it all caps off with the very first seasonal appearance of the jolly man in the red suit. Enjoyed for generations, it's a national pastime to be thankful for.
Latest Tweets from NBC
5/16 @ 2:00 PM

NBC - At the young age of 14, she inspires us all. 👏 Mari Copeny wins the #BBMAs Changemaker Award, streaming now on… https://t.co/LDgiF6lfc9

Retweet | Reply | Original Link   
5/16 @ 1:30 PM

NBC - It's brotherly love between Diddy, French Montana & Travis Scott. ❤️ Stream the #BBMAs now on… https://t.co/3lrA4Yskft

Retweet | Reply | Original Link   
5/16 @ 1:00 PM

NBC - From one Icon to another, Janet Jackson presents the Icon Award to Mary J. Blige. ✨ Stream the #BBMAs now on… https://t.co/S2TOK2Rl8n

Retweet | Reply | Original Link   
5/16 @ 12:00 PM

NBC - It's brotherly love between Diddy, French Montana & Travis Scott. ❤️ Stream the #BBMAs now on… https://t.co/fP74mCN1di

Retweet | Reply | Original Link   
Latest Articles About Macy's Thanksgiving Day Parade on NBC