Photo Coverage: Batman's Robin, Burt Ward, Joins Series Experts at the BATMAN 66 EXHIBIT PANEL
Original TV Director of Batman, Robert Butler commented, "They say you can't go home again . Well, I just did. Between the Batman 66 Exhibit on the third floor of The Hollywood Museum and spending time with Burt and Donna it was like going home again. I enjoyed my visit back to Gotham city and the Batcave!"
President and Founder of the world famous Hollywood Museum, Donelle Dadigan, along with Roger Neal organized a very special BATMAN 66 EXHIBIT PANEL, which included Burt Ward and Donna Loren on Saturday September 8th at The Hollywood Museum (660 N. Highland Ave, Hollywood, CA.) for fans both in person and on Facebook at Facebook.com/TheHollywoodMuseum
The current Batman 66 exhibit which has been on display at the museum since January 2018 has been refreshed with some of the items coming out and new items going in. Many of the main items like the Batmobile, Batcycle, Burt Ward and Adam West original costumes, as well as villain costumes among the many other items will remain.
The new items include the KING TUT sculpture with a screen accurate costume and featuring Victor Buono's face! Also from the George Barris collection, never before seen collectibles that are BATMAN 66 related.
With industry insider, Roger Neal, as moderator, the panelists consisted of noted Batman collectors, including Rob Klein, Alex Zsolt, Tom Woodruff, Pat Evans, Kelly Delcambre, Jim Ojala and Bob Mitsch, with special appearances by Batman director Robert Butler, President and Founder of The Hollywood Museum Donelle Dadigan, Batman Joker henchwoman Donna Loren and Batman's Robin himself, Burt Ward
"Donna Loren's character gave me my first kiss on screen 52 years ago," remarked Ward. "And here we are today and I now have my second kiss from her... seems like yesterday." Loren recalls "It was wonderful giving Robin his first kiss and today I enjoyed MAKING IT number two, Batman 66 will go on forever."
Curious fans asked questions ranging from technical production questions such as why villains were shot at an angle and if Bruce Lee's appearances actually marked his first on camera fight, and much more. These and more questions can be answered by visiting The Hollywood Museum's Facebook Page.
Unable to attend, due to a scheduling conflict, Julie Newmar offered a special note of thanks to fans and friends with "Hello to all you lovely Bat fans out there, Especially you Cat fans ... and you know who you are. I will forever be grateful to my brother, John, for insisting that I except the role of Catwoman. I had no idea what a deliciously villainess individual she could become and I am grateful to the extended family of colleagues, collectors and cat-a-holics that have kept her, and myself by extension, in the public's perifrial all these years. I wish I could have joined you today, but know you will have a purrrrfectly wonderful time with these brilliant people at one of my favorite places on earth, the Hollywood Museum. We owe a debt of gratitude to its founder, president and Hollywood hero in her own right, Donelle Dadigan. And it takes a villain to know a real hero. Bless you all."
Donelle Dadigan (President/Founder The Hollywood Museum) offered, "We are so happy to have had so many of the collectors that have items in the exhibit appear on this panel, and particularly thrilled with the public's response to the exhibit."
ABOUT THE HOLLYWOOD MUSEUM
See 10,000 Authentic Show Business Treasures spotlighting more than 100 years of Hollywood history - from the Silents to Talkies, to Hollywood's Golden Era, Film Noir, Television and its Pioneer Years, through the rebellious 60s, special effects 70s, evolving 80s, involved 90s, technological 2000s, and BEYOND to current day heartthrobs! The Hollywood Museum's exhibits showcase the best in film, network and cable television, and new digital platforms featuring iconic and fan favorites! Named one of the top tourist attractions by LA Weekly, voted one of the Top 10 Museums in LA by the Los Angeles Tourism & Convention Board, and annually receives the Certificate of Excellence from Trip Advisor. Located in the heart of Hollywood, at the corner of Hollywood Blvd and Highland Ave - The Hollywood Museum in the historic Max Factor Building is the official Museum of Hollywood and offers visitors the most extensive collection of Hollywood memorabilia in the world featuring the glamour of Hollywood legends and stars - past, present and in the making. See one-of-a-kind costumes, props, photographs, scripts, stars' car collections, personal artifacts, posters, and memorabilia from favorite stars, films and TV shows. The Hollywood Museum is a 501(c)(3) non-profit corporation.
REGULAR HOURS: Wednesday - Sunday: 10:00 am - 5:00 pm
TICKETS: $15 Adults: $12 Seniors (62+): $12 for students with ID and $5 Children under 5.
ADDRESS: 1660 N. Highland Ave. (at Hollywood Blvd.), Los Angeles, CA 90028
MUSEUM INFO: www.TheHollywoodMuseum.com or Tel: (323) 464-7776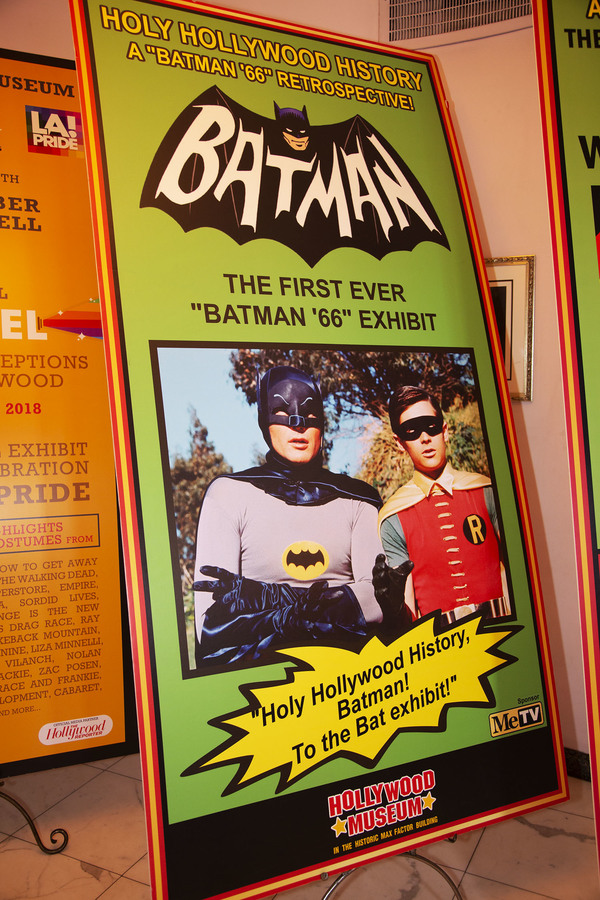 Batman Exhibit Poster

Donelle Dadigan, Burt Ward, Robert Butler and Donna Loren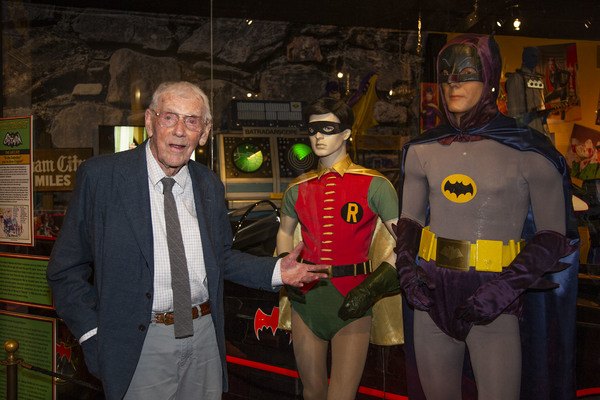 Batman director, Robert Butler, poses with original costumes from the series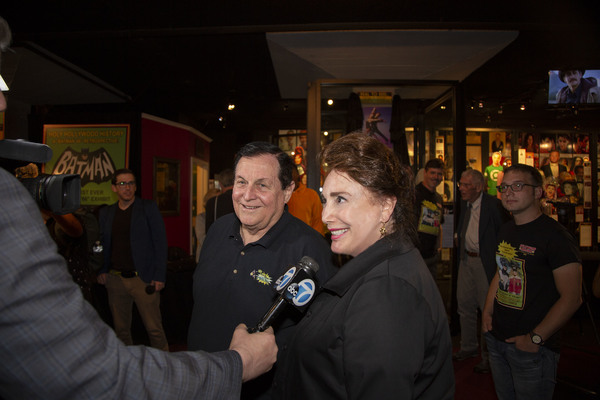 Burt Ward and Donelle Dadigan interview with ABC News following panel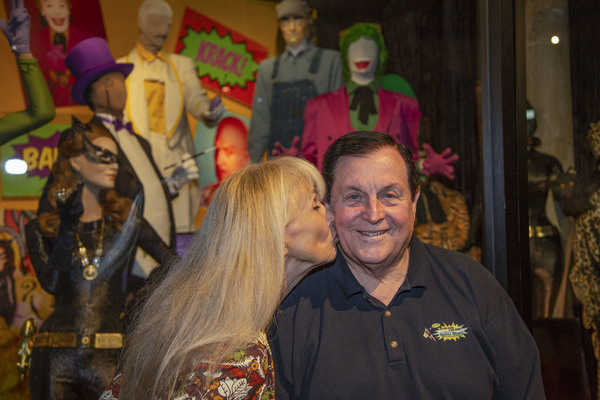 Donna Loren (Joker Henchwoman), reenacts the first on screen kiss with Burt Ward (Robin)

Panelists Rob Klein, Alex Zsolt, Tom Woodruff, Pat Evans, Kelly Delcambre, Jim Ojala and Bob Mitsch, join Batman director Robert Butler, Donelle Dadigan, Burt Ward and Donna Loren.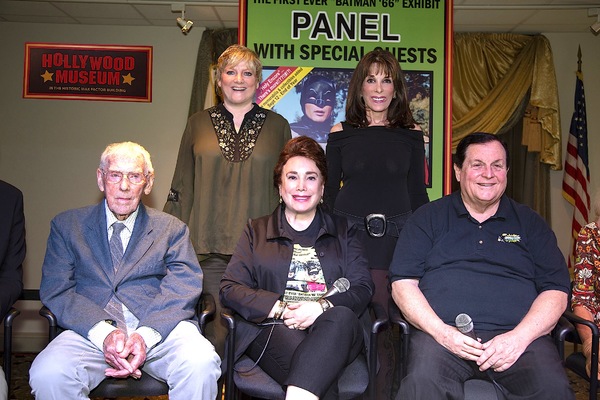 Alison Arngrim (Little House on the Prairie) and Kate Linder (Y&R) seen her with Robert Butler, Donelle Dadigan and Burt Ward were among patrons and fans in attendance.

Robert Butler, Burt Ward and Donelle Dadigan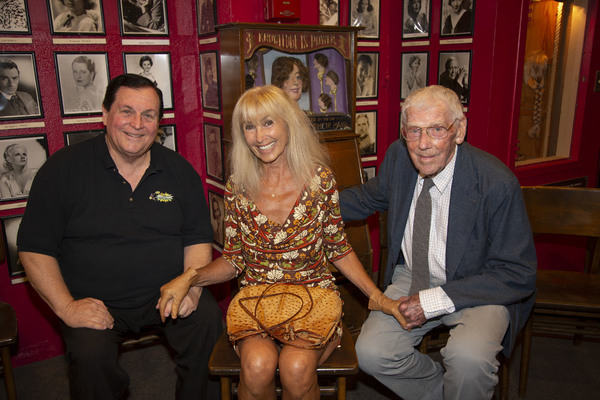 Robert Butler, Donna Loren and Burt Ward reunite after 50 years

Director Robert Butler and Burt Ward reminise 50 years after Batman series

Donelle Dadigan Asnwers fan questions about Exhibit as Burt Ward looks on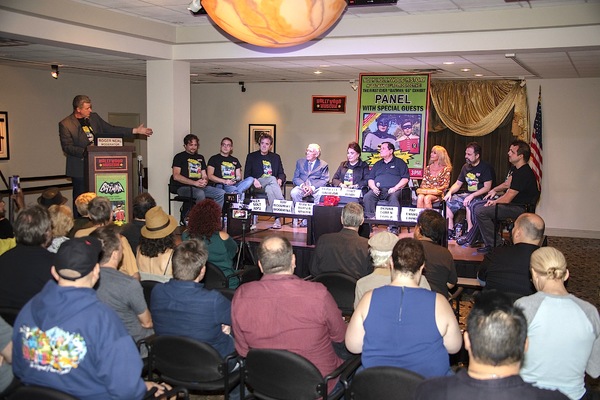 Moderator Roger Neal Panelists: Rob Klein, Alex Zsolt, Tom Woodruff, Robert Butler, Donelle Dadigan, Burt Ward, Donna Loren, Pat Evans, Kelly Delcambre, Jim Ojala

Founder/President of The Hollywood Museum welcomes FaceBook Live Fans

Original Batman Movie Poster introduces patrons to the exhibit
Related Articles View More TV

Stories
More Hot Stories For You