Juma Entertainment to Produce SUPERSTAR RENOVATION for CBS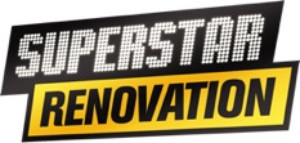 JUMA Entertainment, producers of lifestyle and home renovation television programming, will produce "Superstar Renovation," a series of one-hour specials where sports celebrities head back to their hometowns to give the gift of a home makeover to people who have played a special role in their lives. Philadelphia Eagles All-Pro safety, Malcolm Jenkins, stars in the first special airing Saturday, October 13 at 2 pm ET on the CBS Television Network.
In the series premiere, Malcolm returns to his childhood home in Piscataway, New Jersey, which has seen three generations of the Jenkins family. Malcolm's parents Gwendolyn and Lee not only raised three sons including a two-time SUPER BOWL champion, but they also helped take care of the neighborhood. Lee was a father figure for many of the kids in the town - he bussed them back and forth between football practices and their backyard served as a gathering place for kids to run catching drills.
To thank his parents, Malcolm and "Superstar Renovation" landscape expert Jason Cameron, is surprising them with a backyard renovation of their dreams complete with an entertaining space, playground and, of course, plenty of space to throw the football. As a special gift, Jenkins and Cameron also transform the garage into a man cave for Dad.
In addition to Malcolm Jenkins, JUMA has signed NBA All-Star LaMarcus Aldridge of the San Antonio Spurs to participate in episode two of "Superstar Renovation." The Dallas native will surprise his high school coach, mentor and father figure, with a home renovation. The airdate has yet to be announced.
"Superstar Renovation" is produced by JUMA Entertainment in conjunction with Turner Sports and Bleacher Report. Robert Horowitz and Lewis Fenton are the executive producers. Peter DeVita and James Eckels are co-executive producers.
ABOUT JUMA ENTERTAINMENT
JUMA Entertainment is a full-service production and event management company known for its character-driven unscripted series. With offices in New York, Los Angeles and Newtown, PA, JUMA is the co-creator and executive producer of the hit variety game show THE SINGING BEE (NBC/CMT). JUMA's other credits include SUPER BOWL'S GREATEST COMMERCIALS (CBS), POOL KINGS (DIY NETWORK), SORORITY SISTERS (VH1), VANILLA ICE GOES AMISH (DIY/HGTV), WORLD'S WILDEST COMMERCIALS (ABC), CELEBRITY SUPERSTARS (ABC), AMISH RENOGADES (DIY), MAGIC MAN (TRAVEL), THE CLIOS (NBC), OCHOCINCO: THE ULTIMATE CATCH (VH1), DOUBLE EXPOSURE (BRAVO), TATTOO HIGHWAY (A&E), MANHUNT: THE SEARCH FOR AMERICA'S MOST GORGEOUS MALE MODEL (BRAVO), and BATTLE OF THE NETWORK REALITY STARS (BRAVO). For more information, visit JUMATV.COM