New York City Opera to Present Dominick Argento's 90th Birthday Concert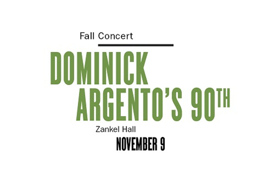 New York City Opera will honor the 90th birthday of Pulitzer Prize-winning American composer Dominick Argento with a concert featuring two of his one-act operas on November 9, 2017 at Zankel Hall at Carnegie Hall. Soprano Heather Buck will perform Miss Havisham's Wedding Night and baritone Aaron Engebreth will sing A Water Bird Talk with Gil Rose conducting the New York City Opera Orchestra.
Born October 27, 1927 in York, Pennsylvania, Dominick Argento is one of America's most important composers of opera, art song, choral works, and orchestral music. Argento's extensive and wide-ranging output includes 13 operas, such as Postcard from Morocco (1971), The Aspern Papers (1987), and The Dream of Valentino (1993). Argento's long and fruitful relationship with New York City Opera began in 1977 when the company commissioned Miss Havisham's Fire, which had its world premiere at City Opera on March 22, 1979. Argento revised the opera in 1981 into the one-act monodrama Miss Havisham's Wedding Night. In 1984, under the general direction of Beverly Sills, City Opera presented the New York premiere of his Casanova's Homecoming, which was the first English-language opera in New York City to be performed with English supertitles.
Argento's one-act opera A Water Bird Talk had its world premiere at the Brooklyn Academy Of Music on May 19, 1977. The opera features a libretto by the composer loosely adapted from Anton Chekhov's one-act play On the Harmful Effects of Tobacco and American ornithologist John James Audubon's The Birds of America.
"I'm thrilled to announce the first of City Opera's two performances this season at Carnegie Hall's Zankel Hall," says New York City Opera General Director Michael Capasso, "It is an honor to welcome back a cherished figure in City Opera's artistic history in this year that marks not only his 90th birthday, but also the 40th anniversary of his association with the company."
"I am infinitely grateful for the resuscitation of the New York City Opera," says Dominick Argento, "American opera composers and performers once again have a home and hope for the future of our art."
Praised by Opera News as "the kind of performer who makes it all look easy," soprano Heather Buck returns to City Opera to sing Aurelia Havisham, the eccentric jilted bride from Charles Dickens's Great Expectations, which she recently sang with Odyssey Opera. Buck has appeared with English National Opera, Santa Fe Opera, Opera Theater of St. Louis, and Wolf Trap Opera, among many others, in roles from the Queen of the Night to the title role in Moore's The Ballad of Baby Doe. A noted interpreter of contemporary music, Buck created the roles of Ku in Paola Prestini's Gilgamesh with Beth Morrison Projects and Persephone in Julian Wachner's Rev. 23 at Prototype Festival, and sang the role of the Maid for the American stage premiere of Thomas Adès's Powder Her Face at Aspen Music Festival.
Baritone Aaron Engebreth will make his New York City Opera debut as the Gentleman Lecturer in A Water Bird Talk, a role he recently performed with Odyssey Opera. Engebreth has collaborated with many of America's most influential composers, including Lukas Foss, John Harbison, Libby Larsen, Thea Musgrave, and Ned Rorem, among others. He has performed with the American Bach Soloists, Handel and Haydn Society, Miami Bach Society, and Boston Baroque, among others, and at the Kennedy Center. In 2016 Engebreth produced and recorded the first complete catalogue of The Complete Songs of Virgil Thomson with Florestan Recital Project and New World Records. His extensive discography includes the Grammy Award-nominated recordings of Lully's Thesée and Psyché with the Boston Early Music Festival, Foss's Griffelkin and The Prairie, Harbison's A Winter Tale, and Thomson's Four Saints in Three Acts.
Conducting the New York City Opera Orchestra is Gil Rose, founder of both Boston Modern Orchestra Project (BMOP) and Odyssey Opera. An innovative and versatile conductor, Rose conducted the world premiere of Zhou Long's Madame White Snake for Opera Boston, and led the world premiere of Elena Ruehr's Toussaint Before the Spirits, the New England premiere of Thomas Adès's Powder Her Face, and the North American premiere of Peter Eötvös's Angels in America with Opera Unlimited. He has conducted the American Composers Orchestra, Cleveland Chamber Symphony, the Netherlands Radio Symphony, Warsaw Philharmonic, and the National Symphony Orchestra of Ukraine, among others. Rose made his New York City Opera debut in March 2016 conducting the world premiere of David Hertzberg's Sunday Morning.
New York City Opera will present Miss Havisham's Wedding Night and A Water Bird Talk in celebration of Dominick Argento's 90th Birthday for one night only on November 9, 2017 at 7:30PM at Zankel Hall at Carnegie Hall. City Opera continue its Concert Series on February 20, 2018 by presenting the celebrated Italian soprano Anna Caterina Antonacci in her only U.S. appearance of the season.
PROGRAM:
Miss Havisham's Wedding Night & A Water Bird Talk
Conductor Gil Rose
Aurelia Havisham: Heather Buck
Gentleman Lecturer: Aaron Engebreth
with the New York City Opera Orchestra
At Zankel Hall at Carnegie Hall, New York, NY
On Thursday, November 9, 7:30PM
For tickets to Dominick Argento's 90th Birthday:
Carnegie Hall Box Office
57th Street and Seventh Avenue
Monday through Saturday, 11 AM-6 PM
Sunday, 12 PM-6 PM
CarnegieCharge: 212-247-7800
Monday through Sunday, 8 AM-8 PM
www.carnegiehall.org
Since its founding in 1943 by Mayor Fiorello La Guardia as "The People's Opera" New York City Opera has been a critical part of the city's cultural life. During its history, New York City Opera launched the careers of dozens of major artists and presented engaging productions of both mainstream and unusual operas alongside commissions and regional premieres. The result was a uniquely American Opera Company of international stature.
For more than seven decades, New York City Opera maintained a distinct identity, adhering to its unique mission: affordable ticket prices, a devotion to American works, English-language performances, the promotion of up-and-coming American singers, and seasons of accessible, vibrant and compelling productions intended to introduce new audiences to the art form. Stars who launched their careers at New York City Opera include Plácido Domingo, Catherine Malfitano, Sherrill Milnes, Samuel Ramey, Beverly Sills, Tatiana Troyanos, Carol Vaness, Shirley Verrett, among dozens of other great artists.
In 1999, New York City Opera founded VOX, Contemporary Opera Lab, an annual concert series that offered composers and librettists the opportunity to hear excerpts of their works performed by professional singers and musicians. For decades New York City Opera has been committed to introducing opera to the young, bringing the art form to new audiences with educational outreach performances in New York City's public schools.
Now, having returned to the stage, New York City Opera continues its legacy at a new, state-of-the-art home at Jazz at Lincoln Center's Rose Theater with revitalized outreach and education programs, and programming designed to welcome and inspire a new generation of City Opera audiences. The 2016 - 2017 season included Leoncavallo's Pagliacci and Rachmaninoff's Aleko, the New York premiere of Tobin Stokes' Fallujah, 10 sold-out performances of Harold Prince's production of Leonard Bernstein's Candide, and the U.S. premiere of Literes's baroque opera, Los Elementos, at Harlem Stage. City Opera opened New York City's 2017/2018 cultural season with a new production of Puccini's beloved La fanciulla del West. In October 2017, City Opera presents the first installment of its Chamber Opera series with the New York premiere of Tobias Picker's Dolores Claiborne, based on the novel by Stephen King and presented in a new chamber adaptation prepared for City Opera by the composer. In January 2018, City Opera will present the New York premiere of the world's first mariachi opera, José "Pepe" Martinez's Cruzar la Cara de la Luna as part of its Opera en Español series. The Chamber Opera series continues in March with a unique pairing of Rameau's Pigmalion and Donizetti's first opera Il Pigmalione. Having presented Respighi's rarely heard La campana sommersa last April, City Opera presents another 20th-century Italian rarity with Montemezzi's L'amore dei tre Re in April 2018. City Opera began its singular LGBT Opera initiative last June with the New York premiere of Péter Eötvös's Angels in America and continues that initiative this May with the long-awaited U.S. premiere of Charles Wuorinen's Brokeback Mountain.
For more information, visit www.nycopera.com.