The Boot Premieres Tommy Townsend Video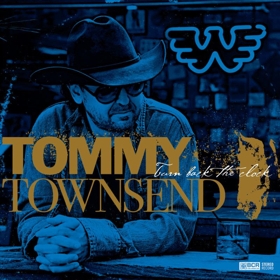 Massive Country Music fan site The Boot premiered Tommy Townsend's debut music video for his "Drinkin'" single this morning. Check it out here. The clip was shot at Austin City in Lexington, produced by Adam Barnes and directed by Blake Judd for JuddFilms.
"I can't thank The Boot enough for premiering my first music video," said Townsend. "We had a blast making the video, and I have to thank Shooter, Adam Barnes, all the folks at Black Country Rock and my whole team for getting it out there!"
?
The first single off Townsend's Turn Back The Clock album, "'Drinkin'' is the product of country music royalty," wrote The Boot. The single was written by Holly Williams, daughter of Hank Williams Jr. and produced by Shooter Jennings, son of Waylon, who won a GRAMMY last month for producing Brandi Carlile's By the Way, I Forgive Youalbum with Dave Cobb.
Released on the Black Country Rock label, the seven-song Turn Back The Clock album is available for streaming, download, cd and vinyl. The collection features two original Townsend tunes, "Plug The Jukebox Back In" and "Longest Day Of Summer," alongside tunes by the likes of Steve Young, Brandi Carlile and Gordon Lightfoot and the Waylon-penned "Belle of the Ball."
A native of Blairsville, in the mountains of Northeast Georgia, Tommy first met Waylon as a teenager when Jennings performed at the local fair. Jennings became a mentor to Townsend and recorded music on the aspiring singer/songwriter on several occasions.
In 2008, following a stint has half of the country music duo Townsend O'Donnell, he joined the Waymore's Outlaws as the lead singer. The reformed and renamed Waylors included Richie Albright on drums, Jerry "Jigger" Bridges on bass and Fred Newell on steel guitar. The band toured the world singing Waylon classics and new material in the Waylon vein. From 2014-2017, the band opened for Shooter Jennings and then backed his set.
Turn Back The Clock
Track Listing
1. "Renegade Picker"
Written by Steve Young / Alrhond Music Inc & Sony/ATV Tree Publishing (BMI)
2. "Drinkin'"
Written by Holly Williams / Louisiana Folks Music (BMI)
3. "Longest Day of Summer"
Written by Tommy Townsend, Burton Collins & Bruce Wallace / Ole Purple Cape Music (BMI)
4. "Plug The Jukebox Back In"
Written by Tommy Townsend, Darryl O'Donnell & Alan Margulies / Clashing Plaids (ASCAP), Eagle Land Publishing (ASCAP), Nottley River Sound Co. (ASCAP)
5. "The Eye"
Written by Brandi Carlile, Phil Hanseroth, & Tim Hanseroth / Southern Oracle Music LLC/W B Music Corp (ASCAP)
6. "Sundown"
Written by Gordon Lightfoot / W B Music Corp (ASCAP)
7. "Belle of the Ball"
Written by Waylon Jennings / Waylon Jennings Music (BMI)