Kacey Musgraves Receives 2019 CMA International Artist Achievement Award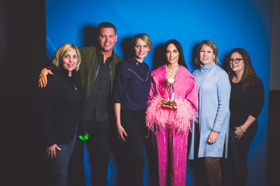 The Country Music Association awarded Kacey Musgraves with the 2019 CMA International Artist Achievement Award last night, Feb. 27, surprising her backstage prior to her performance at Nashville's historic Ryman Auditorium. The award recognizes outstanding achievement by a United States-based artist who has demonstrated the most significant creative growth, development and promotion of the Country Music industry outside of the United States during the eligibility period.

Since her first visit to the U.K. in 2012, Musgraves has developed an international touring base, headlining C2C: Country to Country festival in 2018 and becoming the first Country artist to perform at Fuji Rock Festival in Japan before launching her own international headline tour in Oslo last fall, which included a performance at London's Wembley Arena. This marks the second time Musgraves has received the CMA International Artist Achievement Award, previously winning in 2016.

"Thank you so much to the CMA for honoring me with the International Artist Achievement Award. I absolutely love experiencing new cultures and playing overseas," said Musgraves.

"Kacey has made touring internationally a huge priority throughout her career," said Sarah Trahern, CMA Chief Executive Officer. "We've witnessed the international fanbase for Country Music expand immensely and we applaud Kacey for her continued engagement to reach Country fans around the globe."

The CMA International Awards honor industry executives and artists who have supported and made a difference towards the growth and promotion of Country Music in the international market place. Nominees are recognized in five categories acknowledging their dedication and efforts in growing opportunities for Country Music in their local territories.

Winners for the four remaining 2019 CMA International Awards categories will be presented with their awards in March as CMA hosts several events in international territories including Germany, The Netherlands, United Kingdom, Australia, New Zealand and Japan.

About the Country Music Association
Founded in 1958, the Country Music Association is the first trade organization formed to promote a type of music. In 1961, CMA created the Country Music Hall of Fame to recognize artists and industry professionals with Country Music's highest honor. More than 7,400 music industry professionals and companies from around the globe are members of CMA. The organization's objectives are to serve as an educational and professional resource for the industry and advance the growth of Country Music around the world. This is accomplished through CMA's core initiatives: the CMA Awards, which annually recognize outstanding achievement in the industry; CMA Fest, which benefits the CMA Foundation and music education and is taped for a network television special, "CMA Fest"; and "CMA Country Christmas." All of CMA's television properties air on the ABC Television Network.
Image: Kacey Musgraves is surprised with the 2019 CMA International Artist Achievement Award backstage before her performance at Nashville's historic Ryman Auditorium on Feb. 27. (L - R): Leslie Cohea, Sandbox Entertainment; Jason Owen, Sandbox Entertainment; Milly Olykan, CMA Vice President, International Relations and Development; Kacey Musgraves; Sarah Trahern, CMA Chief Executive Officer; Samantha Borenstein, Sandbox Entertainment.
Photo credit: Catherine Powell