Grammy Nominated Musician John McCutcheon New Track Premieres at The Bluegrass Situation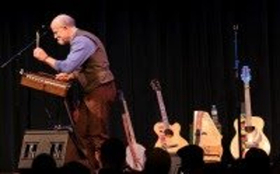 Wisconsin-bred, Georgia-based musician John McCutcheon is folk music's Renaissance man - master multi-instrumentalist, powerful singer-songwriter, storyteller, activist, and author. His recordings have garnered every imaginable honor including six Grammy nominations. He has produced over twenty albums of other artists, from traditional fiddlers to contemporary singer-songwriters to educational and documentary works. McCutcheon's commitment to grassroots political organizations has put him on the front lines of many issues with relevance to communities and workers.
John McCutcheon didn't mean to record Ghost Light. "It was a complete accident. I sat down over Memorial Day weekend and suddenly a line pestered me, 'Billy didn't come home last night.' I thought, 'Okay, so who's Billy? Where's home? What happened to him?' And it was off to the races. 25 days and 30 new songs later, what was I supposed to do?" And as has happened so often in his forty-five year career, those races brought McCutcheon a collection of stories that are real, seductive and unexpected.
Related Articles View More Music

Stories
More Hot Stories For You