Evil Blizzard Return with THE WORST SHOW ON EARTH, and Say Hello In New Video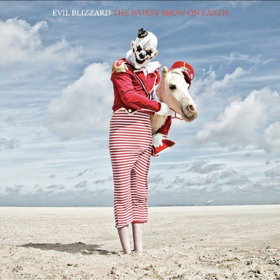 When Evil Blizzard emerged from the bowels of Lancashire with their debut album 5 years ago it is fair to say they caused a stir. Put on the front cover of The Guardian, championed by Mark E Smith (who gave the band the money to record their debut album out of his own pocket) their gruesome mix of four bass players blending Psyche, Krautrock, Post Punk and an unmistakable image saw them launched onto magazines and websites worldwide.
But it is only with the release of their new, third, album 'THE WORST SHOW ON EARTH' (on their own newly-founded Crackedankles Records, released 29/06/18) that the band have finally fulfilled their potential. Returning today with a new video for the album's opening track 'Hello', bassist Filthydirty explains "we've been away for a couple of years, and we know you have missed us, so this is just us kicking in your back door, eating your Pot
Noodles
and nicking your silverware. It's a song about people not knowing who they are anymore. It's easy to lose track these days..." Heavy, grinding and yet commercially viable, this new album sees the band truly shake off the 'gimmick' tag of the past and stride forward into new musical dimensions. Yes; there's still 4 basses. But also, piano, cello, samples and a general disregard for the basic concept of a 'pop song' with 2 tracks hitting the 10-minute mark. The introduction of keyboards into their live onslaught (you have seen them live, right? Right?!?) has developed their sound to incorporate techno and industrial elements, with recent single 'Fast Forward Rewind' hitting the nation's airwaves aided by its freak show video shot illegally in an abandoned Victorian Music Hall. Forthcoming single 'Unleash The Misery' (released
September
18) sees the band channel their inner Glam Rock. The cataclysmic title track features the spoken word of German artist Arne Wald, with whom the band have collaborated in the past on visuals.
theartsdesk.com
Pre-order 'The Worst Show On Earth' at:
http://crackedankles.bigcartel.com/
Catch the band live at the following dates: 4/5/18
Liverpool
Adelphi Hotel
5/5/18 Manchester Ritz
2/6/18 Long
Division
Festival, Wakefield
9/6/18 Preston Blitz
16/6/18 Sonic Rock Festival, Bromsgrove
7/7/18 Derby The Hairy Dog
15/7/18 Beatherder Festival, Clitheroe
3/8/18 Rebellion Festival, Blackpool
15/9/18 London 100 Club
29/9/18 Newcastle Think Tank
13/10/18 Glasgow Ivory Blacks
27/10/18
Leeds Brudenell
17/11/18 Birmingham Hare & Hounds
14/12/18 Manchester Academy Evil Blizzard are:
Side - Drums, vocals and percussion
Filthydirty - bass, guitar, vocals, keyboards and sequencing
Prowler - bass
Kav - bass and guitar
Stomper - bass
Blizzpig - glamour and corruption
Related Articles
View More Music

Stories
More Hot Stories For You