Artist To Watch Lila Blue Releasing New Album, LEAVE ME BE This Year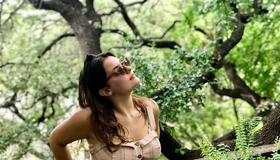 A youthful, emerging talent whose incisive and uniquely devastating songs speak out from an almost ancient wisdom, San Francisco-based songwriter Lila Blue is an artist who pulls no punches and conquers any stage. Starting the new year off with a string of theatre performances in New York City for Under the Radar Festival, where her leading role performance in the rock opera "Weightless" at BRIC drew praise in a review from the New York Times. An earlier review by the SF Chronicle was similarly inspired by her captivating voice, noting that "Blue's lovely timbre has a delicate surface warble whose every note whispers of fathomless depths below." As part of the festival, Lila also performed at The Public Theater in a reunion of The Chekhov Project, featuring several of her original compositions.
While in New York City, Lila treated fans at Rockwood Music Hall to the first-ever performance of her upcoming album, Leave Me Be. Coming off of the success of her last release, the 2017 EP Have A Look, Lila strove to create a lush, orchestral project in contrast with her earlier work. Leave Me Be is an album with microcosmic songs blended into a wider tapestry of sound and story. With Lila re-enlisting her veteran collaborator and engineer Sami Perez to helm this massive undertaking, the pair entered Tiny Telephone studios once again in September 2018. They brought with them a variety of songs, some fully formed and aged to perfection like album highlight "Somber Silence", which Lila wrote at 14 years old. Others were inspired by the creative energy of the studio - the breathtaking "Shallow Pond" was written on the very first day of recording. Together the two wove the songs into a sonic narrative, each song woven into the next with interludes that pull the listener along on a surreal, cinematic, and deeply human journey alongside Lila.
Leave Me Be arrives later this year.
Photo Credit: Brad Coley
Related Articles View More Music

Stories
More Hot Stories For You