AlunaGeorge Announce North American Tour Dates, EP Out Now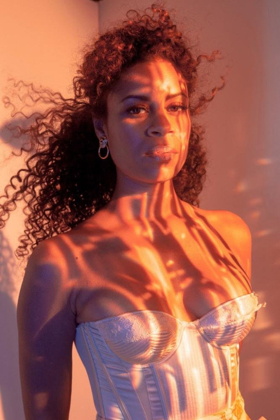 Following the release of their highly anticipated and critically acclaimed 'Champagne Eyes' EP last week, British duo AlunaGeorge have announced a handful of North American live dates. Starting on November 24 at San Francisco's The Independent, then making stops at the legendary Troubadour in Los Angeles on November 27 before venturing to Chicago's Bottom Lounge on December 3 and New York City's Bowery Ballroom on December 11. Tickets go on-sale Friday, October 12, for more information, go to: https://www.alunageorge.com

Out now, 'Champagne Eyes' is the band's first independently released project. Recorded and executively produced by Aluna Francis and George Reid in New York City this spring, the EP marks a return to the deliciously twisted electronic soul that made audiences fall in love with the group's 2013 debut album Body Music. Infusing their signature sounds with a lyrical exploration of sex, power, and the complexity of identity, these songs will move your body as well as burrow into your brain.

The 6-track EP features special guest collaborators Cautious Clay, who appears on the first single taken from the EP, 'Superior Emotion' a slow-burn slice of immaculate R&B with serpentine beats and a deep groove. "I'm looking for that high / Superior emotion," Aluna intones in her unmistakable alluring coo. I used the term "superior emotion" [for] when obsession and attraction can trigger a perfect explosion of feelings and then we call it love when it's not. We complain about it but secretly we want it, It's really addictive."

Watch the official video for 'Superior Emotion' Ft Cautious Clay HERE.

Champagne Eyes also signifies a turning point for front-woman Aluna as a songwriter, marking her emergence as a singular socially conscious voice. "My identity is a culmination of lots of really particular and diverse ideas and values," she says. "I've decided not to apologise for that any more."

That search for depth in an image-focused world gives AlunaGeorge's latest music an undeniable heft. Take EP standout "Shallow Water," a glitchy future-soul jam on which Aluna takes aim at the "rich girl problems" of some social media posts. "There was one point where I was like, 'What the f is this feed? This is total bulls,'" she says, speaking of her relationship with Instagram. "So I unfollowed everyone and I was like 'Right, what am I interested in?' And I was interested in the future female conversation, mainly led by women of colour, and white women who are allies to women of colour."

Now fully at ease in her own skin, Aluna's new music is imbued with a sense of hard-won empowerment? and grown-up sexuality. The white-hot Bryson Tiller duet "Cold Blooded Creatures," for instance, is about how a one night stand "can be an opportunity for you to explore things about yourself that are inhibited," Aluna says. Meanwhile, she wields her confidence like a weapon on "Faulty," in which she claps back at internet trolls. "I won't be that girls when Even Little Miss Perfect's judged by everybody," she sings, before intoning spikily: "Why don't you get the f out of my way?"

The same no-fs-given attitude permeates Champagne Eyes' title track, which centres on Aluna's allergy to schmoozy music industry parties, while "Famous" responds to #MeToo by focusing on a young girl who is getting justice for sexual harassment. "I wanted to make it into a celebration," Aluna says. "To look to the future, and have something to aim for and aspire to."

'Champagne Eyes' is out worldwide now.
LISTEN
'CHAMPAGNE EYES' EP

WATCH
'SUPERIOR EMOTION' FT CAUTIOUS CLAY

NORTH AMERICAN TOUR DATES
11/24 - The Independent - San Francisco, CA
11/27 - The Troubadour - Los Angeles, CA
12/03 - The Bottom Lounge - Chicago, IL
12/11 - Bowery Ballroom - New York, NY

Related Articles View More Music

Stories
More Hot Stories For You