311 and The Offspring Cover Each Other's Hits DOWN and SELF ESTEEM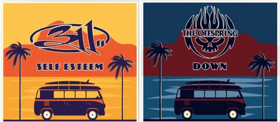 With the kickoff of their co-headline Never-Ending Summer Tour just days away, 311 and The Offspring decided to surprise fans and take each other's signature hits for a spin. 311 recorded a rocking reggae-infused cover of The Offspring classic "Self Esteem," while The Offspring injected their signature punk rock energy into a cover of 311 smash "Down."
Listen to these new recordings here: "Self Esteem" and "Down."
Additionally, a pre-order for a limited edition 7" vinyl release of "Self Esteem" and "Down" goes live at 10AM PST per the above links. Only 1,000 numbered copies are available exclusively on each artist's official web site.
"Down" and "Self Esteem" both remain live staples and signature anthems for 311 and The Offspring and at Alternative Radio. "Down" from triple-platinum self-titled 311 in 1995, soared to #1 at US Alternative. Meanwhile, "Self Esteem" served as a centerpiece of the six-times platinum 1994 opus Smash.
About the covers, Nick Hexum of 311 commented, "'Self Esteem' is my favorite Offspring song. It's a great melody, and the lyrics really tell a story. I like when a singer is vulnerable and doesn't try to act all cool. We've all been in relationships we know we shouldn't be in, so most people can relate. Our first version was more reggae, but we realized that it needed to rock-like the original. We revved it up to be rocking riffs with reggae rhythms. I guess we '311-ized' it. It was a lot of fun. SA kicked ass on this one. The vocal requires a lot of range and he really belted it out. We had to work hard to live up to Offspring's killer cover of 'Down'! I love the way they reimagined it. It kicks ass! I'm glad they really took liberties instead of being faithful to the original roadmap. I love the punk parts and hearing Dexter do SA's raps. Nice job dudes!"
"We've always been big fans of the song 'Down'," shared Offspring guitarist Noodles. "Parts of the song sound really heavy and almost dark, but it also has a very uplifting message. We knew we'd never be able to groove it the way 311 do so we tried to punk it up a little. We tried to do a Ramones-like version to serve as a companion piece to the Clash-iness of theirs. I don't know if we did it justice but it sure was fun to play and sing." Noodles added, "Wow! Way cool," in response to 311's take on 'Self Esteem'. "The guitars sound great and that bass is certainly in your face. I think what ultimately makes this version great is the way Nick and SA split the vocals and play off of each other. SA taking the high parts while Nick slides in effortlessly beneath him is a perfect example of how harmonies are supposed to work. Nailed it!"
311 and The Offspring, two of alternative rock's biggest bands, will join forces for a summer party of 29 shows coast to coast. Both bands combined have sold in excess of 50 million albums over their 20+ year careers, are mainstays at alternative radio, boast dedicated fan bases and will provide a full night of sing-along alt-rock hits: 311 with "Down," "All Mixed Up," "Amber," "Beautiful Disaster," "Come Original" and The Offspring with "Self Esteem," "Come Out And Play (Keep 'Em Separated)," "The Kids Aren't Alright" and "You're Gonna Go Far, Kid" amongst others, will surely have fans on their feet belting along all night long.
In addition, the co-headliners will be joined by special guests Gym Class Heroes as they ignite amphitheaters coast-to-coast. See below for itinerary. Tickets are on sale now at www.311.com or www.offspring.com.
Never-Ending Summer Tour Dates:
DATE CITY VENUE
Wednesday, July 25 Mountain View, CA Shoreline Amphitheatre
Friday, July 27 Salt Lake City, CA USANA Amphitheatre
Saturday, July 28 Las Vegas, NV Downtown Las Vegas Events Center
Sunday, July 29 Chula Vista, CA Mattress Firm Amphitheatre
Tuesday, July 31 Phoenix, AZ Ak-Chin Pavilion
Thursday, August 2 Oklahoma City, OK The Zoo Amphitheatre
Saturday, August 4 Austin, TX Austin360 Amphitheater
Sunday, August 5 The Woodlands, TX Cynthia Woods Mitchell Pavilion Presented by Huntsman
Tuesday, August 7 Jacksonville, FL Daily's Place
Wednesday, August 8 Charlotte, NC PNC Music Pavilion
Friday, August 10 Philadelphia, PA Festival Pier at Penn's Landing
Saturday, August 11 Gilford, NH Bank of New Hampshire Pavilion
Sunday, August 12 Syracuse, NY Lakeview Amphitheater
Tuesday, August 14 Sterling Heights, MI Michigan Lottery Amphitheatre at Freedom Hill
Wednesday, August 15 Springfield, IL Illinois State Fair
Tuesday, August 21 Hartford, CT XFINITY Theatre
Wednesday, August 22 Holmdel, NJ PNC Bank Arts Center
Friday, August 24 Bethel, NY Bethel Woods Center for the Arts
Saturday, August 25 Wantagh, NY Northwell Health at Jones Beach Theater
Sunday, August 26 Bristow, VA Jiffy Lube Live
Tuesday, August 28 Toronto, ON Budweiser Stage
Wednesday, August 29 Allentown, PA The Great Allentown Fair
Friday, August 31 St. Paul, MN Minnesota State Fair
Saturday, September 1 Sioux City, IA Battery Park at Hard Rock Hotel & Casino Sioux City
Monday, September 3 St. Louis, MO Hollywood Casino, Amphitheatre
Tuesday, September 4 Huber Heights, OH Rose Music Center at The Heights
Thursday, September 6 Chicago, IL Huntington Bank Pavilion at Northerly Island
Saturday, September 8 Thackerville, OK Winstar Casino
Sunday, September 9 Wichita, KS INTRUST Bank Arena
About 311
311 was formed in 1990 in Omaha, Nebraska by singer/guitarist Nick Hexum, singer S.A. Martinez, guitarist Tim Mahoney, drummer Chad Sexton and bassist P-Nut. The band now resides in Southern California. 311 mix rock, rap, reggae and funk into their own unique hybrid sound - and have developed a reputation as one of the most entertaining & dynamic live bands in the U.S. 311 has sold over 9 million albums in the U.S. alone. 311's last 10 consecutive albums reached the Top 10 on the Billboard Top 200 Album Charts and they've had 9 Top 10 radio hits, including three No. 1's. Their list of hits includes "Down," "All Mixed Up," "Amber," "Love Song," "Come Original," "Beautiful Disaster," "Don't Tread On Me," "Hey You," and "Sunset In July." 311's celebratory live shows & incessant touring schedule have earned them a massive grassroots following nationwide. www.311.com
About The Offspring
Dexter Holland (vocals, guitar), Noodles (guitar), Greg K (bass) and Pete Parada (drums) are The Offspring, one of rock's most exciting and enduring bands. The Offspring have performed over 1100 shows across the globe and sold more than 40 million albums worldwide. Their 1994 release Smash remains the highest-selling album of all-time on an independent label. Among the band's best-known hits are the rock anthems "Self Esteem," "Come Out And Play (Keep 'Em Separated)," "The Kids Aren't Alright" and "You're Gonna Go Far, Kid."