MONOPOLY BROOKLYN EDITION Debuts
MONOPOLY BROOKLYN EDITION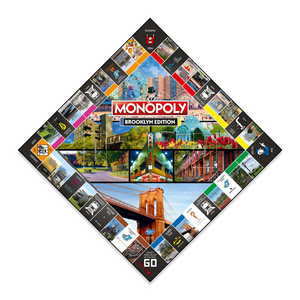 Top Trumps USA, the American division of Winning Moves International (creators of classic games and puzzles) has released MONOPOLY Brooklyn Edition, under license from Hasbro.
MONOPOLY Brooklyn Edition replaces the perennial board game's famous Atlantic City squares (from Boardwalk to Park Place) with representations of much-loved Brooklyn cultural sites, historic landmarks, and time-honored businesses, alongside a customized Community Chest and Chance playing cards to ensure each detail of the game pays homage to the borough. The full game includes:
-Parks and recreation sites (Prospect Park, Sunset Park, McCarren Park, Brooklyn Bridge Park, Brooklyn Bridge Piers, and Fort Greene Park)
-Local nonprofits (Sean Casey Animal Rescue, The Campaign Against Hunger, CAMBA, and The HOPE Program)
-Cultural institutions (Weeksville Heritage Center, The Jewish Children's Museum, Brooklyn Children's Museum, and Brooklyn Botanical Garden)
-Iconic landmarks (Soldiers and Sailors Memorial Arch and Brooklyn Bridge)
-Transportation hubs (Kings Highway, Dekalb Avenue, Utica Avenue, and Church Avenue)
-Entertainment destinations (Coney Island and Barclays Center)
-Beloved hospitality properties (Junior's, Dekalb Market Hall, and The Box House Hotel)
-Unique shops (Awoke Vintage and The Hot Corner)
"Brooklyn is one of the most exciting cities in the U.S. with many incredible pioneering establishments and cherished locations. We've spent months creating a portrayal of this dynamic community that we hope locals and visitors alike will enjoy for years to come," says Dennis Gavaghen, representative from Top Trumps USA. "We've incorporated important feedback from locals to truly make this a fun and engaging game for Brooklynites and beyond."
MONOPOLY Brooklyn Edition is available for $39.99 on Amazon and for sale in local locations including Wegmans, CVS, Awoke Vintage, Junior's, Jewish Children's Museum, Park Slope Toys, St. Mark's Comics, Toys4u, Woods Grove, City Chemist, and more.
About Top Trumps USA Inc.
Top Trumps USA Inc. is a USA division of Winning Moves International, making world-famous educational card and board games. These include the original Top Trumps card game, Top Trumps Match - the Crazy Cube Game, Top Trumps Quiz, the fast-paced, word tile game Lexicon-GO!, playing cards, puzzles, and more. Top Trumps is known for bringing official versions of completely customized, city-specific MONOPOLY boards to the North American market, under license from Hasbro. Each MONOPOLY city experience pays homage to favorite U.S. regions, featuring celebrated neighborhoods, landmarks and businesses, for a game play that truly evokes the special uniqueness of each community.
About Hasbro
Hasbro (NASDAQ: HAS) is a global play and entertainment company committed to making the world a better place for all children, fans and families. Hasbro delivers immersive brand experiences for global audiences through consumer products, including toys and games; entertainment through eOne, its independent studio; and gaming, led by the team at Wizards of the Coast, an award-winning developer of tabletop and digital games best known for fantasy franchises MAGIC: THE GATHERING and DUNGEONS & DRAGONS.
The company's unparalleled portfolio of approximately 1,500 brands includes MAGIC: THE GATHERING, NERF, MY LITTLE PONY, TRANSFORMERS, PLAY-DOH, MONOPOLY, BABY ALIVE, DUNGEONS & DRAGONS, POWER RANGERS, PEPPA PIG and PJ MASKS, as well as premier partner brands. For the past decade, Hasbro has been consistently recognized for its corporate citizenship, including being named one of the 100 Best Corporate Citizens by 3BL Media and one of the World's Most Ethical Companies by Ethisphere Institute. Important business and brand updates are routinely shared on our Investor Relations website, Newsroom and social channels (@Hasbro on Twitter, Instagram, Facebook and LinkedIn.)
© 2021 Hasbro, Inc. All Rights Reserved.
Photo Credit: Courtesy of Hasbro, Inc.