Click Here for More Articles on FOOD & WINE
Get ready for FREE COFFEE on National Coffee Day in NYC and Beyond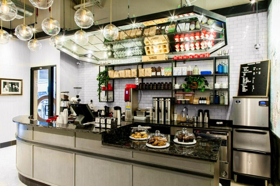 Everybody enjoys a freebie, especially when it is something that you love like coffee. National Coffee Day is on Friday, September 29. The day is fast approaching so check out some of the free coffee offers in New York City and beyond. From popular cafés to grab and go restaurants and shops, you can enjoy a complimentary cup of coffee and even some specialty drinks.
Some of our favorite New York City spots are offering guests a chance to celebrate all things coffee.
POURT
The team at Pourt (35 Cooper Sq), is serving up a free small coffee of your choice. Just visit the bustling East Village hot-spot on National Coffee Day for a complimentary cup of Intelligentsia coffee, no strings attached. Although, you may be tempted to accompany your beverage with a warm Chanson pastry or a delicious snack made fresh from their menu. Open from 8am - 8pm, it's definitely worth escaping the office for a visit, or you could just stay seated and power down in their co-working space. (Offer is valid 1 per customer.) Visit: https://www.pourt.com/.
LE PETIT PARISIEN
Le Petit Parisien is offering a free coffee with any pastry or sandwich purchase, all day. Visit either of their locations in Midtown East (249 E 53rd St) or the East Village (32 E 7th St) to claim your free cup made with French (of course), Malongo beans. Midtown East is open 7:30am - 8:30pm and the East Village is open 8:30am - 6:30pm. Pair your café with one of their freshly, baked-in-house pastries or gourmet sandwiches filled with the finest cured meats and cheeses from France. Better yet, visit for breakfast and lunch to enjoy a pastry, a sandwich, and two complimentary cups of coffee. Visit: https://www.lepetitparisienusa.com/.
TRADEMARK TASTE + GRIND
Prefer your coffee cold? Trademark Taste + Grind (38 W 36th St) is offering a free serving of limited edition Cold Brew Soft Serve with Mocha Crumble all day on Friday, September 29. Made in-house, the creamy sensation is double caffeinated with cold brew infused soft serve and Four J Coffee crumbly topping. It's so darn delicious that Trademark is keeping the soft serve on their menu for a whole week at just $2. Walk into Trademark Taste + Grind, open 7am - 6pm from Monday, Sept. 25 - Sunday, Sept. Oct. 1 and enjoy. (Offer is valid 1 per customer.) Visit: http://www.trademarktaste.com/.
Chain stores and coffee shops are getting in on the act too. You could be drinking coffee all day with these suggestions.
Krispy Kreme - Donuts and coffee, of course. They are offering free coffee on National Coffee Day and throughout the weekend.
Gloria Jeans - Enjoy a free 8 oz. white chocolate caramel cookie chiller or small fresh brewed coffee.
7-Eleven - Members of their 7Rewards program can enjoy free coffee throughout the weekend.
Cinnabon - The popular chain is offering guests a free 12-oz. coffee.
Dunkin' Donuts - They are offering a free medium hot coffee with the purchase of a medium, large or extra large coffee.
Cumberland Farms - Just text "freecoffee" to 64827 to get yourself a free hot or iced coffee.
Wawa - Stop by Wawa all day to get a free cup of coffee, any size.
Photo Credit: Trademark Taste + Grind
Related Articles