Click Here for More Articles on FOOD & WINE
BAGATELLE NYC has a Special Dessert in February to Benefit The Food Bank for NYC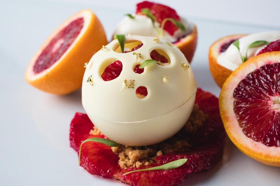 In celebration of February, the month of love, Bagatelle NYC in the West Village is partnering with ODDFELLOWS Ice Cream to create a special dessert. A portion of the proceeds will go to The Food Bank for NYC.
The dessert is exclusively available at Bagatelle's NYC location through February 28. Guests can indulge on "La Bulle," a white chocolate sphere topped with gold leaf and encasing ODDFELLOWS blood orange and olive oil ice cream, layered on a bed of blood orange slices. Once brought to the table, the dessert is doused in warm blood orange sauce.
Guests of the restaurant can enjoy a luscious dessert at Bagatelle while benefitting New Yorkers in need.
Bagatelle NYC is located at 1 Little West 12th Street, NY, NY 10014. Call them at 212.488.2110 and visit: https://www.bagatellenyc.com/.
For more information on ODDFELLOWS Ice Cream, visit: https://www.instagram.com/oddfellowsnyc/.
To learn more about The Food Bank for NYC, please visit: https://www.foodbanknyc.org/.
Photo Credit: Courtesy of Bagatelle